Don't let a cool breeze send your alfresco dinner party indoors. Take the chill out of the air with a patio heater.
Once limited to outdoor cafes and restaurants, patio heaters come in a range of sizes and configurations to match your outdoor setup. Fixed models typically mount to a patio wall or ceiling and are ideal for undercover applications. Portable models range from classic standing styles to tabletop or hanging, much like a pendant light. Then there is the energy source to consider: propane gas, natural gas, or electric. We've rounded up patio heater options in different categories.
Prefer wood fire powered heat (not always an option if you live in an area with frequent burn bans, like San Francisco)? See 10 Easy Pieces: Outdoor Firepits and Bowls and Pharos Outdoor Stove.
Above: Here are two highly rated portable standing heaters, both with a 40,000 BTU professional performance burner system that offers an estimated 20-foot circle of heat. The Endless Summer Commercial Propane Outdoor Floor Heater (above L) stands 93 inches tall; $449.99 at Gander Mountain. Fisher Paykel's DCS Phoenix Stainless Steel Gas Patio Heater (above R) is 85 inches tall and runs on either natural gas or propane; $889 at AJ Madison.
Above: AZ Patio Stainless Steel Propane Patio Heater comes with a convenient wood table and offers an approximate heating diameter of 10 feet; $269.99 at Hayneedle.
Above: At 35 inches high, the Fire Sense Deluxe Tabletop Propane Patio Heater offers 10,000 BTUs of portable warmth. Made of stainless steel with a weighted base for stability; $159 (currently on sale for $140) at Restoration Hardware.
Above: The Infratech 39-Inch WD Series All-Weather Stainless Steel Electric Heater is a wall- or ceiling-mounted infrared heater ideal for outdoor undercover applications. It can be mounted up to 14 feet high and has an average heating coverage area of 8 by 10 feet with a 4,000 watt output (also available in a stronger 5,000 and 6,000 watt options). Infrared patio heaters (gas or electric) are directional and can be aimed at the area you want to heat. They are close to 100 percent efficient and put out zero Co2 or other toxic emissions; $530 at BBQ Guys.
Above: For a gas-fueled wall or ceiling mounted infrared heater option, consider the Sunpak Twin Stage Remote Patio Heater (S34) that can be mounted in both fully exposed and covered outdoor settings (it needs at least a 10-foot clearance). It comes with a hand-held and a wall-mount remote control; $1,679 at Alfresco Heating.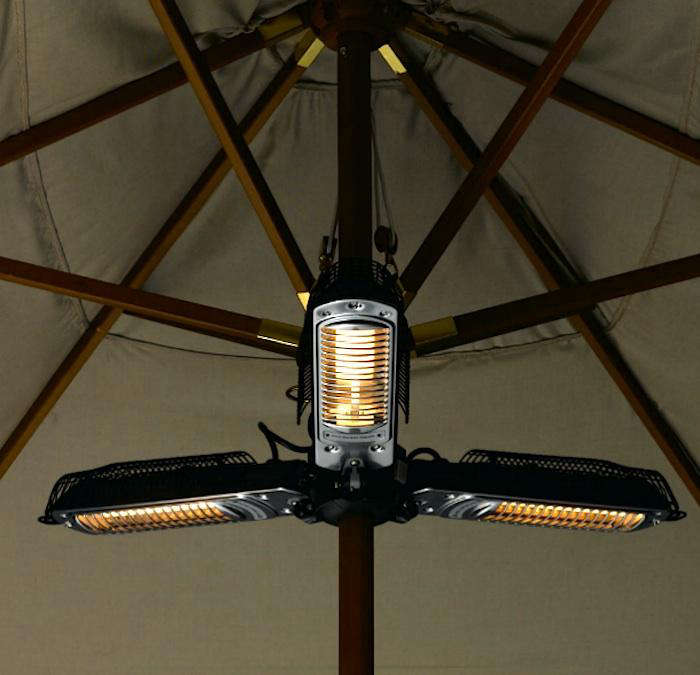 Above: Like covered heat, but lack a roof? Provide even heat distribution to your outdoor dinner guests with the unobtrusive Umbrella Halogen Heater, which attaches to any standard umbrella pole; $149 (currently on sale for $130) at Restoration Hardware.
Above: Firesense Hanging Stainless Steel Halogen Patio Heater runs on regular household electric current and creates no harmful emissions or toxic residuals, so it can be used indoors and out; $159.99 at Amazon.
NB: For more outdoor warmth, see our earlier post: Playing with Fire: Favorite Fire Pits and Bowls.
Finally, are you planning a Decks & Patios project? Learn everything you need to know on to get started with our Hardscaping 101: Decks & Patios 101 guide.
This is an update of a post that was published May 23, 2012.
(Visited 10 times, 1 visits today)