Forget minimalism. Portland, Oregon-based macramé artist Emily Katz takes a maximalist's approach to living with houseplants.
Two years ago Katz learned how to make her first 1970s-style plant hangers during a visit to see her mother. "I knew she had made plant hangers in the 1970s to sell so she could buy a guitar (a Martin 1976 acoustic beauty that she still has)," says Katz, who recently was profiled in Urban Outfitters' About a Girl series. "She taught me in the kitchen how to make plant hangers, while my sisters baked cookies and my boyfriend sat on the floor playing that same guitar."
Photographs by Michael J. Spear via Urban Outfitters except where noted.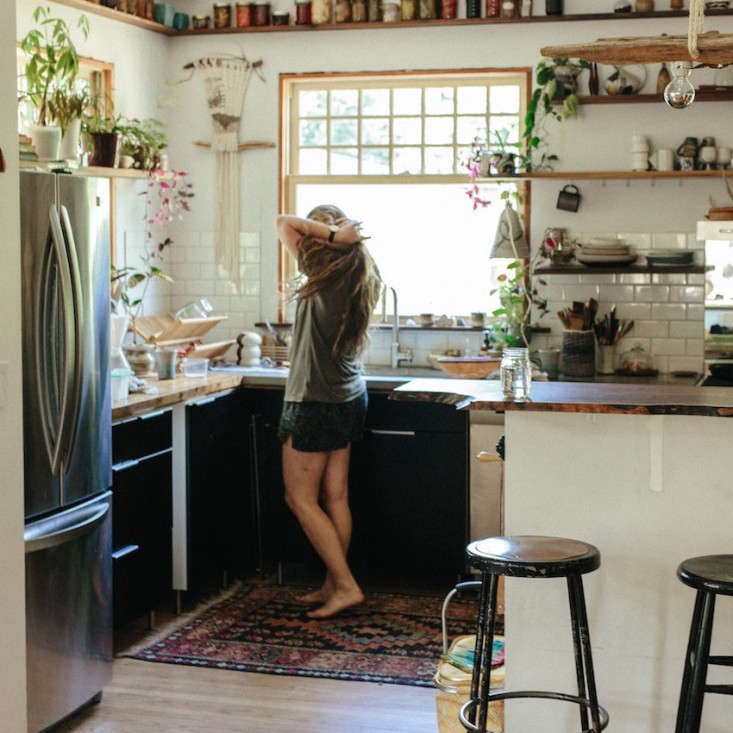 Above: Today Katz's home is filled with hanging houseplants (as well as houseplants that climb walls, perch on shelves, and cover windows like filmy green curtains.
Above: Vines and climbers share kitchen shelf space with plates and glassware.
Above: Photograph via Emily Katz.
In the living room are succulents and potted vines and climbers. For a similar houseplant collection, start with a selection of hardy indoor plants such as The Succulent Collection, a selection of six small succulents in pots; $40 from The Sill.
Above: Photograph via Emily Katz.
Next to the piano is a potted Monstera Deliciosa, a splitleaf philodendron with glossy green leaves. For more about living with large tropical plants, see Temporary Houseplants for the Commitment-Phobe.
Above: The large spiny euphorbia in the corner of the dining room is a succulent masquerading as a cactus. Start your own from a cutting; a Euphorbia Trigonia Starter Plant is $7.99 from The Maple Tree Lady on Etsy.
Above: Katz creates a jungle effect in her dining room by massing more than a dozen potted plants together.
Above: A similar macramé Double Plant Hanger made of cotton rope is available from Emily Katz's online shop for $108.
Above: In her bedroom, Katz has a fiddle leaf fig tree (L) and another splitleaf philodendron. If you are trying to keep a fiddle leaf fig tree happy indoors, see The Fig and I: 10 Tips for Caring for a Fiddle Leaf Fig Tree.
Above: Photograph by Leela Cyd via Tea Cup Tea.
At work in her studio in Portland, Emily Katz uses cotton rope to make one-of-a-kind macramé Wall Hangings; prices for the current collection at her online store range from $220 to $298.
Above: Emily Katz's work studio in Portland. Photograph by Leela Cyd via Tea Cup Tea.
A Single Plant Hanger approximately 41 inches long is made from cotton rope and will accommodate pots in a range of sizes; $88 from Emily Katz.
For more artists and floral designers at work in their studios, see:
Finally, get more ideas on how to plant, grow, and care for various houseplants with our Houseplants: A Field Guide.
(Visited 266 times, 1 visits today)