Spotted in Brooklyn textile designer Isabel Wilson's apartment, via Freunde von Freunden, the same iconic 1970s house plants that all your mother's friends had hanging from the ceiling in macramé planters—and they're managing to look very at home and modern against a white-brick backdrop in Williamsburg.
It makes a part of me long for a pet rock, too. Here's how to get the look (sans macramé):
Photography by Brian Ferry for Freunde von Freunden except where noted.
Above: Low-maintenance trailing house plants—including Tradescantia zebrina (L) and Epipremnum (R)—will tolerate low light and intermittently dry soil (a requirement for their survival, as the complicated process of dragging out a stepladder to water them will, over time, lessen your enthusiasm).
For an interview with Wilson and more of her apartment, see Freunde von Freunden.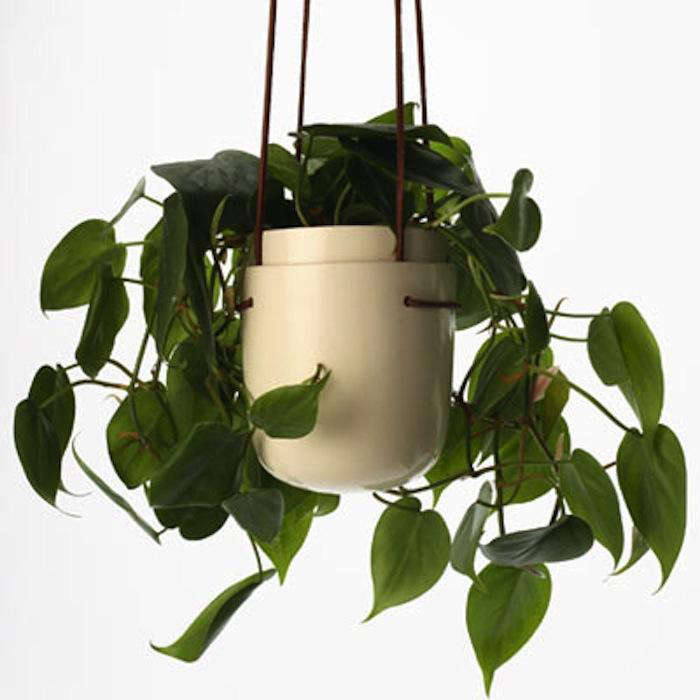 Above: A two-piece ceramic Plant Pod with ceramic holes to aid drainage and conserve water is $112 from perch!.
Above: You remember Epieremnum aureum, commonly known as Golden Pothos. But did you expect to see it in this century? It's a work horse that will put up with neglect; $5.99 for a four-inch pot from Amazon. Or, if you live in Manhattan or Brooklyn, you can get door-to-door delivery of a potted Thorburn Golden Pothos for $42.
Above: A Tradescantia Dark Purple in a 4-inch pot is $6.99 from Hkol2805 via eBay. I kept one of these in my bedroom in fourth grade; it looked smashing after it worked itself all the way up my white iron bed frame and onto my mod round-backed wicker chair (spray painted lime). Images of a similarly colored Tradescantia zebrina (L) via Rabbits Online and (R) by Anthony Collins via Flickr.
Above: The potted jade plant (in the yellow pot) and other succulents on the top shelf of Wilson's bookcase need little attention to thrive. For a similar look, group plants of different heights and textures in simple glazed ceramic pots of different shapes and bright colors.
Above: Ceramic Bauer Flower Pots are available in 14 colors; they're 6 inches tall and have a 6-inch-diameter mouth. They are available for $30 apiece from Bauer.
Above: An 8-inch-tall Crassula Ovata jade plant in a terra cotta pot is $32 from The Sill. A 6-inch-tall Crassula Ovata is $5.99 from Daylily Hill.
Above: A Bauer Indian Bowl, available in 13 colors, is 8 inches tall and 12 inches wide; $250 from Bauer.
Above: Euphorbia tirucali, a succulent commonly known as a Pencil Plant, starts small but can grow as tall as 6 feet; 24-inch-high plant in a terra cotta pot is $42 from The Sill. It's available in various sizes from Denver Plants; contact Denver Plants for prices.
(N.B.: For more indoor plant choices, see "Want to Work Smarter? Get an Office Plant.")
(Visited 74 times, 1 visits today)