When Heidi and Christopher Mueller purchased Lupaia, a 17th-century estate-turned-hotel in Italy's Tuscany region, one of their goals was to tone down the palette, which was "the opposite of calming," Heidi remembers. The terrace off the dining room, for example, had been envisioned as a "natural circus tent" by the previous owners; its seating area was painted electric blue and lighted with painted-glass lanterns. The Muellers aligned the appearance of the outdoor room more closely with that of Lupaia's original structure, a farmhouse dating from 1622. "Now the colors fit in well with the natural landscape, the gardens, and the beautiful old brick houses," she says.
Here's how to recreate the look with furnishings, paint, and hardscape materials:
Furnishings and Paint
Above: Photograph by Christopher Mueller.
Local Tuscan stones and bricks were used on both a curved banquette and to pave the terrace. Grape vines grow on a steel trellis which is connected to the 17th-century building.
Above: The Muellers painted the the stucco on the inside of the curved banquette a warm sand color to make the space "more soothing, comforting, and natural," Heidi Mueller says. For a similar shade, consider Benjamin Moore's November Rain. Stucco takes paint well, but choosing a sheen one step glossier than flat finish, such as a low-luster exterior latex, will keep wear and fingerprints at bay.
Above: For the cushions, a Florence-based upholsterer made cardboard templates to ensure a custom fit (so custom, in fact, that hotel staff have since numbered each piece to make it easier every morning to place them). For cushions covered in outdoor fabric, Sunbrella Solid Indoor/Outdoor Pillows are available in 16 colors including Natural (shown) and in two sizes, 18- and 24-inch squares; from $39.50 to $49.50 depending on size at Pottery Barn.
Above: At Lupaia, the Muellers furnished the patio with steel side tables at two heights to make it comfortable for guests to enjoy apertivi. From Belgian manufacturer Flamant, a taller 65-centimeter-high Kardos Side Table (left) is €220 and a 60-centimeter-high Kardos Side Table is €275.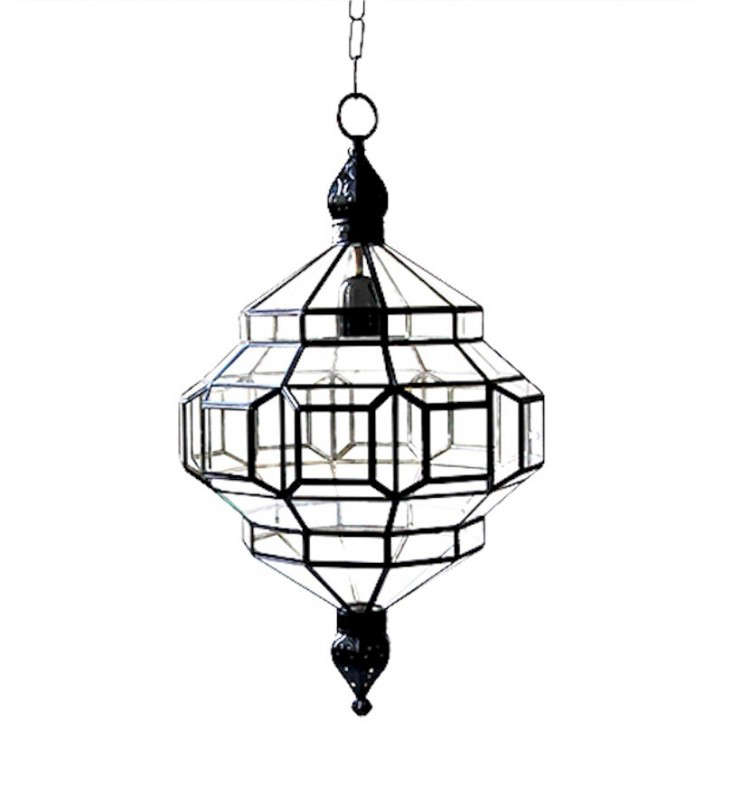 Above: A vintage Moroccan iron lantern hangs from the apex of the patio's arbor. For a similar glass-paneled lantern, an Alhambra Granada Lantern (available in three finishes including Black Satin as shown) is $660 from L'Aviva Home.
Above: Photographs by Sarah Horowitz.
In addition to a vegetable garden, Lupaia has a field of 2,000 sunflowers, a few of which make it to the patio each morning in 3-inch-tall bud custom vases by Bali-based Gaya Ceramic and Design. For more information, see Gaya.
Hardscape
Above: Photograph (L) by Sarah Horowitz.
The Muellers searched local antique shops to collect enough vintage Tuscan bricks to replace broken ones on top of the wall, a time-consuming and expensive endeavor. If you're not in Italy, a local materials yard likely offers used brick with an aged patina. Even Home Depot sells a Used Clay Brick (at Right) measuring 8 by 4 by 2 inches for 63 cents.
Above: Photograph by Sarah Horowitz.
For the patio surface, bricks were laid on edge and mortared with pebbles in a herringbone sunburst pattern. A warning: If your area is subject to frost, don't use building bricks for a walkway or patio surface. Being porous, they absorb moisture and will crack during a freeze and thaw. Instead, choose old street paving bricks. A good source is Antique Brick Warehouse.
Above: Photograph via Matilija Nursery.
Wild grape vines can grow as high as 100 feet and will cling to any surface they encounter along the way. The leaves on the Muellers' wild grape vine turn a brilliant red in autumn. "I wouldn't recommend them for everyone—they make such a mess when they bloom in the spring," Heidi Mueller says. "But in the fall, when the leaves change color, the effect is spectacular." For a similar vine, Vitis Californica X Vinifera 'Roger's Red' is a hybrid between native wild California grape and a non-native wine grape cultivar; for information and availability, see Matilija Nursery. Vitis Californica X Vinifera 'Roger's Red'  in a 4-inch pot also is available for $8.95 from Annie's Annuals.
For more of our favorite gardens in Italy, see Paradise Found: Dan Pearson's Modern Garden for a Medieval Castle.
Save
Save
Save
Save
Save
Save
Save
Save
Save
Save
Save
Save
Save
Save
Save
Save
Save
Save
Save
Save
Save
Save
Save
Save
Save
Save
Save
Save
Save
(Visited 110 times, 1 visits today)