There are many cool plant shops in Portland, Oregon but not many of them are housed in an old drugstore from 1910 complete with original tiled floor, double-height windows, and a mezzanine floor overflowing with unusual specimens.
Solabee Flowers is nested on the uber-trendy corner of North Killingsworth and Albina. The shop oozes charm, from the Polypodium ferns that look like green stained glass in sunlight to the jars of submerged Marimo moss balls that greet you at the door.
It took florists Alea Joy and Sarah Helmstetter, who created Solabee in 2008, eight years to move into a space of their own. It's been a journey that has taken them through a lot of major plant trends—from terrariums and minimalist floral arrangements to a resurgence of big Seventies-style plants:
Photography by The Weaver House courtesy of Solabee.
Above: The shop may look fresh and bright now, but it wasn't always like that.
"It was carpeted, and there was a drop ceiling with fluorescent lighting that completely hid the mezzanine floor," says co-founder Alea Joy. "The windows were painted over too. Our landlord did most of the renovation but even when we came to view the property in its unfinished state, we could see the property had potential. And it had that key component that every florist needs, access to water."
Above: "We have had people in the neighborhood come in and say, 'Wow, it's been 35 years since I've seen these floors!' " says Alea.
Alea and partner Sarah Helmstetter went into business together in 2008 after both were laid off from floristry jobs. When they couldn't find work, they decided to go it alone.
They started with just a few clients and weddings while working from a tiny studio. The studio had a little window onto the street from which they would sell plants.
Above: Plants have always been part of Solabee's offering.
"We would put plants in the window and when they sold we'd replace them and sell those. After that we moved into a shared space in a lumberyard. It was just us and lot of lumberjack-y restoration guys," says Alea. "Solabee has always been a grassroots business."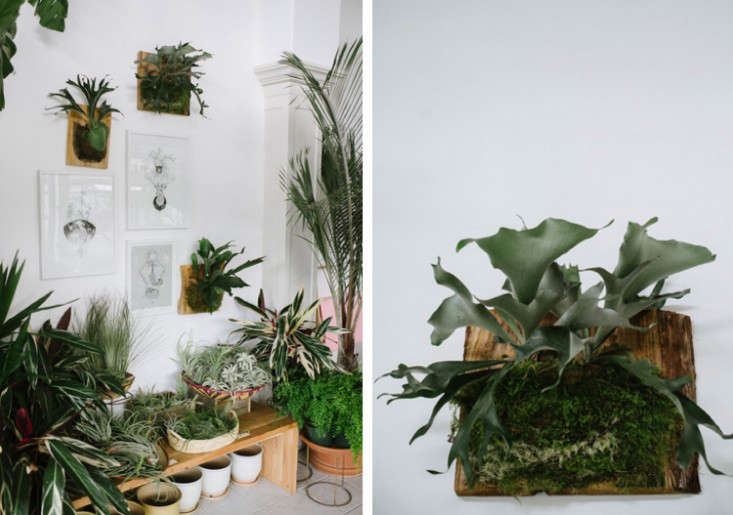 Above: A whole section of the shop is given over to mounted staghorn ferns, which Solabee also sells online. Mounted Platycerium Staghorn Ferns are from $60 to $85 depending on size.
Above: "Floral is finally cool again," says Alea. "Now that the money has come back, clients want big and colorful tablescapes with a touch of the Dutch master about them."
Above: Floral is popular, but plants are king.  The lush, larger plants are popular with lots of layering too.
Above: Solabee sells a selection of Tillandsia air plants online for $10 and up, depending on size and variety.
Sarah and Alea are not just plant nerds; they believe that plants also bring wellness into a home. They try to offer a selection that fits everyone's budget.
"We strive to make sure that people not only choose something that fits their personality but also that they can look after the plant. We ask everyone things like, 'What's your light like? What are your watering habits? Where will the plant live?' "
Above: Every customer goes home with a set of plant-care instructions.
"In a lot of design magazines I'll see beautiful interiors but I'll also see a plant that was just placed there for a photo shoot. And this creates a misconception about how plants really thrive. The plant will look fine in that environment for about a month, but eventually it will start to struggle and die," says Alea.
What trends will the future hold? "We're seeing architects and interior designers being asked about how their spaces can include plants and botanical elements. I think that will continue and become more important to people. It won't be an afterthought. More people will think about how can we integrate an interior greening system into the design of our office spaces and homes," she says.
Above: Air plants are still a firm favorite.
For more of our favorite places in Portland to shop for your garden, see Shopper's Diary: A Love Affair with Houseplants at Pistils Nursery in Portland.
(Visited 127 times, 1 visits today)