Julie recently discovered a Mumbai-area house perched on a stream; the owners cross a bridge to reach the master bedroom and bath. We instantly fell for Architecture Brio's minimal concrete bath that lives both indoors and out. Here, we've sourced the elements to recreate the look:
For more, see A River Runs Through It: Brio Architects in India.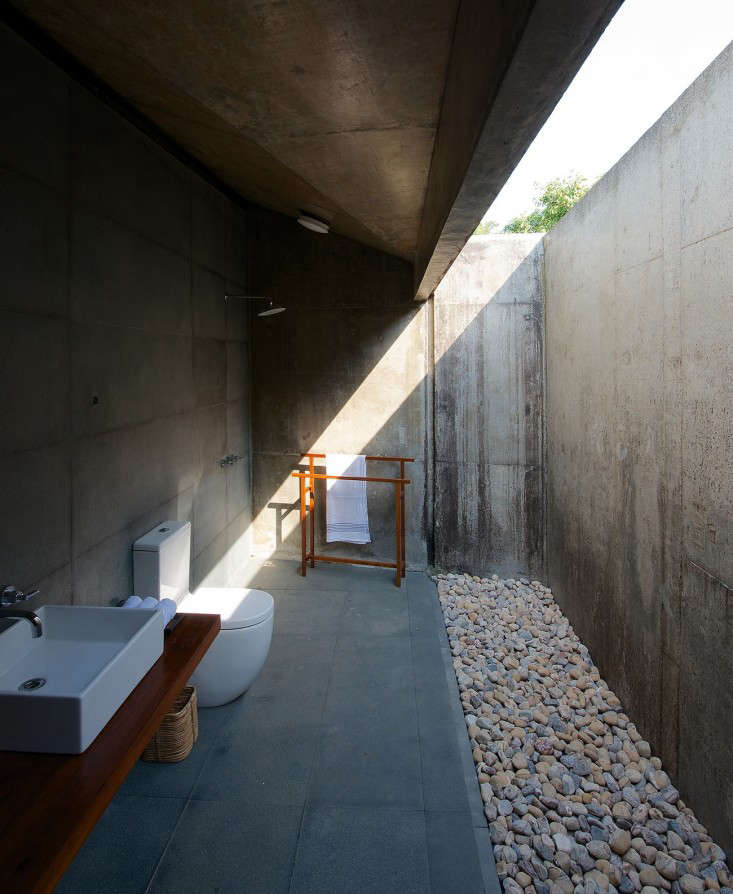 Above: The open-air bath, where a narrow patch of open ceiling allows a beam of sunlight into the room. Photograph by Sebastian Zachariah.
Flooring
Above: For a weather-resistant floor surface that stays cool, consider black Kerala Slate Pavers; 24-by-24-inch square tiles that are 1 1/4 inches thick are $3.05 per square foot from Builder Direct.
Above: The Stone Store in Hanover, Maryland offers 5-8 inch DelVal River Decorative Gravel; check with regional suppliers about purchasing similar stone locally.
Fixtures

Above: For the sink, recreate the look affordably with the Kraus Ceramic Vessel Bathroom Sink with chrome pop-up drain; $129.95 at Faucet.com.
Above: The Waterworks Axel One Piece Dual Flush Watercloset is $1,000. See more options at 10 Easy Pieces: Modern Floor-Standing Toilets on Remodelista.
Lighting
Above: At night a ceiling light, courtesy of a simple disk with an LED, stands in for sunlight. A Disc Single LED Wall Or Ceiling Light is $300 from YLighting.
Furnishings & Accessories
Above: For the free-standing towel rack, we like the Ekoline Free Standing Wooden Towel Rail in oak; £110.40 from Homebits UK. In the US, try the Sabbathday Lake Shaker Towel Rack Kit; it's made in the US of solid maple and available from Amazon for $95.
Above: For the basket to hold lines, we found the Tyler Square Basket With Rope Handle  from Crate & Barrel; $89.95.
Above: Nandina Organics is a good source to find a similar bath towel. A 39-by-71-inch Peshtemal Striped hand-loomed organic cotton towel is $48.
For more bathing outdoors, see 10 Favorites: Outdoor Showers; Steal This Look: An Airy Outdoor Shower; and on Remodelista, High/Low: Rugged Outdoor Shower.
(Visited 209 times, 3 visits today)