When you build a backyard shower next door to a 25-story apartment building in downtown Toronto, questions are going to arise. Like, how can it possibly feel private?
Cue the huge maple trees. They ring this shower, providing a canopy of shade–and discretion. The shower's stacked-slat walls–reclaimed hemlock, from a farmyard pen–allow air to circulate and create natural support for cantilevered ledges. Designer James Dale of Toronto-based Earth Inc., who says he has a propensity to "talk back but later apologize," says: "It's very urban, but there's a park nearby, and we wanted to bring that feel into the backyard." Here's how to get the leafy look: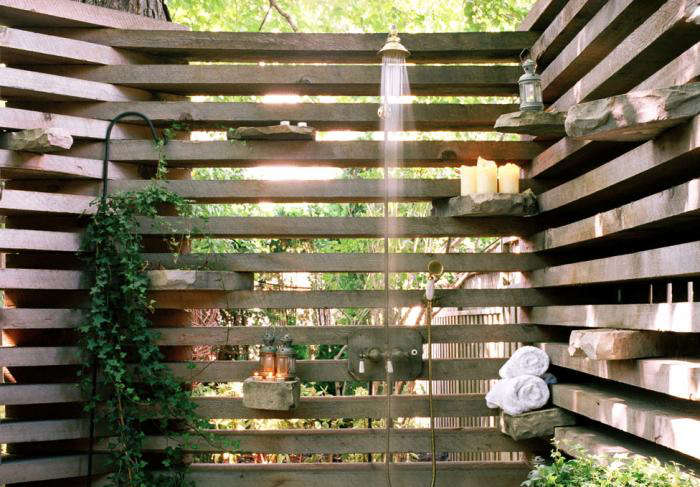 Above: Reclaimed hemlock slats, crisscrossed so they can dry quickly, create a framework for the enclosure. For a large selection of vintage wood slats, visit Natural Wood Restorations or Keystone Vintage Lumber. Image via Earth inc.
Above: The key is to use slats wide enough to provide solid support for cantilevered shelves. Image via Keystone Vintage Lumber.
Above: After laying a limestone floor, Dale used leftover "dinner plate" stones as shelving. "Basically, gravity will hold it in," he said. To see a selection of landscape stones, visit Golden Isles Granite.
Above: An alternative to traditional pillar candles, Flameless Outdoor Candles run on batteries; a little water won't snuff them out. They're on sale for from $10 to $79, depending on size, from Pottery Barn.
Above: The Rotera lantern holds a tea light and is 8 1/2 inches tall; it's $3.99 from Ikea.
Above: Dale used vintage plumbing. "These were Victorian designed faucets and brass heads, where all the pieces had been refinished," he said. A Marlin Outdoor Shower With Foot Shower is $599.95 from Signature Hardware. In a cold climate, disconnect the water lines each winter to thwart pipe-bursting freezes.
Above: Train English Ivy to climb around the shower fixture; a 4-inch pot is $6.99 from JM Bamboo via Amazon.
For more vine varieties, see Alternatives to Ivy: Vertical Growers.
Above: Pottery Barn Classic 820-Gram Weight Bath Towels are made of Turkish cotton; sale prices range from $4.99 to $28.50, depending on size.
For more of our favorite outdoor showers, see:
Finally, get more ideas on how to integrate and design an outdoor shower with our Hardscaping 101: Outdoor Showers design guide.
This is an update of a post originally published May 17, 2012.
(Visited 303 times, 1 visits today)