The French writer Paul Valéry is quoted as stating, "You may deprive me of anything you like except coffee, cigarettes, and figs." I'm with him on the figs.
There's nothing as decadent as a box of fresh figs. Then there's fig paste, fig and pancetta pizza, and fig ice cream. Most people know about the popular Mission fig. This was named after the Mission of San Diego founded by Franciscans in 1769, and was the first of the dark skinned, pink fleshed figs. Other varieties started arriving in the US in the 1850s. Now, the University of California at Davis has an orchard that boasts 300 varieties of figs, and nurseries are making it possible for home gardeners can select the variety they want to plant based on their growing conditions, and of course, their favorite to eat.
Photographs by Marla Aufmuth for Gardenista.
Above: The other day I was lucky enough to be let loose in the UC Davis fig orchard: it was exhilarating. I sampled the sweet, mild California Amber and the Desert King, which is yellow and has a honey-like center. Panache, or better known as "Candy Stripe" figs for the gold and green patterns on their skin, have a magenta center that tastes a little like raspberry jam. A Desert King Fig Tree, a good choice for cooler climates, is $34.95 from Willis Orchards.
Above: Figs don't ripen off the tree. Often times figs found at grocery stores are unmarred and look more appealing, but search for the ones just starting to crack open.
Above: Tree ripened figs have seams cracking their flesh, and these are much juicier and more flavorful than unmarred ones.
Above: Maybe you think you've been kissed before, but until you try a Panache or sun warmed Mission fig right off the tree, you're a fig virgin as far as I'm concerned. A Black Mission Fig Tree is $9.95 from Willis Orchards.
Above: The UC Davis Orchards are like a living museum of many types of fruit and nut trees, as well as 3,500 different varieties of grapes. Having a wide variety of genetically different plants means that farmers and gardeners will be able to respond to shifts in regional climate changes by planting trees better suited to less water or more humidity. As well, they preserve natural histories and culture in this marvelous collection.
Above: The great news about figs these days is that more varieties of plants are for sale. This means that you can do a little research and find out which one is best for you. If your local nursery can't order the one you want, try Wildcat Ridge Farm in North Carolina. They carry an assortment; contact them for more information.
Above: The classic Mission fig is well suited for many environments, and in fact there are many of these in New York City, particularly neighborhoods in Brooklyn where immigrants from Italy planted them. In New York and other regions with cold winters, they'll need to be wrapped in burlap for the winter.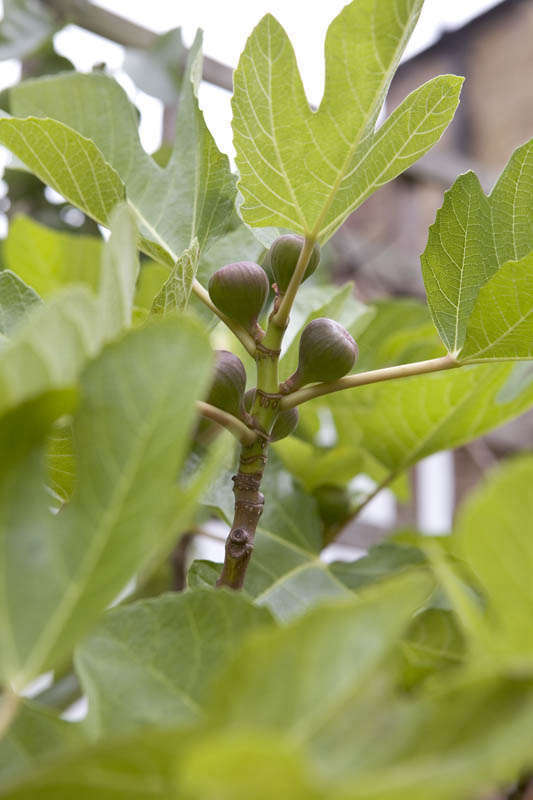 Above: The beautiful Panache fig likes lots of heat and long growing seasons, so these do well in dry hot spots like Sonoma and Napa. A Panache Tiger Fig Tree is $19.95 from Raintree Nursery.
Above: One of my favorite figs is the Violette de Bordeaux ($18.50 from Raintree Nursery). These are small, dark fruits with strawberry-red centers. These petite trees do well in containers.
Also, if you live in a foggy, coastal area, try Desert King ($17.95 from Logee's) or Osborne Prolific. And for people in dry hot areas like the Southwest, try growing a Brown Turkey ($18.50 from Raintree Nursery). These large lovelies are wonderful fresh and grilled. Another source for these varieties is Trees of Antiquity.
Finally, get more ideas on how to successfully plant, grow, and care for a creeping fig with our Creeping Fig: A Field Guide.
Finally, get more ideas on how to plant, grow, and care for various vines and climbers with our Vines & Climbers: A Field Guide.
N.B.: This is an update of a post originally published September 21, 1012.
Tempted to make fig jam? See our post 5 Favorites: Canning Jars.






(Visited 192 times, 2 visits today)