One look at the ground at Woottens of Wenhaston's nursery fields—a two-acre site close to England's Suffolk coast devoted to nurturing the elegant, timeless bearded iris—tells you all you need to know about the growing preferences of this ancient flower; poor soil and sun-baked conditions. On the south-facing slopes row upon row of irises are ordered chronologically from the first flowers brought to the UK in the 1600s through to the vivid, ruffled cultivars introduced over the past century.
This year, despite a wet winter that rotted many of the rhizomes and a week of gales and gusty winds that knocked over many of the surviving flowers, the fields are still a sight to behold with thousands of richly colored fluttering flowers.  The iris fields at Woottens of Wenhaston are open from 10 am to 4 pm daily until June 26 and irises also may be ordered from the nursery's Mail Order Catalog.
Photography by Clare Coulson for Gardenista. 
Above: The late Michael Loftus opened the nursery in 1990, first covering the land surrounding his cottage with beds and poly-tunnels, and eventually buying up surrounding land too. As well as the bearded iris, the nursery also specializes in pelargoniums, auriculas, and hemerocallis. But it's the iris fields that open to the public in June each year that attract designers including Dan Pearson and Arne Maynard and hoards of other gardeners.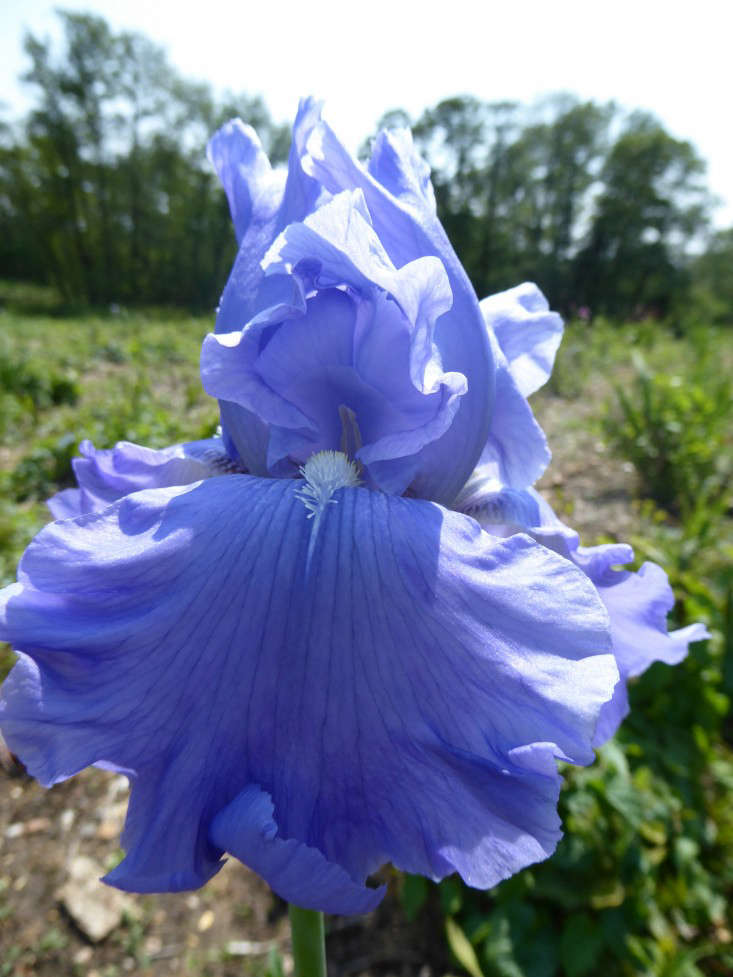 Above: Iris 'Monet's Blue' grows in a field at Woottens.
Woottens iris grower Gillian Morris tells us how to grow this fleeting beauty: each bearded iris has three standards (the top petals), three falls (the lower petals), and beards (the often decorative hairs at the throat of the falls). Although the flowering time is short, there are early, mid and late season plants that can extend the season from April to late June.
Above: Deep purple, Iris 'Stellar Lights' has a patch of white at the center of the falls; £5.50 at Woottens.
"They need well drained soil but they also thrive on a poorer soil," says Morris, who automatically plants all the iris facing south, so that the tops of the rhizomes, which should sit above the soil, get baked in the summer sun. If you want to grow them in a border, she suggests planting three together in a triangle so that the sun can still get to the rhizomes and avoid planting them near any ground cover.
Above: They may love the sun but in a dry spring the plants will still need a good watering ahead of their flowering period and a fertilizer like bonemeal added too. If you garden on clay it's still possible to grow some cultivars like the ever popular pale blue Iris Jane Phillips but you will need to improve the soil with grit.
Above: Iris 'Francheville' is £7.50 at Woottens.
Irises can be divided after blooming in July and August, and as each section of the rhizome will flower only once, it's crucial to carry out this routine maintenance every three to four years. Plants can be lifted entirely before removing the "mother" rhizome in the center of the plant and then replanting the newer offspring parts. The leaves can then be cut down to a fan shape. Irises should be planted in early autumn to allow the rhizomes to set down roots well before winter.
Above: Iris 'Benton Farewell' (currently out of stock) is £10 from Woottens.
The fashionable bearded irises bred by the artist and plantsman Cedric Morris in the 1940s and 1950s are highly sought after. Inspired by Monet's Giverny, he grew flowers to paint and raised hundreds of new iris seedlings each year, naming around 90 new cultivars at his home Benton End in Suffolk. Many have now been lost. Their subtle color variations from olive to caramel and their delicacy – not to mention rarity – have only increased their popularity. "Everyone wants one," says Morris with a sigh that suggests that Benton lovers are a persistent bunch. "But we also need to bulk them up before we can sell more." This year Woottens have acquired five more Benton irises.
Above: After 25 years on the same site, later this summer the nursery will relocate to the iris fields to focus on plant growing and mail order sales. The nursery will continue to hold regular open days and annual events as well as appearing at local plant fairs.
Finally, get more ideas on how to successfully plant, grow, and care for iris with our Iris: A Field Guide.
Interested in other bulbs and tubers for your garden or indoor space? Get more ideas on how to plant, grow, and care for various bulbs and tubers with our Bulbs & Tubers: A Field Guide.
(Visited 103 times, 1 visits today)