Fields of wheat and sunflowers line the road to Jean-Paul Cohen's goat cheese farm, Pas de Blénac, in the Charente-Maritime region of France. The crumbling stone walls, sagging clay rooftops, and clinging ivy remind me of my childhood summers in the French countryside. Was it the pull of memory that prompted me to visit the other day? Or was it the amazing cheese?
Photography by Mimi Giboin for Gardenista.
Above: My mother is American, which may explain why I get a thrill from string cheese, and why I festoon a cheese plate with fruit, nuts, jams, honey, and edible flowers. The French will have none of that. I know this because I am half French, from a father born in Cognac. My family is steeped in cheese culture–even as a child I knew how to use a cheese knife, what to eat with cheese (le pain!), and when to eat it (after the three courses of lunch and dinner).
 Above: Cheesemaker John-Paul Cohen displays a proper (unadorned) French cheese platter: In this case, several varieties of goat cheese, stiff or soft, creamy or crumbling; flavored with sun-dried tomatoes and basil, paprika and ginger, lavender and herbes de Provence, cilantro and lime, or curry, mint, and pepper.
Above: As soon as I arrived, Monsieur Cohen whisked me to the barnyard, where mother goats and dozens of kids were roaming around.
Above: The kids are curious little creatures. They ran and jumped to get a look at me, sometimes taking a lick or a nibble.
Above: Feeding time is a serious affair, as 15 goats line up to be simultaneously fed and milked.
Above: I was surprised to see the milking machines, but Monsieur Cohen told me that these days you would only roll up your sleeves and milk a goat by hand if you had a tiny farm.
Above: Monsieur Cohen feeds his goats fermented grass, and the taste of the cheese varies by season and by the type of grass.
Above: The milk is piped into a small adjacent room to be stored in a giant plastic bin. It sits for a few hours while the curds separate from the whey (the watery part of the milk). The curds are then transferred into cheesecloth sacks.
Above: The cheesecloth bags are hung to dry for several hours. Finally, the cheese is rolled into balls, flattened into disks, and placed on racks to set.
Above: A young cheese with no spices that has aged a few days. Some of the aging cheeses are covered in herbs and other gorgeous adornments. There's nothing modern or automated in the storeroom. 
Above: This Cognac-flavored cheese has aged for about a year. A cheese can go to market in a single day or a year, depending on the aging time Monsieur Cohen decides on.

           
Above: Wooden trays ready for the Pas de Blénac stand at the town market, holding a range of cheeses from young to aged. The farm's three-person staff produces an impressive 80,000 rondelettes a year.
Above: The aged Cognac is my favorite. The color is an earthy, antique brown, and it crumbles delicately even under the sharpest (non-traditional) cheese knife.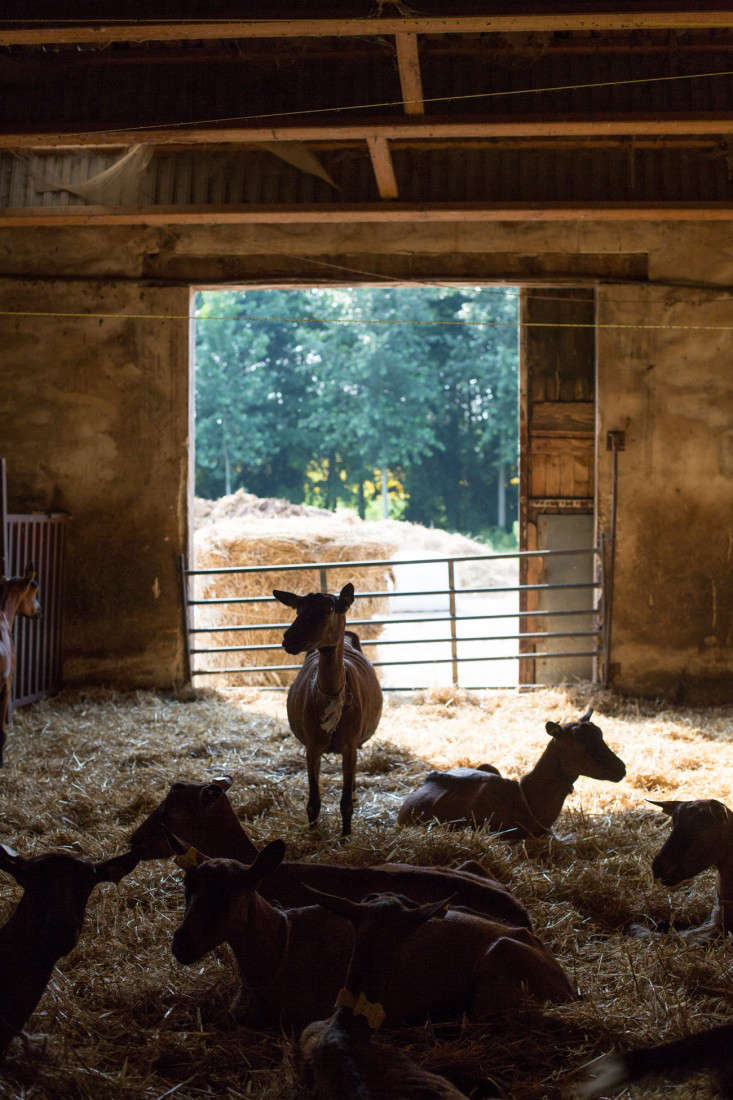 Above: Alas, you cannot buy Monsieur Cohen's cheeses in the United States. But you can make your own Pas de Blénac-inspired creations by drizzling store-bought chevre with olive oil, then pressing herbes de Provence or other flavors onto the surface. And, in honor of the French, eat more cheese. 
Above: Pas de Blénac is in Sainte-Gemme, Charente-Maritime, France.
Ready to make your own goat cheese? Here's A Kit to Turn Your Kitchen Into a Goat Cheese Creamery. And if you happen to be in France, have dinner at The World's Most Beautiful Goat Farm.
(Visited 85 times, 1 visits today)