Vic Brotherson is a London florist whose fresh, anything-goes approach keeps her busy with customers, whether they're seeking a small bouquet or an impossibly glamorous wedding (hint: Kate Moss). We hopped over to her shop Scarlet & Violet in northwest London for a visit:
Photographs by Berta Bernad Cifuentes.
Above: Flowers, pots, and seats spill out on the forecourt of Scarlet & Violet, located on Chamberlayne Road, London, where Kensal Rise meets Queen's Park; in other words, the outer reaches of Notting Hill.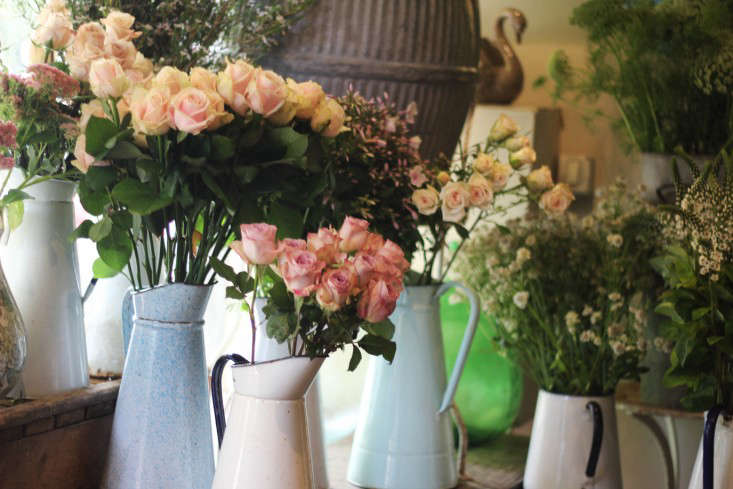 Above: Although she takes inspiration from the flower market at New Covent Garden, Vic Brotherson believes that every arrangement starts with the vessel. She has loads, including those in all shades of white, pale enamel (above), and eccentric swan shapes for festive occasions.
Above: Vic Brotherson grafting with her team. After spending a dozen years selling flowers from an outdoor stall in Notting Hill, she is grateful to have moved into a solid structure.
Vic, who is from Cumbria, runs the shop and cut flower business with her two sisters. Each contributes different qualities–design, managing, and business acumen–to Scarlet & Violet.
Above: Having studied fine art at the Ruskin School in Oxford, Vic drifted into flowers when she asked for a job with legendary florist (and Notting Hill stallholder) Nikki Tibbles of Wild at Heart.
Above: Scarlet & Violet is a favorite among London's fashion editors and stylists. For the wedding of Kate Moss, the main flower ingredients were David Austin English Roses and lily-of-the-valley.
Above: June is wedding month because it's the time of roses and peonies. July, says Vic, will bring more cottage garden-style flowers. (Avoid getting married in August, she says.) The simplest arrangement ever? A glass or vase of herbs.
Above: Vic is sought for the fresh, country feel of her flowers. Though they are not all British, they have the kind of relaxed, non-floristy feel of flowers arranged at home.
Above: A new book by Vic Brotherson is out this month called Vintage Wedding Flowers; $28.69 on Amazon. Her other book is called Vintage Flowers and features many vintage containers as well as atmospheric flowers.
(Visited 167 times, 1 visits today)