Honolulu is a city of juxtaposition. Although it's a thriving metropolis just minutes from wild jungles and untamed beaches, nature seems to seep into the most concrete of areas. And perhaps nowhere in the city is this better illustrated than at Paiko, a new garden supply and design store in the up-and-coming industrial warehouse district of Kaka'ako.
Partners Tamara Rigney and Courtney Monahan opened Paiko in late 2012 as an extension of Rigney's floral design business, which she started in a room at her grandmother's East Honolulu home three years earlier. Following Rigney's goal to distill the beauty of Hawaii into living art, a concept that carried over from her background in landscape architecture, the pair stock the store with cut tropical flora for DIY arrangements, delicate tillandsia terrariums, locally made pottery, succulents and wall-mounted staghorn ferns—stylish ways to bring a touch of Hawaii's abundant greenery indoors.
Set on a once desolate strip of warehouses that now house galleries and pop-up restaurants, Paiko also hosts workshops on flower arranging and wreath making, bringing a new vitality and beauty to an area better known for auto parts stores, and helping to blur the distinction between nature and city even more. For more information, visit Paiko.
Photographs by Vincent Ricafort.
Above: Staghorn ferns mounted on recycled wood created by local grower Kevin Whitton. The Paiko team likes to refer to these easy-to-care-for wall art pieces as "vegan antlers."
Above:  Cut beehive ginger and anthuriums from Hilo, Hawaii.
Above: Cut leaves from the hala tree and handmade ceramic tillandsia vessels made by local artist Tricia Beaman.
Above: Paiko's merchandise includes tillandsias, spray bottles, and terrarium kits.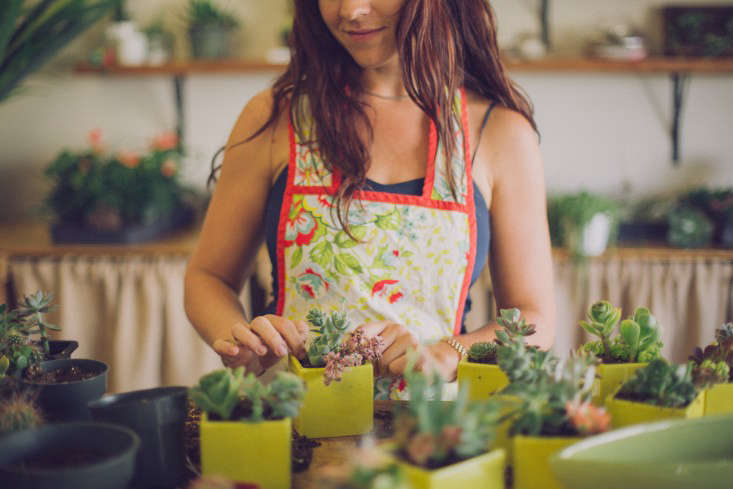 Above: Succulents for sale in sunny glazed pots.
Above: Sunprint paper, sensitive to ultraviolet light, for craft projects.
Above: The staghorn ferns are a signature item in the store.
Above: Paiko partners Courtney Monahan and Tamara Rigney in the store.
For more Hawaiian floral arrangements, see Love, Hawaiian Style: The Art of Lei Making.
Shopping for pots, rocks, or hardscape supplies in Honolulu? See Geobunga.
(Visited 104 times, 1 visits today)