You're probably familiar with edible gardens and ornamental gardens, but how about wearable gardens? 
My grandfather liked to surprise my grandmother with a white ginger lei every time they had guests over for dinner. In Hawaii, leis are usually given as a token of affection or congratulations for birthdays, graduations, anniversaries, weddings, housewarmings, greeting visitors–but any reason to celebrate will do. 
The art of lei making comes from the original Polynesian settlers, who incorporated shells, feathers, greenery, seeds and other foraged materials into their designs. As aromatic and colorful flowers like plumeria (frangipane), pikake (jasmine), orchids. and tuberose arrived in the islands with settlers in the 19th and 20th centuries, the composition of leis changed to accommodate these new materials. 
The photos below show leis being made for Merrie Monarch, a hula dancing competition held each year in the spring.
Photographs by John Chock.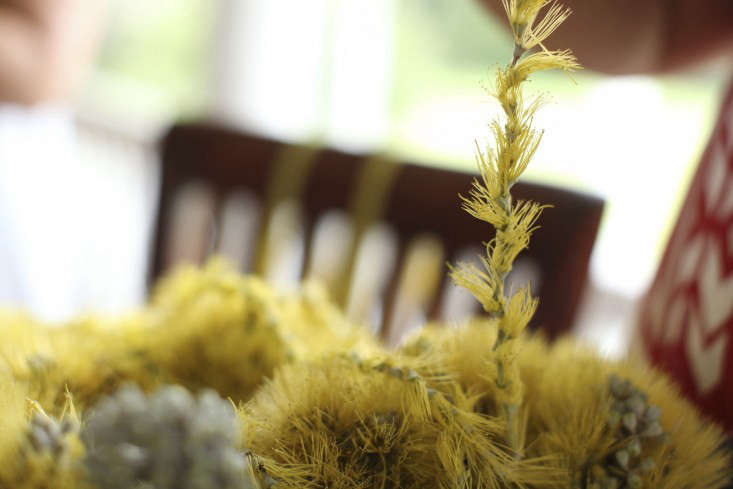 Above: Pompom-like blossoms from the ʻōhiʻa lehua tree are pierced with a needle and strung into a garland. Red is the most common lehua flower color, but white, orange, and yellow versions, like the ones pictured, can be found. The endemic shrub grows throughout the islands and in a variety of climates, from sea level to rain forests, on lava flows or in bogs. The leaves, seed pods, and flowers are all used to make different styles of leis.
Above: Experienced lei makers use extra long needles (from 6 to 12 inches) when stringing a lei, but a short sewing-kit type needle will also do. For the string core, dental floss or fishing line are sturdy choices. Or you can use a double strand of sewing thread (so it doesn't break). 
Above: To keep a close and ready supply of materials, some lei makers maintain a perennial "lei garden." Almost any greenery can be used, but common homegrown plants include ferns, ti leaves, pikake (jasmine), stephanotis, and agapanthus, as well as flowering trees, such as the plumeria (Shown). The state also issues free permits for foraging for lei materials in island forests.
Above: Seed capsules from the "˜a'ali'i shrub (Dodonaea viscosa), a hardy indigenous plant that grows on lava, as well as in pastures, and rain forests, make a delicate chain.
Above: The single strand sewn lei, called kui, may be the most recognizable–and easiest to make–style. Other methods of making leis include haku, in which leaves and flowers are braided into a broad flat long chain, and kipu'u, where leaf or vine stems are knotted together without the use of string. 
Above: The density at which the flowers are strung together can affect the overall visual effect. For a fuller style, keep the flowers close together.
Above: Wrapping the lehua and "˜a'ali'i leis around each other in a helix pattern creates a striking textural contrast.
In a tropics-induced reverie? Spend a little more time there: see An English Gardener in the Tropics and A Tropical Paradise, Attainable by Subway.
(Visited 161 times, 1 visits today)