Sitting behind a large but unassuming rolling door in an old commercial laundry building in the Mission District of San Francisco is Baylor Chapman's studio, Lila B. Design, where she creates container gardens, living landscapes and sustainable floral designs. She has re-fashioned a shipping dock into a workspace and shop dominated by small plants, succulents, locally grown flowers, and foraged plants.
Her work can also be seen at the Stable Cafe, a few steps down the street. In fact, her collaboration with the Stable Cafe has been so successful that she soon will be moving her studio into the Stable Cafe Courtyard. The transformation will be complete by June.
Photography by Janet Hall except where noted.
Above: Baylor Chapman surrounded by a coterie of containers including small vintage molds, old pipe pieces, and reclaimed wood pieces in her studio. Retail is just a one part of her business; she also focuses on photo styling and floral and garden design for urban gardens, interiors, and events.
Above: My new favorite hostess gift: Sempervivum plants in vintage Jell-O molds are $12 each.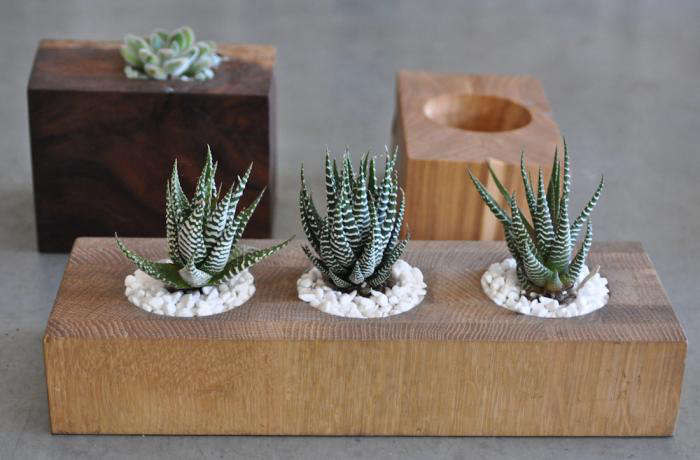 Above: Chapman commissioned wooden planters from San Francisco-based Pseudo Studio. The three-hole planter in the foreground is made from an old cutting board and filled with Zebra Haworthia plants ($45). Rich Walnutscapes (shown back, left in photo) are made from "found" California walnut chunks. Planted with a mini-succulent garden, a 6-by-7-inch Walnutscape is available for $78 through the Lila B. online shop.
Above: A few steps down the street from Lila B. Design is one of our favorite spots, the Stable Cafe, which acts as a gallery for Chapman's living landscapes.
Above: A creation of Chapman's—a pod filled with succulents—sits on a table in the Stable Cafe's courtyard.
Above: Chapman painted salvaged wood shutters and transformed them into vertical potting boxes filled with soil and planted with a variety of low-maintenance succulents. Lila B. Design Succulent Shutters are available by custom order; limited pieces are available at the Lila B. Design Online Shop. Image via Lila B Design.
With spring approaching, consider your own DIY: Succulent Table.
For a visit with another of our favorite San Francisco floral designers, see A Fearless Forager Opens a Flower Shop in San Francisco.
(Visited 110 times, 1 visits today)