Many people have no idea what's in season, in this age of convenience. What you see is what you get at Leila's Shop in London's Shoreditch:
Cabbage, kale, onions–all those wintery British staples–sit democratically with deep red pomegranates from Spain and acid green romanesco cauliflower from Italy. They're all in season, and they're all at their best, which is why they are here.
The honest display at Leila's Shop brings to mind earlier times, when people had to accept that November was the first of many months of turnips. Indiscriminate imports have changed all that. "Food from overseas needs to be special and indigenous," says Leila McAlister. She is not interested in selling salad leaves from Kenya but is drawn to "valued" products. "So, I say 'yes' to vanilla from Madagascar and 'yes' to nougat and rose petals from Iran."
Photographs by Kendra Wilson.
Above: "Old things are well-designed for their keeping properties," says Leila, and this can be said of the whole shop front. Fruit and vegetables are displayed in enormous old bowls and platters, and the awning is attached to hooks which have always been on the side of the building. Originally belonging to a fruit monger, the facade once had no glass in the windows, for optimal ventilation. Even now the combination of awning at the front and open windows at the back keeps the shop in a healthy state of refrigeration, without feeling especially chilly.
Above: English quince, a rock-hard cross between apple and pear. This is a kind of mythical fruit: it involves some preparation and is not at all easy to find. And yet Leila sells about 60 kilos of quince a week when it is available.
For more on Leila's shop, see "The Ultimate Greengrocer."
Above: Leila's Shop on Calvert Avenue, London E2. At the end of the street is Arnold Circus, a circular, raised park with a bandstand in the middle. The area used to be deserted, though there have always been a lot of people nearby at weekends for the Columbia Road Flower Market and the massive market at Brick Lane. Leila's Shop is halfway between the two, and the regeneration of the area means that there is more life now, all week.
For Leila's method of improving acoustics indoors, see "Wine Cork Acoustic Wall at Leila's Shop in London."
Above: "I'm keen on local custom," says Leila. "It's bread and butter for the shop."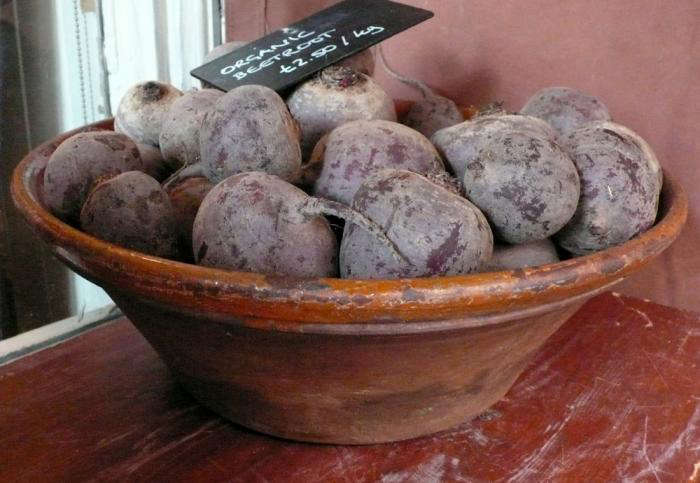 Above: Organic beetroot–though organic is not a priority with Leila. The bowl was originally used for the business of sugar plum-making.
Above: Leila's Café, next door to the shop, is a brilliant way of introducing people to unknown pleasures. Salsify for instance, could be mistaken for an exhibit from the mummy rooms at the British Museum. "We wouldn't sell salsify if we didn't serve it in the café," says Leila. "The look of it belies its delicate flavor," she confirms. "Roasted salsify with carrot" was sold out when I visited on Sunday.
Above: A really good peach will be served with an Opinel paring knife in the café. These round-ended but sharp knives from France are also for sale in the shop, sharing a sardine can with wooden lemon juicers. For a large selection of Opinel Paring Knives, see Opinel USA (for US shoppers) or Outdoor GB (for UK shoppers).
Above: These round baskets of onions and garlic were originally used by fruit and veg porters at the old Covent Garden Market. They are designed to be carried efficiently on one's head before being set down for display.
Above: Heaving benches at the front of the shop. Shown here: Sicilian lemons, Spanish pomegranates, Italian romanesco cauliflower (sharing a North African bowl with Savoy cabbage), quince, radicchio, and kale.
N.B.: This is an update of a post published Nov. 12, 2012.
(Visited 107 times, 1 visits today)