Eavesdropping isn't exactly the verb I'm after, but there is something wonderful about having a chance to listen to people in conversation with each other. To observe their banter and their body language, to notice when one person leaves off and the other picks up, which sentences get finished, and by whom. Make the conversation about food and I go into full sensory overload.
A few weeks ago, I stole out on a Sunday evening to see chefs Yotam Ottolenghi and Sami Tamimi in conversation at the 92nd Street Y. The pair talked about their work in London, their upbringing in West and East Jerusalem, respectively. They explored the question of what makes an authentic dish. Who decides how to tweak a recipe? How can you capture the flavors and nuances of the place where the food was grown? In rainy London do tomatoes need the help of a spoonful of brown sugar? Yes, sometimes.
I promise I was listening, but also I was dreaming up dinner: Baked okra with tomato and ginger? Roasted butternut squash with burnt eggplant and pomegranate molasses? Fennel, cherry, tomato, and crumble gratin? Mixed mushrooms with cinnamon and lemon?
I snapped out of my food-induced reverie long enough to hear Yotam declare that "the best cooking is being done in homes and not in restaurants." And armed with my shiny new volume of Ottolenghi: The Cookbook from Ten Speed Press, I was ready work a little magic in my own kitchen.
Here, the recipe for Ottolenghi's famous broccoli with chile and garlic:
(Would you like us to send you a new recipe every Friday? Subscribe to our Gardenista Daily email.)
Photographs by Erin Boyle.
Above: Photography shot with the Canon EOS 70D digital SLR camera, with Dual Pixel AF technology and built-in Wi-Fi.
Above: Broccoli cooling in a bath of ice water after a quick blanch.
Above: The recipe calls for broccoli florets that have been blanched and dried completely. I used a clean dish towel to speed up that step.
Above: Garlic and chiles. I used cayenne chiles because there wasn't anything milder at my local grocery store, and they were just right.
Above: Charred broccoli drizzled in olive oil seasoned with garlic and chile. The recipe calls for a ridged grill pan to help sear the broccoli, but I was able to manage with a regular flat-bottomed skillet.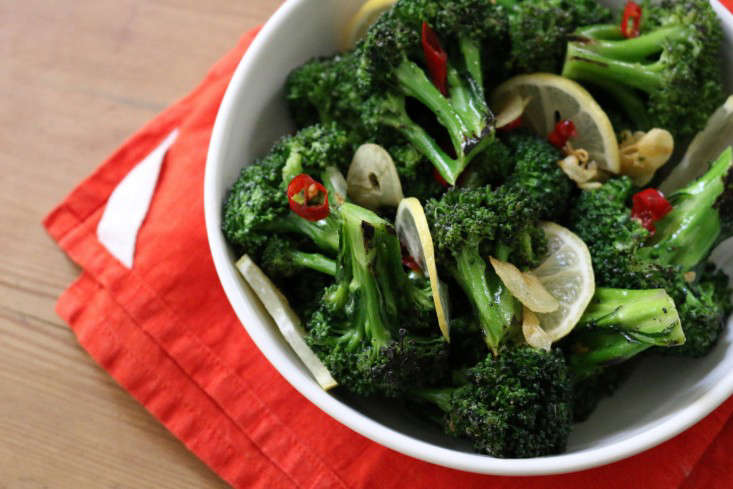 Grilled Broccoli with Chile and Garlic
Reprinted with permission from Ottolenghi: The Cookbook by Yotam Ottaoelnghi & Sami Tamimi, copyright 2013. Published by Ten Speed Press, a division of Random House, Inc.
Ingredients:
2 heads broccoli (about 1 lb/500 g)
Scant 1/2 cup/115 ml olive oil
4 cloves garlic, thinly sliced
2 mild red chiles, thinly sliced
Coarse sea salt a nd freshly ground pepper
Toasted almonds or very thin lemon slices (with slices), for garnish (optional)
Instructions:
1. Prepare the broccoli by separating it into florets (leave on the florets' individual stems). Fill a large saucepan with plenty of water and bring to a boil. It should be big enough to accommodate the broccoli easily. Throw in the broccoli and blanch for 2 minutes only. Don't be tempted to cook it any longer! Using a large slotted spoon, quickly transfer the broccoli to a bowl full of ice-cold water. You need to stop the cooking at once. Drain in a colander and allow to dry completely. It is important that the broccoli isn't wet at all. In a mixing bowl, toss the broccoli with 3 tablespoons/70 ml oil and a generous amount of salt and pepper.
2. Place a ridged grill pan over high heat and leave it there for least 5 minutes, until it is extremely hot. Depending on the size of your pan, grill the broccoli in several batches. The florets mustn't be cramped. Turn them around as they grill so they get char marks all over. Transfer to a heatproof bowl and continue with another batch.
3. While grilling the broccoli, place the remaining scant 5 tablespoons/70 ml oil in a small saucepan with garlic and chiles. Cook them over medium heat until the garlic just begins to turn golden brown. Be careful not to let the garlic and chile burn–remember, they will keep on cooking even when off the heat. Pour the oil, garlic, and chile over the hot broccoli and toss together well. Taste and adjust the seasoning.
4. Serve warm or at room temperature. You can garnish the broccoli with almonds or lemon just before serving, if you like.
Above: Ottolenghi: The Cookbook; available for $23.79 on Amazon.
Hungry yet? You also might want to make Fall Favorite: Raw Kale Salad with Apples and Almonds.
Finally, get more ideas on how to successfully plant, grow, and care for broccoli with our Broccoli: A Field Guide.
Interested in other edible plants for your garden? Get more ideas on how to plant, grow, and care for various edible plants (including flowers, herbs and vegetables) with our Edible Plants: A Field Guide.
(Visited 485 times, 2 visits today)