Tucked into a corner of an old factory building in Stockholm's central í–stermalm neighborhood is an unexpected seasonal greenhouse, filled with scented pots of hyacinths and amaryllis bulbs and vases of fragrant flowers.
In addition to rustic garden furniture and outdoor accessories, home design shop Garbo Interiors sells a mix of antique furniture, Gustavian reproductions, candles and vintage urns in its greenhouse. Let's do some Christmas shopping:
Photographs via Garbo Interiors, except where noted.
Above: . Among the seasonal plants are Australian wild geraniums and "some forgotten old-fashioned varieties that we think need to come back."
Above: Potted pelargoniums are popular windowsill plants in Sweden, where they spend winters being coddled indoors; the national obsession is known as pelargonsjukan, which translates to "pelargonic disease."
Above: Tuscan pots in gray, light pink and terra cotta are for sale with or without plants.
Above: Amaryllis, primed to bloom on Christmas.
Above: Amaryllis blooms in rustic galvanized troughs in a makeshift potting shed.
Above: Forced bulbs await pots.
Above: Paperwhites in Tuscan pots.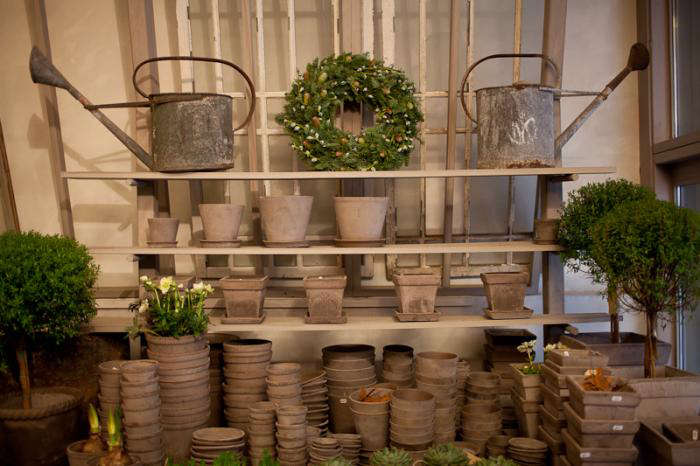 Above: Seasonal wreaths made of fresh woodland greenery.
Above: Hyacinths in a row.
Above: Photograph via Two Sisters Home.
N.B.: For another garden shop in Sweden, see "Shopper's Diary: Rosendals Tradgard in Stockholm."
(Visited 95 times, 1 visits today)