Maybe you just moved to an apartment with a balcony you want to turn into an outdoor living space. Or a rooftop begging to become a garden. Wouldn't it be nice to have a top garden designer help you pull everything together with the right plants, planters, furniture, and accessories?
Enter Brooklyn-based garden designer Julie Farris. Her new website, Landstylist, is a blueprint for how to create a stylish and comfortable outdoor room. Farris and partner Mark Thomann have assembled a quirky and highly personal mix-and-match collection of furnishings and hand-picked plants (much of which Farris has tested in her own rooftop garden in Brooklyn).
From dining tables to outdoor lighting, the products' designs and styles vary–but nearly everything on the site would look good in combination with other Landstylist picks.
Here are some of our favorite picks from Landstylist:
Above: Landscape designer Farris tested plants and products on her own rooftop. For more of her garden, see A Piet Oudolf-Style Rooftop Meadow in Brooklyn. Photograph by Sylvia Moreno-Bunge for Gardenista.
Above: On Landstylist, Farris suggests a planting scheme that includes drought-tolerant Achillea 'Moonshine' (the yellow variety is in her own garden; pink and white yarrows also are available): "I love it coupled with the dusty purple Russian Sage, and also looks great with Echinacea, Salvia, and Monarda."
Above: For many items, shoppers can click through from Landstylist to retailers. For instance, Farris recommends buying Perovskia Russian Sage for $10.95 apiece (discounts available for bulk purchases) from Great Garden Plants.
Above;  "I actually have this sofa on our roof in Brooklyn, and what I like is that it's modern, comfortable, clean, and simple, and has aged very well," Farris writes on Landstylist, where shoppers can click through to buy the Monterey Teak Outdoor Sofa; $2,395 from Teak Warehouse.
Landstylist features 20 sofas, of varying styles and sizes but with a common design DNA. They're modern, have clean lines, and are durable outdoors.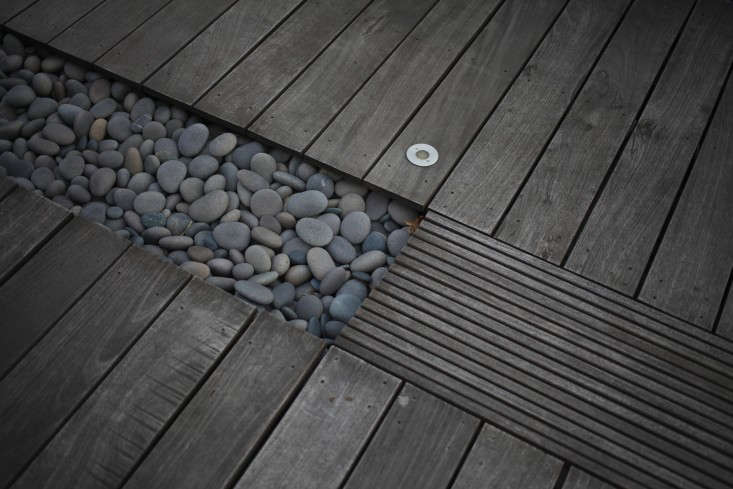 Above: On her own rooftop, Farris has low-profile lights embedded into the surface of the boardwalk. On Landstylist, she recommends the same LED In-Ground Luminaires by Bega; $207 each from Y Lighting.
Above: A Self Watering Planter by Vondom comes in 13 colors including white; $150 from 2 Modern. Farris writes, "What is self watering, actually? It basically means there is a tube inside the planter that you fill up with water, and it releases on a slow drip into the roots so that irrigation is not required. This is not a no-maintenance solution, but then again nothing is."
For more of our favorite outdoor furnishings, see:
(Visited 91 times, 1 visits today)