Three weeks before last year's hurricane, Key West–based landscape architect Craig Reynolds completed a new tropical garden for one of the best-known Victorian cottages in the island's historic Old Town district.
The property is on a quiet lane where five houses share a handful of parking spaces; visitors arrive on foot. In addition to being tucked away, the house has a provocative provenance. It was formerly owned by Nancy Friday, author of the best-selling 1973 book My Secret Garden: Women's Sexual Fantasies, suggesting a theme for the new landscape: the secret garden.
When the hurricane hit, "trees went down on one side of the property," says Reynolds. But six months later you'd never know it. The secret garden's owner, whose primary residence is in New Jersey, decided "we should just keep going, to replant trees, and fix the garden," Reynolds says. Here's the result.
Photography by Tamara Alvarez, courtesy of Craig Reynolds Landscape Architecture.
Visible at the left of the gate, a single piece of Miami oolite was set on level, compacted ground to create a tiered effect, softened by plantings. Beyond the gate, a winding brick path leads to the front door.
A brick path is edged with layered tropical plants including at left Anthurium 'Hot Rio Nights' and on the right Kimberly Queen Boston ferns behind a low edging of mondo grass.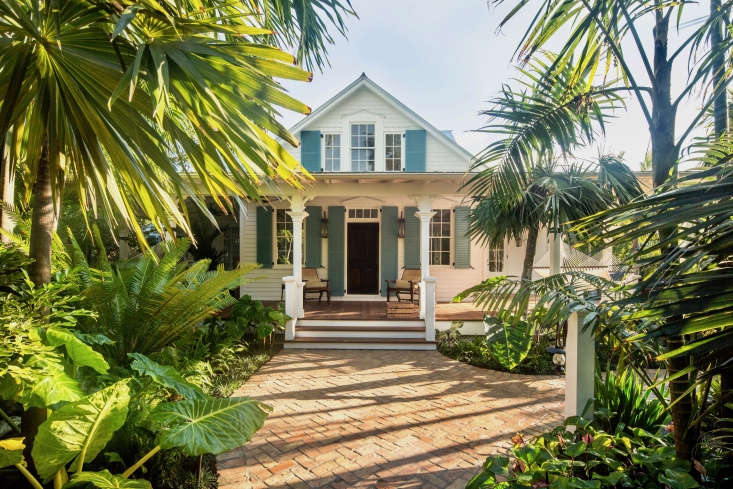 Specimen plants, including at left a gum palm (Dioon spinulosum) and in the foreground Elephant Ear (Alocasia 'Portora'), create a dramatic tropical backdrop for the house.
In front of the oolite wall, a mulch of black Mexican river rock serves the dual purpose of being decorative while directing rainwater flow.
The new pool replaced "a kidney-shaped pool that was super ugly," says Reynolds. "With stone on the coping and the coping material, which is volcanic Cantera stone from Mexico, we tried to make it look like an old lagoon that has been there forever."
"The owner wanted to have private areas and little narrow paths and views and peeks, and at the same time have a landscape that was very lush with lots of shade," says Reynolds.
For more design ideas and growing tips for our favorite tropical plants, see our curated guide to Tropicals 101, including:
(Visited 519 times, 4 visits today)