The sand ginger on my terrace begins to bloom in mid-August. Evenings are darker, crickets are louder, and the downhill summer feeling is of equal parts regret and relief. The upturned white flowers with their amethyst throats are like orchids poised on the wide green backdrop of the plant's sculptural leaves. They are exquisite. I had meant to grow my sand ginger—acquired from Companion Plants at the Ohio Pawpaw Festival in 2018—purely for culinary adventures. But the plant's beauty began to compete with my appetite for its aromatic leaves. It is a lovely, useful, and unexpectedly easy tropical herb to grow, even in cold climates, when it must overwinter indoors.
Photography by Marie Viljoen.
Botanically, sand ginger is Kaempferia galanga. Lesser galangal, aromatic ginger, kencur, and resurrection lily are a few of its other common names. Native to forest edges in South and Southeast Asia, it is used fresh in Malaysian and Indonesian cooking traditions. In China, the dried rhizome is important, particularly in Sichuan cuisine. And it is used widely in its native range as a botanical medicine.
In the United States, sand ginger is cold-hardy in USDA growing zones no lower than 9a. In colder climates it must be grown in a pot and overwintered indoors (it can also be dug up and kept wrapped in paper in a dry, cool, dark spot). It's completely dormant in winter. Outdoors, it prefers high, dappled, or full shade; left in the sun its leaves will curl inwards in protest.
Sand ginger's winter dormancy is known as obligate: It requires dormancy. Its foliage disappears as the rhizomes rest for months. While watering in winter can extend the leaves' season, the plant will then take much longer to leaf out the following summer (like us needing to sleep longer after a late night).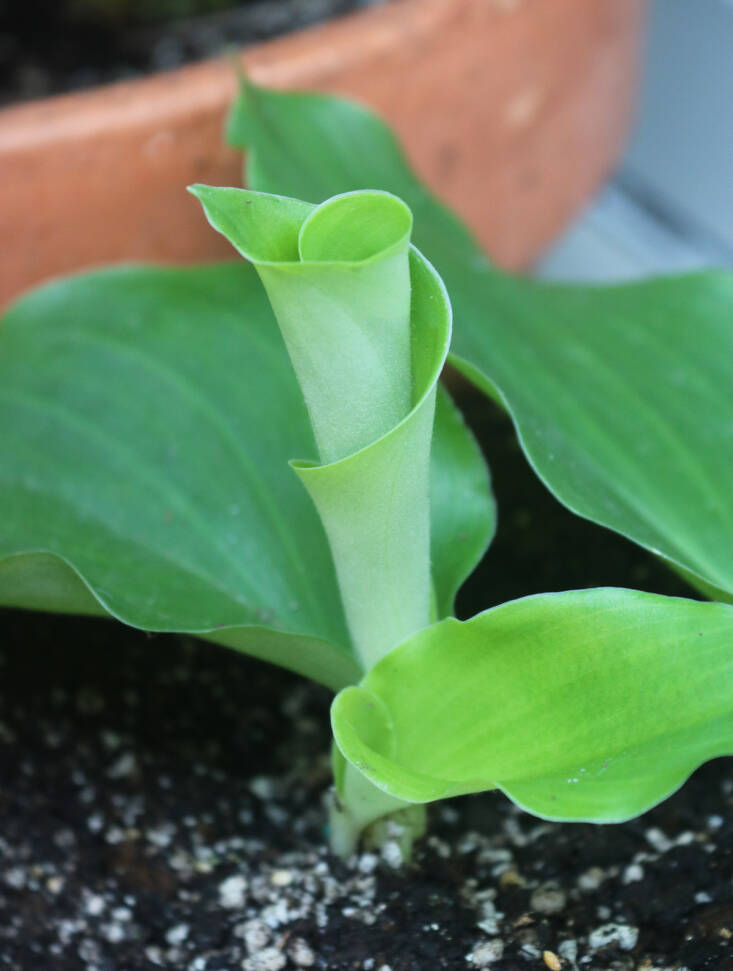 Once night-time temperatures are reliably above 55 F (to lessen transition-shock), I carry the potted sand ginger outside again, and water it. For many weeks nothing appears to be happening, but the rhizome is thinking about things. At last the first, tightly-rolled leaf appears. In the steamy, tropical days of July and August the leaves keep forming, with more and more vertical cylinders unfurling and flattening, creating a lushly ruffled effect.
By late afternoon the flowers begin to fade, their petals turning transparent and limp before they disintegrate. They open in the night. Their tissue-paper-thin buds resemble sharp white needles and are easy to miss.
Every two years my sand ginger threatens to outgrow its 10-inch terra cotta pot. Pulling the whole plant free is easy, and a sharp hori makes quick work of shearing the rhizome mass into two-to-four pieces. Those are repotted.
The plant produces no stems, and the rhizomes should be barely covered by soil when re-potting.
Sand ginger can be bought from Randy's Tropical Plants.
Aromatic and crisp, the leaves are easy to harvest, and allow the rhizomes to keep producing more. Their perfumed flavor and juicy texture are very appealing in salads and quick pickles. And they add their distinctive aroma to lacto-fermented vegetables, too. Cooked, sand ginger leaves bring layers of complexity to coconut-milk-based curries, and to meat dishes like pork belly stuffed with fresh turmeric and garlic, or with ginger in a marinade for lamb grilled over coals.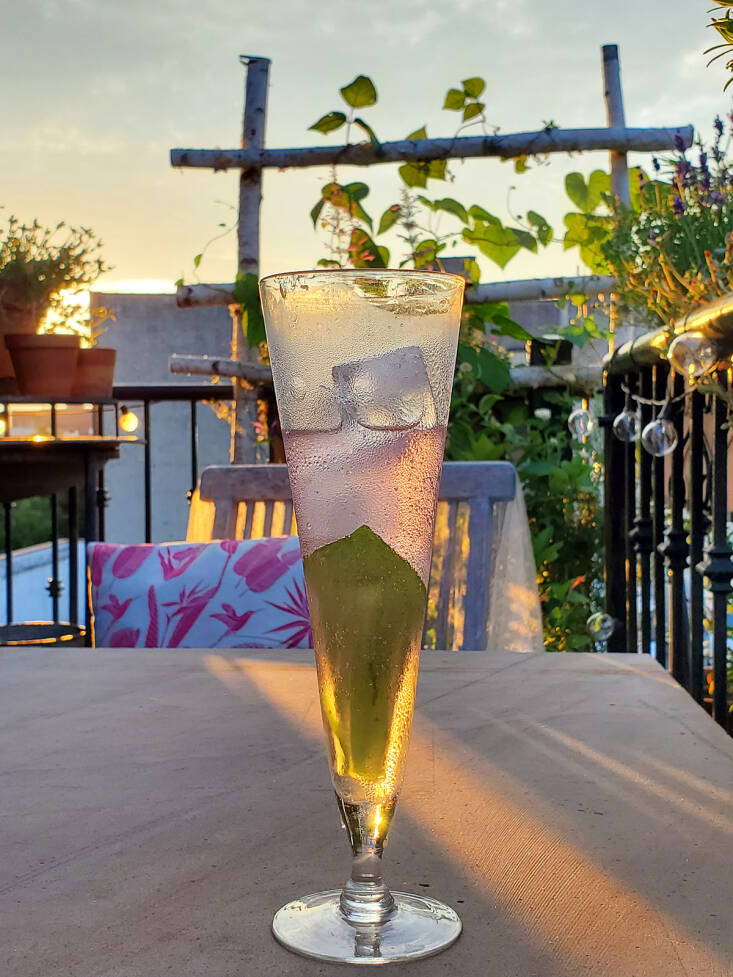 A plate of chopped sand ginger mixed with other soft, fragrant leaves like sweet, Thai and lemon basils, Vietnamese coriander, cilantro, and mint, dressed with a dash of shoyu and some toasted sesame oil, and topped with a couple eight-minute eggs, is a tonic in salad form.
Soused Sand Ginger Cucumbers
Essentially a quick pickle, this plate of cumbers is very refreshing. Serve as a side dish or as a topping for steamed rice.
5 Persian cucumbers, crushed lightly and cut into 1-inch pieces
3 Tablespoons white wine vinegar
1 Tablespoon sugar
½ teaspoon salt
1 clove garlic, smashed
2 young sand ginger leaves, cut very finely
1 Tablespoon sesame seeds, toasted
¼ teaspoon cinnamon
Place the cucumbers in a bowl. Mix together the vinegar, sugar, salt, garlic clove, and sand ginger leaves. Pour this over the cucumbers. Leave to macerate for at least 30 minutes and up to a couple of hours. In a mortar, mix the sesame seeds and cinnamon and pound very lightly. Leaving some seeds intact. Sprinkle the mixture over the cucumbers just before serving.
Wax Beans with Sand Ginger Soy Pickle
When farmers markets explode with wax beans in summer I make this warm salad.
Sand Ginger Pickle
3 sand ginger leaves
½ cup soy sauce (I like Ohsawa nama shoyu)
¼ cup scallion greens, finely chopped (optional)
2 teaspoons sugar
1 clove crushed garlic
Wax Beans
8 oz wax beans, stem ends trimmed
2 large cloves garlic, crushed
1 tablespoon neutral oil (like avocado)
2 tablespoons marinade and leaves from Sand Ginger Pickle
1 sand ginger leaf, finely chopped
1/2 teaspoon chili flakes
For the sand ginger pickle: Roll each sand ginger leaf from tip to stalk into a tube and slice very thinly. Place these chiffonaded leaves in a clean jar with all the other ingredients. If the soy does not cover the leaves, add some more. Close the lid tightly and shake the jar gently to dissolve the sugar. The leaves are ready to use after 30 minutes and can be kept indefinitely in their soy brine in the fridge.
For the beans: Steam the beans until just tender—about 5-6 minutes. Remove and reserve. Empty the pot. Add the oil and garlic to the pot and cook over medium-low heat until the garlic begins to turn golden. Add the 2 Tablespoons of Sand Ginger Pickle (with soy sauce) and stir well. Turn off heat. Return the beans to the pot, tossing to coat. Heap into a serving bowl and top with the freshly-cut sand ginger leaf and chili. Serve warm.
For more recipes, see:
(Visited 749 times, 6 visits today)