Bloggers Todd Porter and Diana Cu–perhaps you know them as the White on Rice Couple–are from opposite sides of the world; he was raised on a cattle ranch in Oregon and she moved from Vietnam to the United States at a young age. When the two met in 1996, their first conversation was mostly about food. Their new vegetable-centric cookbook, Bountiful: Recipes Inspired by Our Garden, has 100 easy-to-prepare recipes, leaving plenty of time to gather around the dining table.
"Things don't have to be complicated," says Cu. "It's all about being able to cook something that is simple and fresh and sharing it with someone. That's the key."
We are particularly fond of their recipe for roasted gold nugget squash with apples and brown butter; for the ingredients and step-by-step instructions, see below. 
Photographs by Todd Porter and Diane Cu.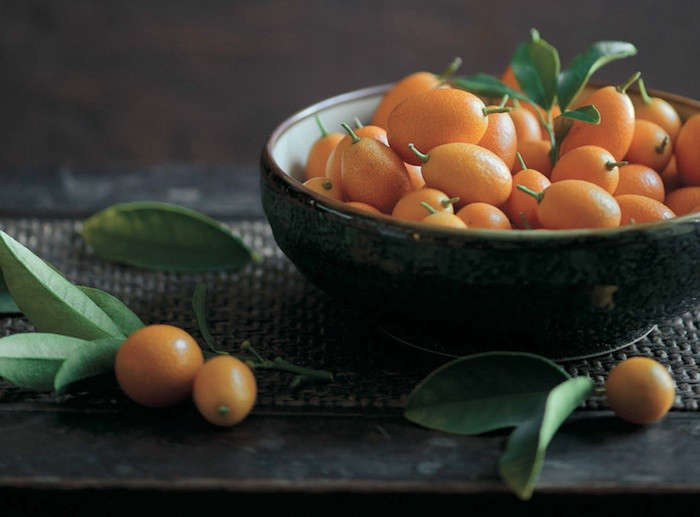 The couple wrote, styled, and shot the book together–and developed each recipe. They gleaned tips and inspiration from their travels, friends, and garden (they have more than 38 fruiting trees and vines; about 20 varieties of tomatoes; herbs, and more). "And, we washed every single dish on our own," says Cu.
The goal of the book is to bring people together over simple, affordable, fresh meals. "Food is the bridge," says Cu. "The book brings it down to the basics. Simple cooking with whatever vegetable or fruit you may have in the fridge or garden."
Above: Categorized by vegetable and fruit groups, Bountiful has recipes that showcase fresh produce, with dairy and meat playing supporting roles.
Above: Fresh figs in late summer.
Roasted Gold Nugget Squash with Apples and Brown Butter
(Serves 4)
Ingredients:
3 tablespoons unsalted butter
3 tablespoons brown sugar
2 medium apples (about 1/2 pound or 225 grams total), cored and sliced
1 medium Gold Nugget squash (about 1 1/2 pounds or 680 grams), peeled, seeded, and sliced 1/2 inch thick
1/2 cup (60 grams) chopped pecans
Sea salt
Freshly cracked pepper
Instructions:
Preheat the oven to 375 degrees.
In a medium saucepan, melt the butter over medium heat. After the butter stops sizzling, add the brown sugar and cinnamon. Stir until well combined.
Add the apples and sauté for five minutes, or until the apples are soft.
On a sheet pan, toss the squash and the pecans with the apple mixture. Coat completely, then spread the squash in an even layer in the pan. Season to taste with salt and pepper.
Roast for 15 to 20 minutes, or until tender. Serve warm.
Above: Bountiful: Recipes Inspired by Our Garden is $21 on Amazon.
Is the cooler weather turning you into an armchair gardener? Here are some of our favorite Gardening Books.
(Visited 24 times, 1 visits today)