Long ago, Laura Esquivel taught me to eat roses. In her debut novel, Like Water for Chocolate, there is a recipe for rose petals and quail. It is a dish that proves incendiary in the book. Everything about the recipe appealed to me: The defiance of forbidden love, a gift of perfumed roses, capturing a moment by translating it into a meal, being scooped up by a man on horseback (!). I headed straight for my mother's early summer roses, in full bloom. The next day, we ate the quails in rose petal sauce under the big tree in that garden, and I loved everyone who was there. Per the recipe's instructions.
Join us as we explore how to catch the scent of roses, learn some tips for preparing the petals, and visit with an English forager who collects roses by the basketful from her garden on the border of England and Wales.
Photography by Marie Viljoen, unless otherwise noted.
There doesn't have to be drama when we eat roses, but there does have to be perfume (commercially grown long-stems are no good). I have always had a weakness for voluptuous English roses, and, one summer, when 'Abraham Darby', a David Austin hybrid, bloomed prolifically on our terrace despite a fatal viral infection, I cut all the blooms and stuffed them into vases before removing the doomed shrub. Their rich, fruity perfume was overwhelmingly good.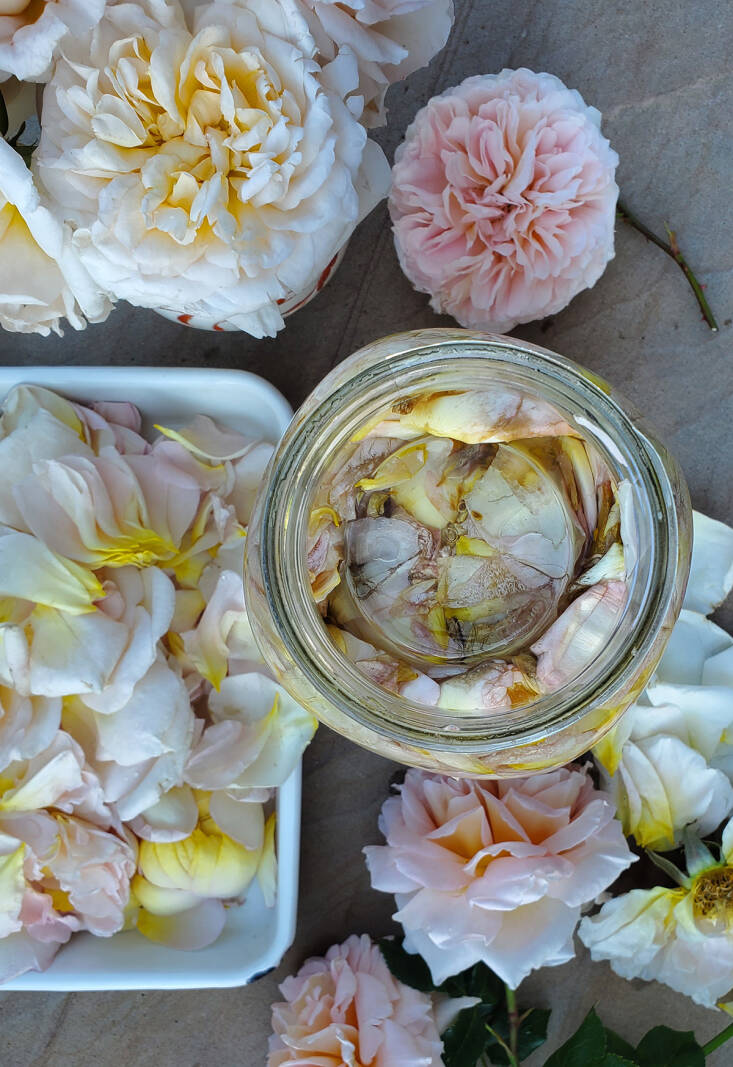 As they faded, their scent persisted, and it seemed a travesty to waste their final bounty. I decided to ferment the roses, making a sweet cordial that turns slowly into a rich and versatile vinegar, a process I follow with many other edible, scented flowers. A concentrated cordial followed (sugar + water + rose petals), although I noticed that it never fizzed, a sign that fermentation is active. And then, unusually, the next, vinegar-stage was delayed. Instead of turning slowly sour (a sign that acetic acid bacteria are at work), the liquid in the jar stayed stubbornly sweet. For months, exposed to air. My rose vinegar plans fizzled. Perplexed, I did some research, which revealed the possible cause: Roses have antimicrobial properties. Fermentation relies on the activity of beneficial microbes. The roses wanted nothing to do with them. So I basically had a rose-scented infusion with sugar. Luckily, it tasted great. I bottled it.
For sweet rose infusions I mix a syrup of equal weights sugar and water (I use organic sugar, so the liquid turns light brown), enough to fill whatever size jar I am using. The plucked petals are then added to it and dunked. If they keep rising in the liquid, a river stone or pickle weight keeps them submerged. After a week the contents of the jar smell wonderful, and I strain out the petals, bottle the rose syrup, and keep it refrigerated. It is mixed into drinks, stirred into pan juices, and dashed into salad dressings, where it plays especially well with grated carrots.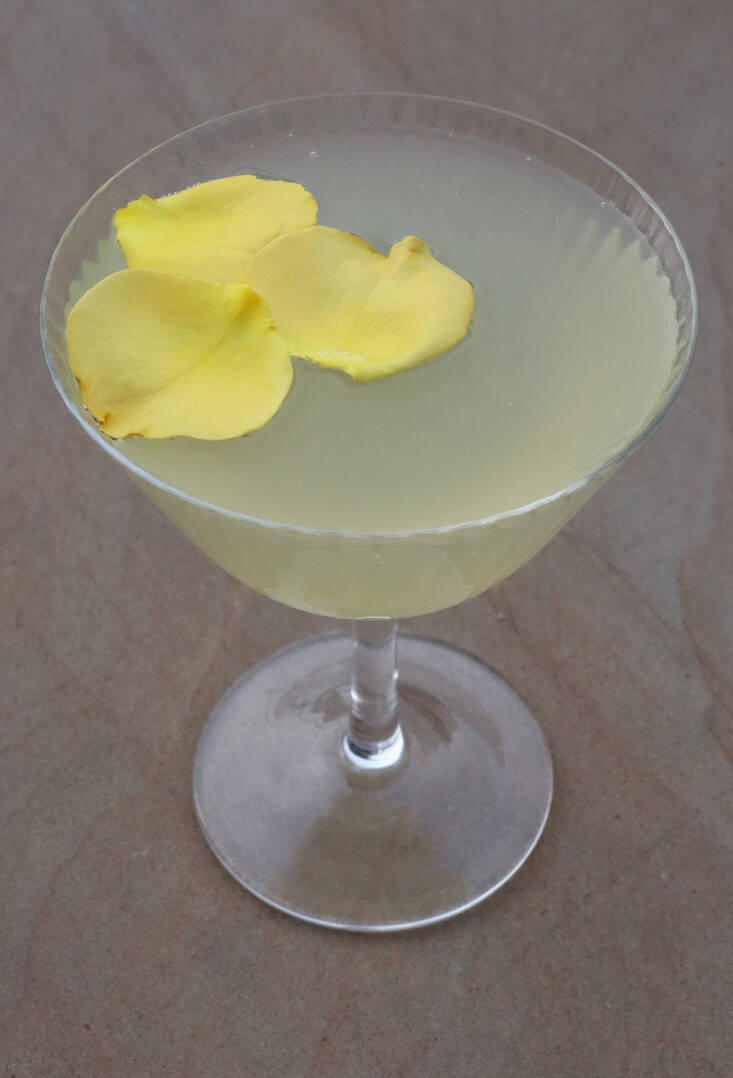 The strained rose petals left from the sweet infusion are a compelling condiment in their own right, added to savory dishes like braised chicken and summer vegetable curries, always with a counterbalance of acid, like fresh lemon juice, or sumac.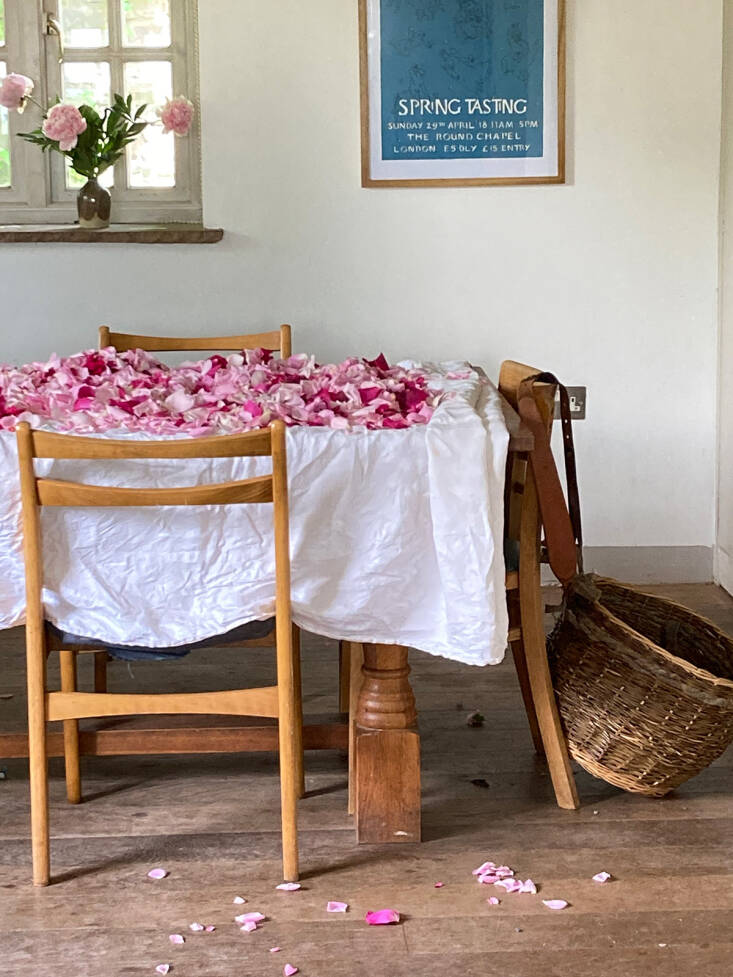 When English forager and wild foods author Liz Knight moved to the countryside in her early twenties, she rediscovered the plants she had played with as a child. Instead of adding roses to the mud pies of her childhood, her first bottle of homemade elderflower cordial included a handful of their wild petals. "I haven't stopped being sustained by roses since then," she writes in an email. In her book Forage: Wild Plants to Gather, Cook, and Eat (Lawrence King Publishing, 202o), her recipes for Rose Petal Rice Pudding and Rose Petals Macerated in Sugar make the most of the flowers' ethereal scent.  She writes in the introduction: "Our culinary infatuation with their perfumed blooms has wilted recently, since roses became regarded as ornamentals to be seen but not eaten. Rose flavoring is now sought from specialist stores rather than plants nearby."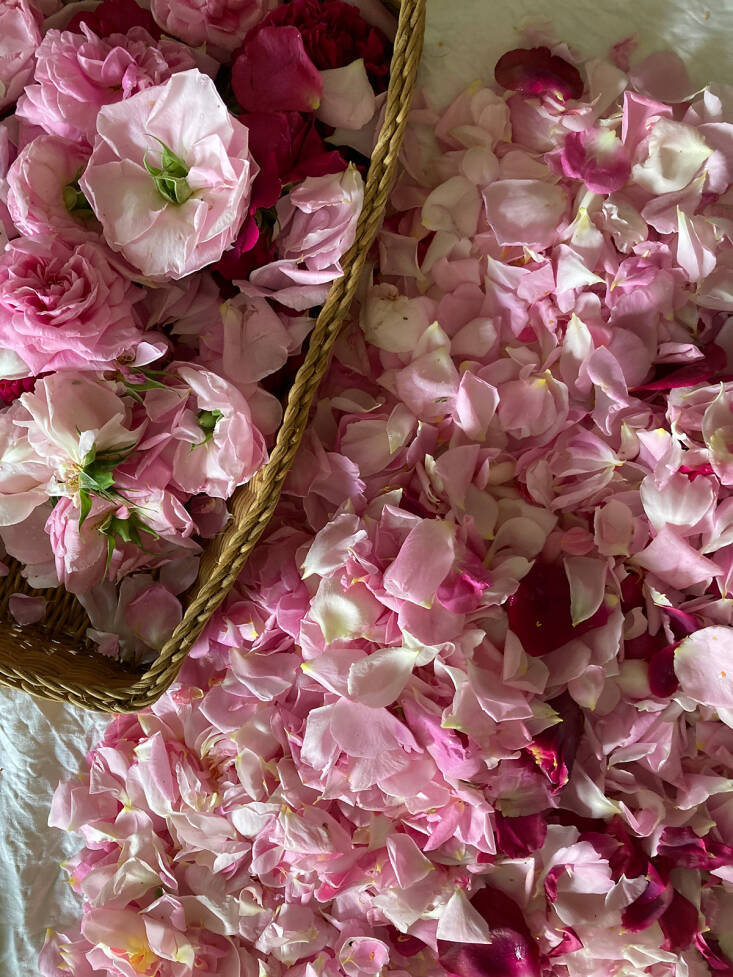 Liz's garden is stuffed with roses ("in June you have to practically hack your way through…"), and for a while she supplied those specialty stores, selling bespoke batches of rose el hanout (a pun we can approve), and sweet rose dukkah to the storied Fortnum and Mason. The petals were all gathered from the rambling shrubs and climbers that grow in her garden and the surrounding hills. "I always loved the fact that my flowers made their way onto strangers tables," she says. Her focus now is wild workshops and forage courses. You can follow Liz on Instagram @foragefinefoods.
Liz's Rose-Gathering Tips:
Collect roses before the heat of the day takes hold, when the petals have plumped up in the damp air of the night.
If you're making syrup or jam it doesn't matter if the petals are wet.
If you're drying the petals, collect only on dry days.
When you dry petals, make sure to pull the petals away from the flower head, and spread them out in a thin layer (otherwise the petals will oxidize and turn brown); once they're crumble-dry, jar them in an airtight container and keep away from direct sunlight.
If you want to make syrup or jam with your roses but are short on time when you're harvesting them, pop the in your freezer until you're ready to use them—tip them straight from the freezer into the hot syrup to get a fresh flavor.
Gulkand Recipe
Riffed from Liz Knight's recipe for Rose Petals Macerated in Sugar (which layers petals with sugar), my version of gulkand—a cooling tonic in Ayurveda—relies on palm sugar candy and the fragrant blooms I glean from our terrace shrubs. The candy is pounded in a mortar before the petals are added, and then the mix goes into a jar that is left in the sun for a couple of weeks before being stored in the fridge.
4 cups fragrant rose petals
1 cup palm candy (or sugar)
In a mortar pound the hard candy until it it is fine. In a clean jar, alternate layers of petals with the candy. Add the lid and leave in the sun (ideally) for two weeks (it will turn syrupy and spoonable within a few days). Stir spoonfuls into creamy desserts, like rehydrated basil seeds, rice pudding, or panna cotta; or add a dollop to a bowl of yogurt.
See also:
(Visited 4,682 times, 1 visits today)
Frequently asked questions
What are some roses that are good for cooking and making drinks?
Some roses that are good for cooking and making drinks include the Damask rose, Bourbon rose, and Rugosa rose.
How can I use roses in cooking?
Roses can be used in cooking by infusing them into syrups, adding petals to salads, making rosewater, or using them as a garnish on desserts.
What are some popular recipes using roses?
Some popular recipes using roses include rose petal jam, rose-infused cocktails, rosewater macarons, and Turkish delight.
What are the health benefits of consuming roses?
Consuming roses can provide various health benefits such as improving digestion, boosting the immune system, and reducing inflammation.
Can I use any type of rose for cooking and making drinks?
While some roses are more fragrant and flavorful than others, you can generally use any variety of rose for cooking and making drinks.
Where can I find rose recipes?
You can find rose recipes online on websites such as Gardenista, cooking blogs, or in cookbooks that focus on floral ingredients.
Are there any precautions to consider when using roses in cooking?
When using roses in cooking, make sure to only use organically grown roses that have not been treated with pesticides. Also, remove the bitter white base of the petals before using them.
How long can rose-infused syrups or liquids be stored?
Rose-infused syrups or liquids can be stored in a sealed container in the refrigerator for up to a month.
Where can I buy culinary roses?
You can buy culinary roses from specialty flower shops, organic farms, online retailers, or nurseries that offer a wide variety of roses.