David Bladow, married for six years, believes in the romantic gesture. The only reason he wasn't sending his wife flowers very often was  "it was so hard–why do you have to think of it days and days ahead?" he says. "Ordering flowers was painful." Not anymore.
Bladow and business partner Matthew Schwab have launched a new San Francisco-based flower delivery service called Bloom That and can deliver a bouquet–by bike–to a wife (or to a husband, a mother, or anyone else living within the city limits) within 90 minutes. Score one for romance.
Photographs courtesy of Bloom That.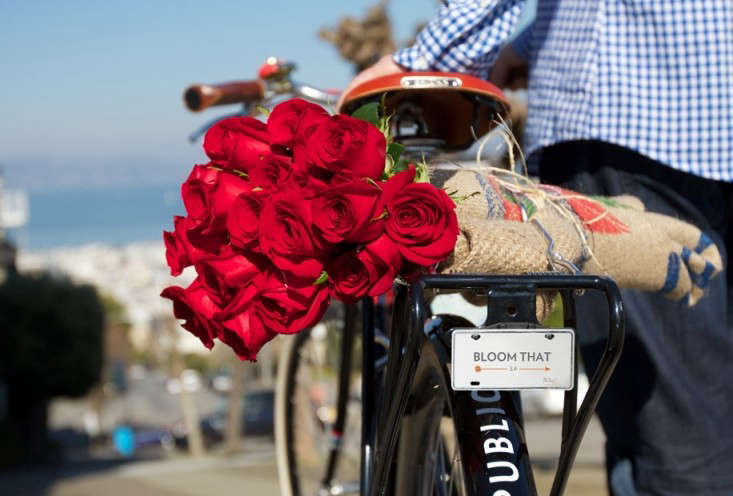 Above: Here's how it works: At Bloom That, you have only five choices–four different seasonal bouquets and a potted succulent, for prices ranging from $25 to $65 plus tax. After you place the order online, it gets routed to a local florist–along with a text message reminding the florist that the order has to be ready to go out the door within 30 minutes.
Above: Bloom That also sends a message to a bike courier service, with information on where to pick up the flowers and where to deliver them.
A third text message goes out to the customer when the order is on its way to say it will be delivered within 30 minutes. "We might be the fastest flower delivery service on the planet," says Bladow.
Above: Bloom That offers only a handful of choices, including seasonal bouquets. "We interviewed a ton of florists and said we were going to keep it really simple," says Bladow. "We showed them our aesthetic, and we supply them with our own floral tags and ribbons and even the specific pens we want them to use to hand write the notes.
"These are very specific, simple arrangements," says Bladow. For florists, it's like walk-up business. It helps them turn over their inventory. For couriers, it's also kind of like walk-up business. They rely on food delivery a lot, and we fill the gaps between orders."
Above: Ready for delivery, a Bloom That bouquet is wrapped in burlap and a thick layer of paper. "When we started out a few months ago, we had vases too. But at the moment we don't have a great way to deliver vases," says Bladow.
In the coming months, Bloom That plans to expand to cover Palo Alto and Mountain View.
Looking for a florist in the Bay area? See A Fearless Forager Opens a Flower Shop in San Francisco.
(Visited 6 times, 1 visits today)