On the side of the road in Sebastopol, CA, Peter Lowell's is a lively pillar of the local Sonoma County community. Founded by Lowell Sheldon in 2007, the restaurant features a hyper-seasonal menu, with 60 percent of the produce coming from its own Two Belly Acres Farm. 
"Over the years, it's become everything I imagined it would be," says Sheldon. "We feature only the finest producers in the area, not because we have to have the best of everything, but simply because we appreciate the relationshops we build with other passionate folk."
Photographs courtesy of Peter Lowell's.
Above: Sheldon carries chard, snap peas, summer squash, and fresh herbs from the nearby Sanders Field Farm.
Above: Inside, guests at Peter Lowell's.
Above: Peter Lowell's serves Four Barrel coffee made in the Mission District in San Francisco.
Above: Homemade muffins with Meyer lemon marmalade and pineapple guava jelly to take home.
Above: House ravioli over pickled maitake mushrooms, red onion, and cavalo nero.
Above: Wild nettle pesto on thin crust pizza.
Above: Chef and farmer Natalie Goble and owner Lowell Sheldon on the patio.
Above: Goble and Sheldon harvesting on Two Belly Acres, the farm run exclusively for the restaurant. It is three miles into the countryside from Peter Lowell's, and Natalie and Lowell tend to work and harvest on three or four days a week.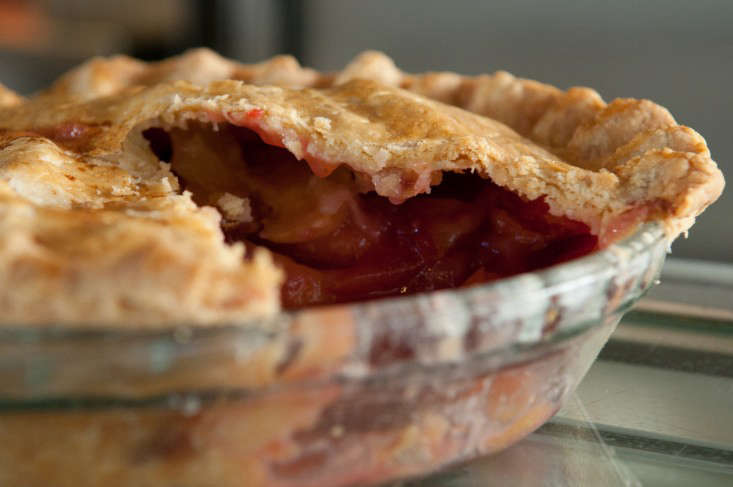 Above: Plums for the house jams and pies. "When you're passionate about the art of creating something," says Lowell, "you tend to do it well." 
Above: Lighting candles for evening service in the restaurant.
Interested in other Gardenista-recommended restaurants? Visit our Restaurant Guide.
(Visited 35 times, 1 visits today)