In my past life as a florist, I was tasked with everything from tiny ikebana to grand wedding flower installations. While the five years of flower wrangling helped me through school, I'm surprised to find that the skill continues to haunt me along whatever path I've headed. Case in point: planning last week's party for the Remodelista book launch at The East Pole in New York. My goal was to make 12 arrangements for under $200.
Let me begin saying that I know the San Francisco flower market better than the block my own apartment is on; the New York City flower market, however, is a total mystery. Some trade basics stand true no matter what city you're in: bring cash, be assertive but friendly, and wear good shoes.
Photography by Brian Arc, Getty Images (unless otherwise noted).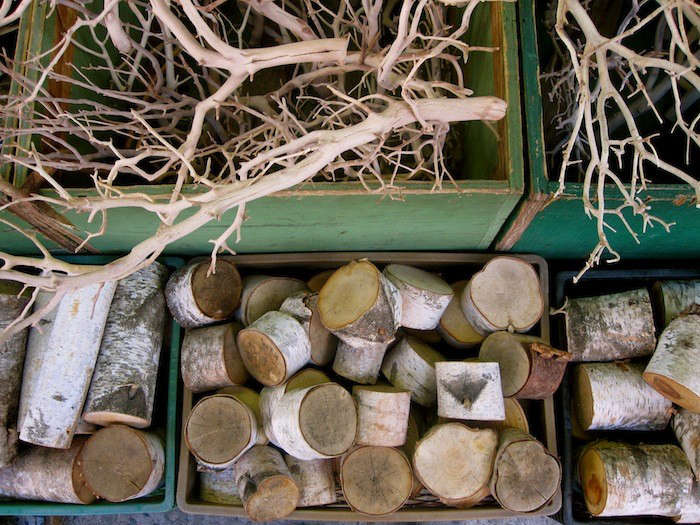 Above: Photograph of the market via NYC'd.
The New York market is located on West 28th Street right around 6th and 7th avenues and, while it is a wholesale market, ask sellers in advance if you can pay in cash and you'll know if they offer to the public (you won't get a wholesale price, nor should you, but you will have the same access as trade florists).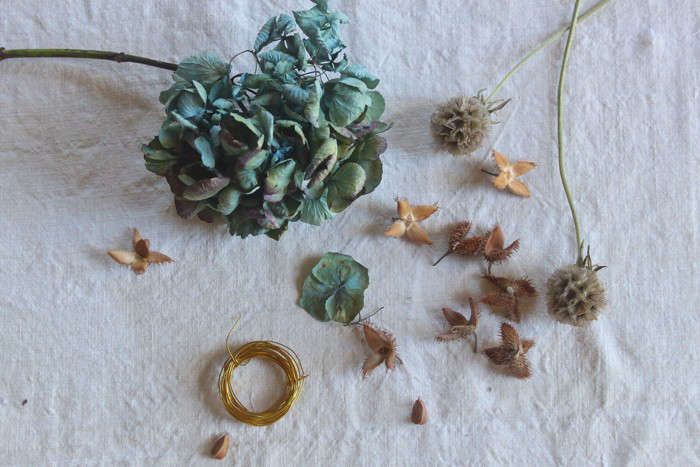 Above: Identify a point of inspiration, such the colors used in this Dried Hydrangea Garland for Fall.
Before you head to the market, have at least a vague idea of the color palette and texture you're aiming for. You shouldn't go to the grocery store without a list; if you try it here, you'll be as distracted by engorged peonies as you would by a pack of organic gum at the checkout line.
Because we're smack in the middle of November, I opted for a color palette to match: a spectrum of chartreuse-to-olive and blue-to-black, offset by a warm gray. This translated into dried grasses, olive branches, some kind of diseased oak leaf (that I loved), blackish privet berries, silver dusty miller, and porcelain vine. The total cost of flowers rang in at $114 for three bundles and four bunches.
With just a few hours to go, I raced over to Crate & Barrel and then its partner store CB2 to source two sizes of vases to keep me on budget. For six larger arrangements, I used Crate & Barrel's Stackable High Bowls ($9.95 each), which are actually meant to be serving bowls, but go figure. The smaller six arrangements were set into the Joyce Bud Vases ($2.95 each) from CB2. For more basic vases, see our previous 10 Easy Pieces posts: Simple Glass Vases Under $30 and Single Stem Bud Vases.
Above: Guests at the Remodelista party in The East Pole's upper dining room. Can you spot the flowers among the throngs?
I'm a firm believer that, aside from most schools of ikebana, flower arranging is purely intuitive and the more you work with it, the more you find your way. That said, I have a few rules of thumb:
Create a foundation of woody stems to inspire the design (I used the privet berry and olive leaves).
Add colorful face flowers in groupings at varying heights (in this case, silver dusty miller was my face flower) and work with an asymmetrical shape.
Pepper in the more wispy elements to give it some movement and pull it all together.
Like cooking, sourcing fresh ingredients of good stock and layering the flavors (or colors) carefully is a sure bet. Read more about the Remodelista book party flowers on a recent mention from Country Living.
Location of the Flower Market in NYC:
For more on the Remodelista book and the events to come, see our post On the Road: Upcoming Remodelista Book Signings and Markets. Looking for more floral design? Sift through a whole list of our favorite flower arrangements and general flora in our archives. 
You need to login or register to view and manage your bookmarks.