Hydrangeas are flowers that keep on giving; first as bold pom poms which bloom throughout the summer, then as dried, papery clusters that last into the fall. Recently I decided to prolong the life (and my enjoyment) of a particularly beautiful purple blossom by fashioning it into not one, but two, autumnal garlands.
Photos by Justine Hand for Gardenista.
Above: My original bouquet sporting an unusual purple hydrangea graces the corner of my dining room. The white ones just wilted, but the inky ones dried right in the vase, maintaining virtually all of their original color.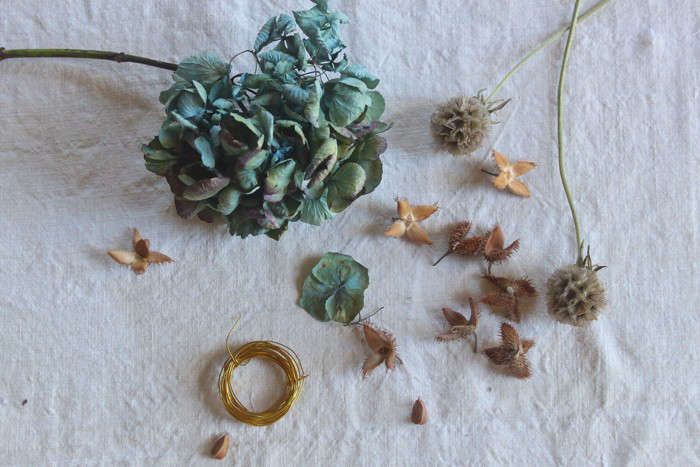 Above: All you need for this project is dried hydrangeas; floral wire, thread, or twine; and anything else you want. For one garland I chose scabiosa seed pods that I found at Whole Foods. (You can also buy a bunch of Dried Scabiosa Pods for $24.50 from Maison De La Croix via Etsy.) For the other I used some beechnuts discovered during a recent walk.
Above: Assembly couldn't be easier: just wrap the wire around the blooms. I didn't worry about hiding it, because the gold was part of the composition. A similar spool of 24 Gauge Gold Floral Wire is $2.55 at Mardi Gras.
Above: By varying the amount of flowers and the spacing between your specimens, you can make your garland as lush or sparse as you want. Here, I wanted something a little more modern and sculptural, so I left a lot of wire showing.
Above: The results: Framed in gold, my now-dried, purple hydrangea still adds beauty to this corner.
Above: Though still quite malleable, the stiff floral wire allowed me to give more structure to this garland, enhancing the sculptural quality.
Above: The dried hydrangeas barely lose any of their rich hue.
Above: The papery scabiosa seed pods proved the perfect modernist complement to the more romantic hydrangeas.
Above: The cool blue of the dried hydrangeas offsets the rich gilding of this frame.
Above: For my second garland, I went with a more delicate approach, opting for single hydrangea blooms instead of clusters. Using fine silver thread, I simply tied it around the flowers and nuts. A 10-meter spool of Pure Silver Thread is $2 from Darke Doings via Etsy.
Above: After about five minutes of tying, my finished garland adds a touch of fall to my mantel.
Above: These garlands are as delightful up close as they are farther away.
Above: Ephemeral bits of fall floating in the air cast playful shadows on the wall.
N.B. For more information on drying your hydrangeas, read Michelle's Dried Hydrangeas Two Ways.
Finally, get more ideas on how to successfully plant, grow, and care for hydrangea with our Hydrangea: A Field Guide.
Finally, get more ideas on how to plant, grow, and care for various shrubs and hedges with our Shrubs: A Field Guide.
(Visited 73 times, 1 visits today)