American landscape architect Dan Kiley (1912-2004) is a hero for those of us who follow and care deeply about this art form. He is one of the most important modernist landscape architects of the 20th century. I have to be honest that I've never visited any of his projects, some 1,000 in total worldwide, but just through images and talks I have been moved by his vision, his sense of the ordered and edited landscape without it losing its soul, and his intrinsic sense of place and for what feels right.
In his words, "to build landscapes of clarity and infinity, just like a walk in the woods." He seems exactly the kind of person I would have enjoyed being seated next to at a dinner party: stylishly quirky, witty, and full of ideas. Those who knew him talk endlessly about his infectious enthusiasm. Landscape architect Laurie Olin says of Kiley: "Dan's thoughts are like rabbits; they keep leaping out."
He worked with the great architects Eero Saarinen, Louis Kahn, and I.M. Pei. His design vocabulary was influenced by Andre Le Notre, the 17th-century French landscape architect and gardener to King Louis XIV. Thankfully, The Cultural Landscape Foundation has put together a traveling photographic exhibition as a retrospective of his life and career. It opens in Boston today, the place of Kiley's birth, and to coincide with the American Society of Landscape Architects' annual event. The exhibition focuses on 27 of his projects through beautiful images and an informative catalog of his private and public commissions. Some of Kiley's work has been lost or tragically altered, Lincoln Center in New York City and Dulles Airport outside of Washington, DC among them. This points to the mission of TCLF, the responsibility of stewardship to these ephemeral works of art. 
Here we share images of Currier Farm in Danby, VT and a peek at the Miller House in Columbus, IN, a project he did with Saarinen which is currently owned and operated by the Indianapolis Museum of Art and is open to the public. 
Photographs of Currier Farm by Peter Vanderwarker, courtesy of TCLF.
Above: Currier Farm was once part of an expansive 5,000-acre estate called Smokey House Farm and owned by Stephen and Audrey Currier. 
Above: A drive winds through a hardwood forest before reaching the house. 
Above: Kiley reinterprets the traditional Vermont farm through a modernist lens, using his characteristic grids and ordered geometry.
Above: The property, ensconced in native woodland, sits atop a low rise with panoramic views.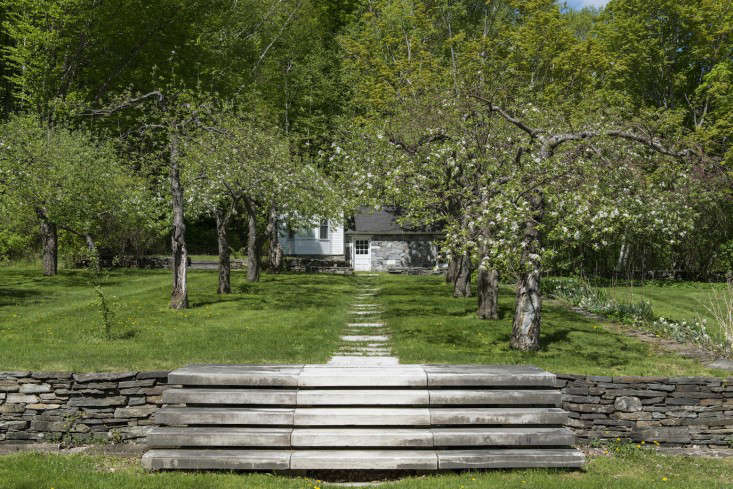 Above: Marble steps descend to the house, crossing a narrow stream-fed rill.
Above: View outwards to the rolling foothills of Vermont's Green Mountains range.
Above: Dan Kiley at home. Photograph by Dana Gallagher.
Above: The Miller House, Columbus, Indiana. Photograph by Dana Gallagher.
Above: Indoor-outdoor living at the Miller House: designed by Saarinen, landscape by Kiley, and interior designer Alexander Girard. Photograph by Dana Gallagher.
Above:  A classic outdoor entertaining area at the Miller House. Photograph by Dana Gallagher.
For more from Lindsey Taylor, see A Painter's Legacy: Madoo Gardens Lives On and Grace Knowlton in the Garden.
(Visited 108 times, 1 visits today)