Dutch designer Jan Willem Marijnissen brings the building block concept to a simple outdoor kitchen system.
OneQ Outdoor Cooking offers a range of connectable cooking modules that allow you to create a personalized outdoor kitchen. They can easily be connected and disconnected to expand or rearrange the set-up. We love the flexibility that enables you to start small with one barbeque module and expand in a way that works with your space, budget and outdoor cooking inspirations. OneQ Outdoor Cooking modules are available in six configurations (gas burner, charcoal burner, plancha cooker, table, sink, and ice bucket) in either powder-coated black steel or Inox (stainless) steel through Iconic Dutch.
Above: A OneQ Black set configured with a oneQ Black Glow (£379) in combination with a oneQ Black Table (£269) and OneQ Black Wet (£319).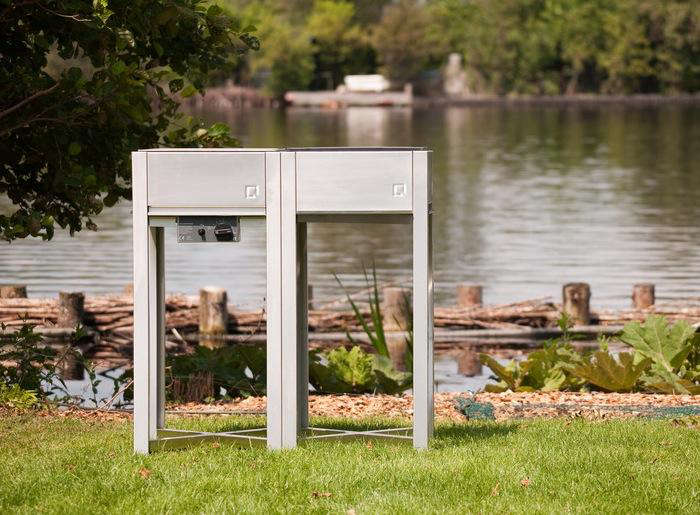 Above: The oneQ modules are easily connected with built-in clips. A short Connecting Tutorial is offered on the oneQ Website. A simple side-by-side configuration of oneQ Inox Modules.
Above: The oneQ modules are available in several models, including (above, left) the oneQ Inox Flame and (above, right) the oneQ Wet Black; £639 and £319 respectively.
Above: A oneQ Inox configuration for outdoor kitchens using three modules in a row.
Above: The oneQ Inox Wet (sink); £459.
Above: OneQ offers a range of accessories, including the oneQ Cutting Board that nests on the table; £59.
NB: See our earlier post: "Steal This Look: Ultimate Outdoor Kitchen" for another inspiring Dutch outdoor cooking setup. For more, see "5 Favorites: Ultimate Outdoor Kitchens."
Are you planning an outdoor kitchen project? Learn everything you need to know on to get started with our Hardscaping 101: Outdoor Kitchens 101 guide.
(Visited 77 times, 1 visits today)