There is a surprise waiting for you at the Harmony Hill Retreat Center in East Meredith, New York. Take a winding dirt road through the woods past a pair of yurts and look to your right. Suddenly the trees give way to an unexpected meadow and in that clearing lies a beautiful stone labyrinth.
Photographs by Jeanne Rostaing for Gardenista.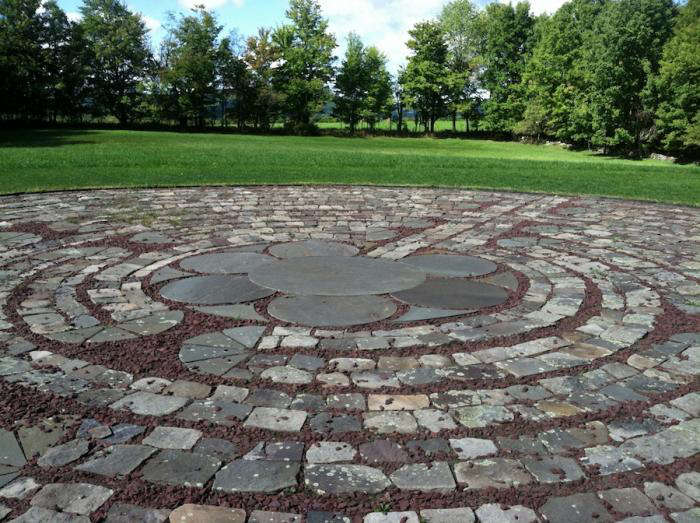 It is the work of two determined women who, ten years ago, fell in love with 70 acres of Catskill land. When Chris Rosenthal, a psychotherapist, and her friend, Jana Batey, decided to team up to buy the property they made a plan to create a retreat center. The idea of building a labyrinth just seemed to follow automatically.
Jana went to France to study the ancient art of labyrinth making at the Chartres Cathedral near Paris. Although labyrinths have existed in many forms for at least 3000 years, the labyrinth at Harmony Hill is based on the one at Chartres. It is an eleven circuit design which dates from the middle ages, around the year 1200.
Their forty-four foot structure took an entire year to build. It contains more than 2,700 hand cut native fieldstones. After Chris used a pendulum to find the exact center of the meadow, a friend with a bulldozer dug out the circle. He filled it with a bed of sand so that each stone could be easily leveled when it was placed.
Chris and Jana trolled their property on a tractor with a bucket on it, gathering stones as they went. Because a labyrinth requires precise measurements, each stone had to be painstakingly cut to size on a wet saw. Chris says, "I love all of those stones. They all have special meaning to me."
The bluestone, which was used for the center rosette and the wedges that form the turns in the circuits or paths, came from a local quarry. Spaces between the stones are filled with red gravel, which was also purchased nearby.
In the nine years since the labyrinth was finished, it has only required minimal maintenance. Weeds tend to spring up in the gravel and recent winters, with their combination of freezing and thawing, have moved some stones out of place.
But the labyrinth is lovely and seems to beckon visitors. It is open to anyone who cares to use it and guests at the retreat center as well as local people can often be seen walking its stone pathways. Since ancient times labyrinths have been associated with spiritual practices, but they are not linked to any particular creed or religion.
Above: Chris says the labyrinth has a different meaning for everyone who walks it.
(Visited 63 times, 1 visits today)