If you form the letter "C" with your hand, you'll be creating the shape of the delicious Hardanger Retreat. Just imagine that "C" shape as a cabin made of sleek, light-colored wood, tucked into a Norwegian forest at the edge of a spectacular fjord. The creators call it a "love shack," and indeed its isolated site and spare one-room design make it the perfect private hideaway.
This little building was created as a calling card by architects Todd Saunders and Tommie Wilhelmsen. Several years ago, the two were just starting out and in need of clients. Instead of trying to woo customers with drawings and blueprints, they reasoned that an actual structure they had designed and built themselves (with the help of carpenter Mats Rustoy) would be the best advertisement for their talents. They emptied their savings accounts to purchase the remote piece of land and went to work. The result was Hardanger Retreat.
Photography by Bent Rene Synnevag.
Above: Viewed from this angle, the 215-square-foot cabin is reminiscent of an Airstream trailer–but one built of oiled larch and birch plywood, materials that blend with the surrounding forest.
Above: The long thin deck is designed to float above the forest floor without harming the vegetation. Some 150 native plants grow in these woods, including delicate wild orchids.
Above: A handful of trees had to be cleared to make room for the cabin, but their wood was used in construction. Rather than remove trees to build the deck, the designers simply worked around them. (For more examples of woodsmen sparing trees, see 5 Favorites: Decks Built Around Trees.)
Above: The cabin is off the grid and almost out of sight. It has an genuine presence that makes it different from its surroundings but somehow germane, both contrasting and in harmony with its location.
Above: At 111 miles, the Hardanger Fjord is the third longest fjord in the world. Watching it is perhaps the main diversion here.
Above: Floor-to-ceiling windows allow maximum light inside and reveal the full impact of the jaw-dropping view.
Above: The cabin has no electricity: The architects reasoned that it would be used mainly in summer, when the sun shines as much as 20 hours a day.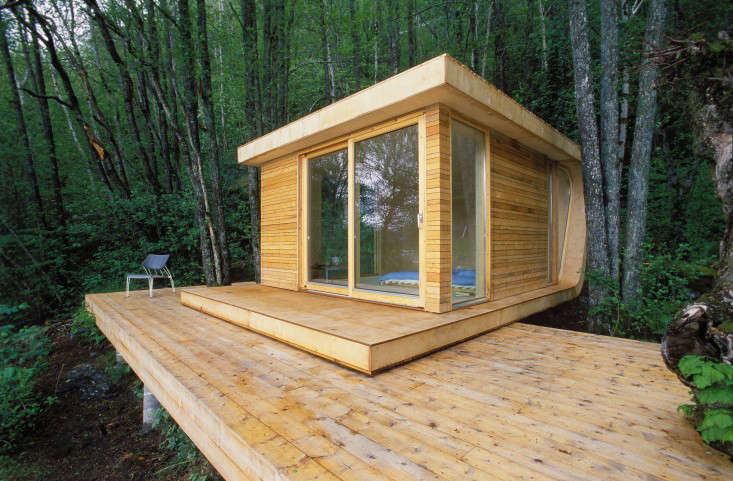 Above: Since this modest project, Saunders, a Canadian who's based in Bergen, Norway, has gained international acclaim. See his designs for artist's studios on farflung Fogo Island, Newfoundland, and for the striking 29-room Fogo Island Inn.
Above: A respect for nature is a hallmark of Saunders' work, most of which is based in Norway and Canada. His book Architecture in Northern Landscapes is available from Amazon; $62.95.
For more ingenious outbuildings in Norway, see Norwegian Wood: Sheds, Retractable Roof Included and A Folding Ice Cabin. Can't get enough of these small structures? See all our posts on Outbuildings.
You need to login or register to view and manage your bookmarks.