As someone who until very recently made my own home in a studio apartment, I have a certain fondness for tiny spaces. And when I spotted this garage-turned-apartment designed by Sarah Trotter of Hearth Studio in Melbourne, Australia, it was love at first sight.
The apartment is my favorite kind of small space–one that uses area efficiently and manages to look bright and airy despite the small dimensions. The clawfoot tub and views of the garden aren't bad, either.
Photographs by Lauren Bamford.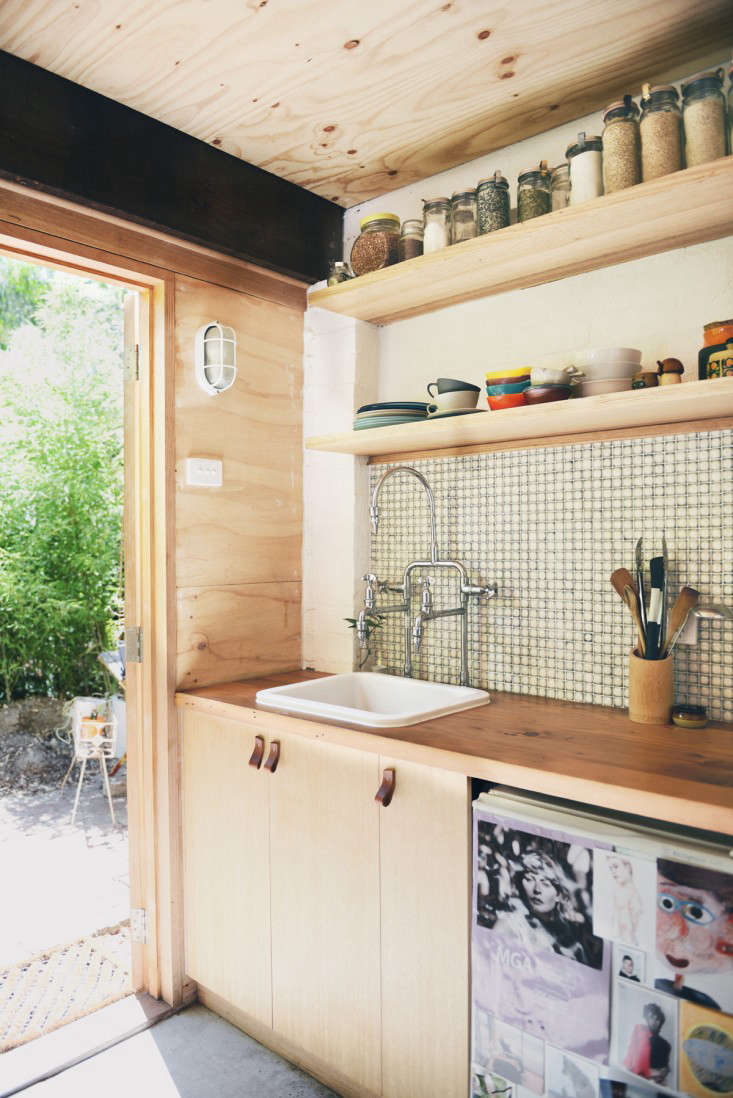 Above: Many of the elements inside the studio apartment were repurposed or salvaged–everything including the kitchen sink. (See 10 Easy Pieces: Leather Cabinet Hardware for lookalikes to the rustic pulls shown here.)
Above: A vestige of the apartment's former life as a garage, the concrete floor retains the utilitarian look of the former workspace. (Got garage floors on the brain? See our post Hardscaping 101: Garage Flooring.)
Above: Simple shelving and low-profile bulkhead lighting details in the kitchen. (See 10 Easy Pieces: Outdoor Bulkhead Lighting for similar fixture options.)
Above: A salvaged clawfoot tub takes center stage in the bathroom area (not to be outdone by the impressive Splitleaf Philodendron). A large mirror helps brighten the apartment and give a sense of expanded space.
Above: Built onto a raised platform of salvaged wood, a simple bed. The architects took care to reposition windows to provide premium views of the neighboring gum trees, while also maintaining privacy for the homeowners.
Above: A wide-angle shot showing a sense of scale.
For more outbuilding inspiration, see all of our Outbuilding of the Week posts.
(Visited 423 times, 1 visits today)