Is there a more perfect escape-in-place for Seattle—a chilly, Nordic-influenced city surrounded by water—than a floating sauna? We think not.
It was dreamed up on a cold winter's day in 2014, when architects Aimée O'Carroll and Jon Gentry of Seattle's goCstudio looked out across the city's central Lake Union and imagined a magical meeting of the elements: a wood-burning sauna floating on the water. They sketched it out and shared the renderings with friends, and were soon overwhelmed by interest from the media and broader public. Realizing they were onto something, in late 2015 O'Carroll and Gentry put their idea to the test with a crowd-funding campaign, raising more than $43,000 to make their sauna-boat dream come true.
Built largely by the studio and a team of volunteers, the sauna is moored on the north end of Lake Union and can take six visitors on 2-3 hour tours around that lake and nearby Lake Washington, on the city's eastern side. For the past two summers, the sauna has been enjoyed by friends of the architects, Kickstarter supporters, and locals during one-off events, and programming is in the works to share the boat with even more adventuresome sauna enthusiasts.
Photography by Kevin Scott, courtesy of goCstudio.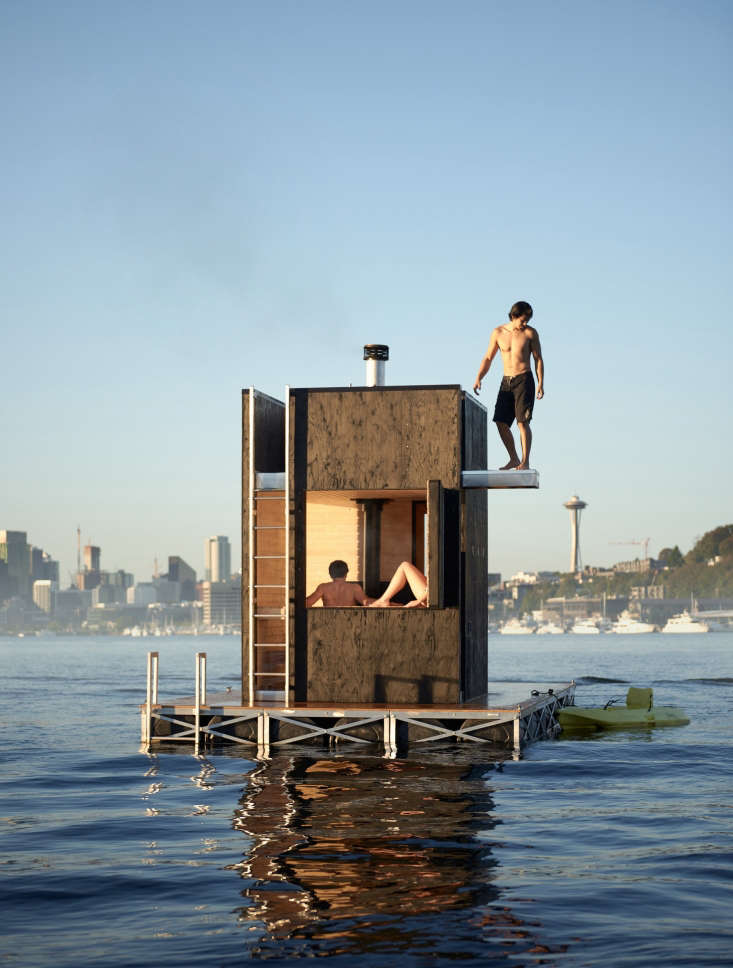 The sauna deck has cleats to tie on kayaks and canoes, plus a marine ladder to assist swimmers out of the water.
The surrounding water serves as a natural cold "plunge pool" to be entered from the dock or the diving board.
"For our firm, the sauna represents the type of site-specific, risk-taking work that we love to do," said architect Aimée O'Carroll.
The architects added rectangular windows in a vertical orientation—called slot windows—so occupants can gaze at the water from inside the heated room. The windows are made of 3/8-inch-thick acrylic.
"When inside the sauna, you can enjoy the sounds of the lake and the crackling fire, rather than a motor," said the architect.
Celebrate the last splash of summer with:
(Visited 697 times, 1 visits today)