In the South London backyard of a grand brick house sits a shingled one-room cottage, a secret clubhouse peeping out from behind the flower beds.
The summerhouse, not far from Wandsworth Common, was spotted by Julie via Light Locations a few summers back. It's still one of our all-time favorite outbuildings:
Photography courtesy of Light Locations.
Above: Sets of double doors on two walls swing open to help obliterate the boundary between outdoors and in.
Above: Beds of perennials and a potted olive tree bring the garden onto the deck.
Above: Unfitted cabinetry, whitewashed walls, and a glossy painted floor make the kitchen feel as if it's on vacation, too.
Above: Twin skylights keep the inside bright even when it's cloudy outside.
Above: With the doors thrown open, the summerhouse's interior becomes a natural extension of the garden.
Above: Meals are taken on the deck, which means less furniture is needed indoors.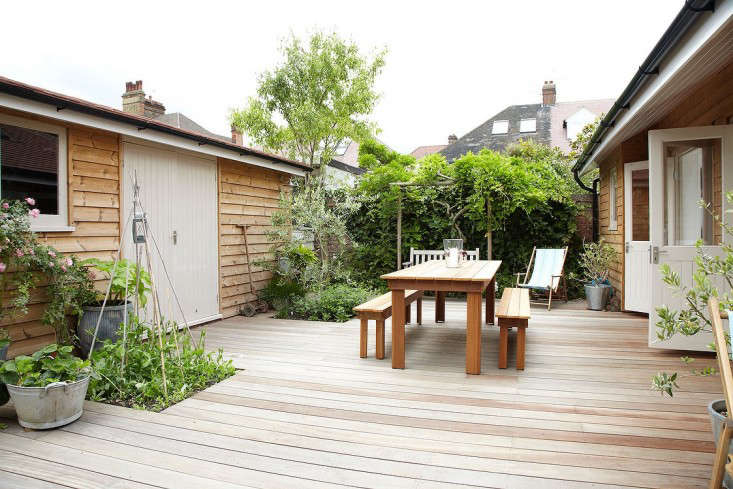 Above: Picnic benches and a slingback chair strike stylishly casual notes.
Above: Tiered flower beds cleverly keep the garden at eye level when you're up on the deck.
Above: At the other end of the lawn is a brick house with a Victorian conservatory.
For more interior views, see House Call: Summerhouse in South London on Remodelista. For another London surprise, see A Backyard Writer's Shed by Weston Surman & Deane.
You need to login or register to view and manage your bookmarks.