J. Wes Yoder usually refers to the 1962 Shasta camper that sits in his leafy East Nashville backyard as "the camper," but he says that when he's feeling especially Southern, he likes to call it "the trailer." Whatever you decide to call it, I think you'll agree that the tiny aluminum outbuilding on wheels is 100 percent charming. I first read about the Yoder's backyard retreat on Megan McEwen's Daytripper and I've been drumming up reasons to head to Nashville ever since. 
Above: The recipe for a pretty perfect weekend retreat: wooden deck, hammock, bathhouse, and camper. 
The Nashville, Tennesee novelist and author of Carry My Bones, had been wanting to make room for a garden house or writing shed in his yard when he came across a listing for a beat up camper on eBay–available immediately and ready for pickup just 45 minutes outside of town. With its canned-ham design, the camper wasn't the exact 1950s aluminum model Yoder originally had in mind for his outdoor workspace, but it was an affordable entry-level variation on the theme. Undaunted by the extensive renovations his new charge would require, he set to work gutting the camper and building an accompanying outdoor shower, bathhouse, and deck.
By the time Yoder finished the remodel, he had decided to recoup the renovation costs by listing the camper on Airbnb the very same day he completed the project. No surprise, it's been booked almost every night since he finished the project last October.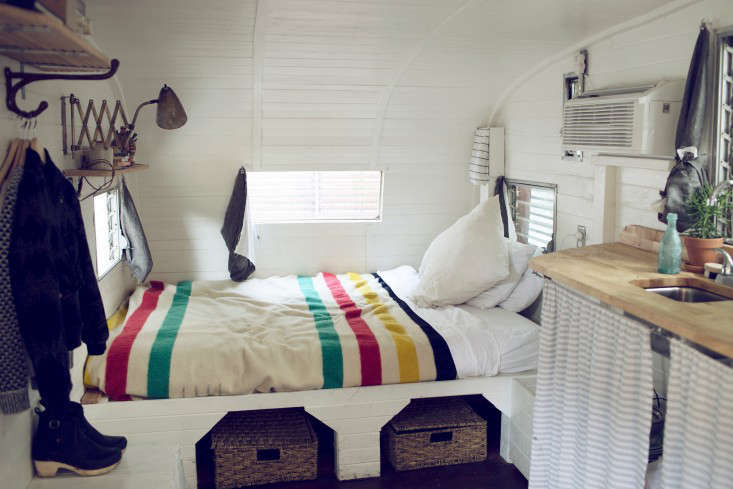 Above: Inside, Yoder worked wonders with a coat of fresh white paint. Cozied into one end of the camper is a double bed with built-in storage below. Clever grommeted curtains can be moved during the day to let in the light.
Above: Originally festooned in Budweiser paraphernalia, the camper's clean lines were emphasized with the addition of simple handmade and vintage furniture.
Above: A tiny kitchen complete with sink and hot plate provides guests a place to prepare meals.
Above: Less than two miles from downtown Nashville, the camper sits in a quiet residential neighborhood that doesn't have many other lodging options. Yoder provides a hand-drawn walking map of the neighborhood for guests. 
Above: Yoder built a transomed bathhouse complete with clawfoot tub with the help of his dad and uncle. He sought inspiration from garden sheds and outbuildings online and cobbled together plans for the simple outbuilding.
Above: A peek inside the bathhouse.
Above: For guests who prefer to shower al fresco, a simple outdoor shower above slate pavers set in gravel is hidden between the bathhouse and camper.
To book your own stay, visit Yoder's listing on Airbnb. Rates start at $95 per night. 
Inspired? See Wanderlust: 10 Airstream Trailers for Living Small and 5 Essentials for the Retro Camper on Remodelista or browse the rest of our Outbuildings archive.
(Visited 282 times, 1 visits today)