The New York Botanical Garden's annual Orchid Show could not have come at a better time for snow-blind New Yorkers living at the cutting edge of the Siberian Express. When the exhibit opens tomorrow, they can catch another train–to the Bronx–to spend some hours thawing out in a fogged-up greenhouse paradise.
Yesterday I got a preview as final preparations were underway for "Chandeliers," the theme of this year's show which features colorful hanging baskets of orchids:
Photography by Marie Viljoen for Gardenista.
Above: An avenue of orchids, inside the botanical garden's Enid A. Haupt Conservatory.
Above: Outdoors, the scene was less tropical.
Above: Francisca Coelho designed this show, and is NYBG's Vice President for Glasshouses and Exhibitions.
The inspiration for "Chandeliers" was Floridian. In a private home there last year, Gregory Long, NYBG's President and CEO showed Ms. Coelho "a living chandelier."
Canopy-dwelling orchids can be observed from below naturally, and the grand structure of the conservatory provides iron trees from which to suspend dozens of displays, conveniently lowered to within human height.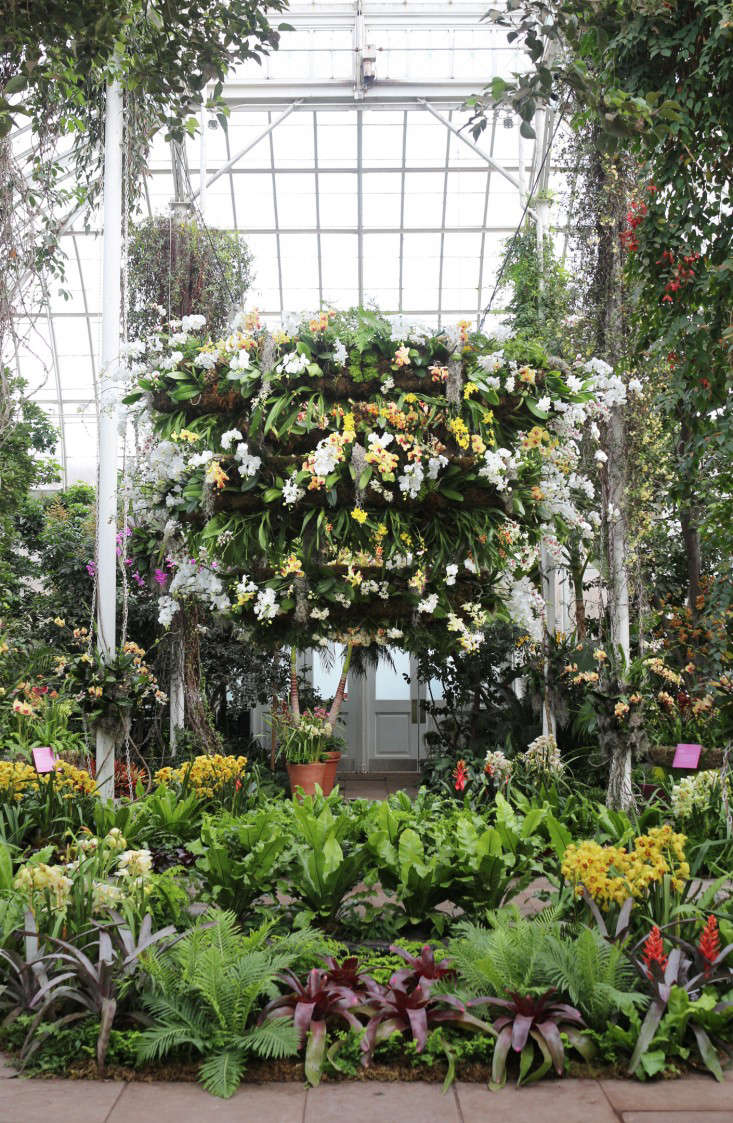 Above: The tropical orchids cascading from the glass ceilings are members of the largest flowering family on earth, more than 30,000 species strong. The central chandelier holds 500 plants, including luminous white Phalaenopsis and electric yellow Oncidium tucked among lush ferns and moss.
Above: Smaller hanging baskets of 35 plants each are suspended all over the conservatory. Despite their tropical origins, all the orchids in the exhibit are New York-grown, said Ms. Coelho.
Above: Many of the thousands of long orchid stems in the "Chandeliers" exhibit are individually staked for support, giving a sense of the intense labor and preparation required to mount a show of this scale.
While these flamboyant flowers are often considered delicate and difficult to grow, "in their natural habitat many orchids are extreme plants, attaching themselves to trees in order to survive," said Marc Hachadourian, the NYBG's resident orchid expert and Director of the Nolen Greenhouses for Living Collections.  And the orchids on display here represent the familiar genera by now well-accustomed to humans and their habits.
Above: For hopeful first-time orchid owners, the "Chandeliers" show is very encouraging: The interactive exhibit offers good advice for growing your own at home, highlighting what is necessary for their successful care and explaining the difference between Dendrobium and Cymbidium, Phalaenopsis and Epidendrum.
Above: Oncidiums, tree dwellers known commonly as dancing ladies because of their ruffled skirt-like petals, are often perfumed. In the conservatory pockets of scent catch the snow-stunned visitor by surprise.
Above: For success at home, most tropical orchids require less, rather than more water;  tepid water, not cold; good drainage and air circulation; a 50 percent diluted liquid fertilizer every three waterings, and a distinct fluctuation between day and night temperatures to produce flowers successfully.
Above: A poster of the poem "Orchids" by Roethke stands in the snow at the show's entrance: "They lean over the path / Adder mouthed…" Inside the humid conservatory the sinister beauty of Brassidium orchids bring these lines to life.
Above: You can buy an orchid now–usually Phalaenopsis, or moth orchids–at big box stores for under $10 (orchids have overtaken poinsettias as Americans' most popular potted plant). But the commercially grown orchid travels a long way in dollar terms.
In 1978 an orchid named Golden Emperor Sweet–a Phalaenopsis–sold for $100,000 at auction. It was a rare true yellow, and collectors with their eyes on its commercial potential went berserk. But "the orchid turned out to be a dud," said Hachadourian. In orchid terms, it was shooting blanks. No offspring. Breeders turned elsewhere.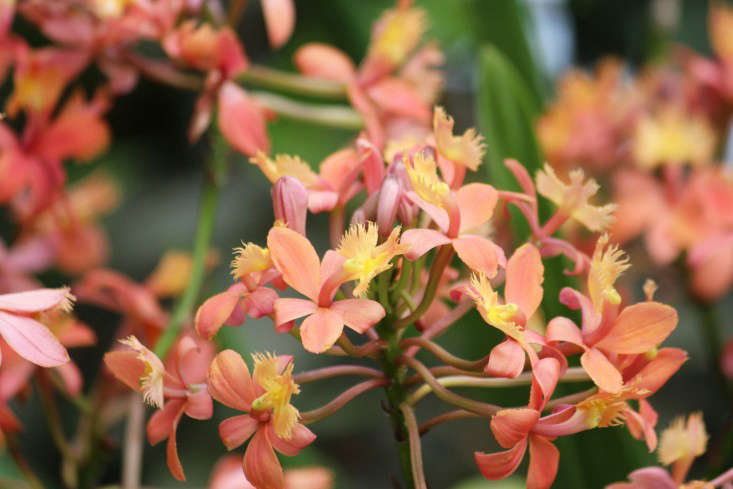 Above: In Taiwan, the commercial heart of the international orchid trade, new orchid cultivars are kept jealously in locked and alarmed greenhouses, and fetch thousands of dollars because of their breeding prospects. And in commercial horticultural terms, last year's orchid is as unsexy as an ancient iPhone. You must have the newest model.
Above: What effect will thousands of visitors have on thousands of orchids? In answer, Ms. Coelho presented the structure of a perfect Cymbidium. Its pollen is held not in individual grains but in a compact sac. If that is touched, the flower is stimulated into the consequences of pollination: the petals fold inwards, and it dies. Don't touch the orchids.
Above: The bright and transitory orchids are shown within the context of a permanent collection of plants. In the warmth of the glasshouse a climber in full bloom envelops a slender pillar: Trachelospermum jasminoides 'Madison' rockets up towards the icy light, oblivious of the true season.
Above: And if bromeliads–cousins of pineapples–are your thing, you will not leave disappointed. They are well represented beside the flagstone paths, along with ferns and baby's tears and everything else that has nothing to do with winter.
"Chandeliers" opens to the public on Saturday 28th and runs until April 19.
By the time the show has ended, 7,000 orchid plants will have been on display.
Above: For directions and hours, see NYBG.
For more reasons to love orchids, see:
Finally, get more ideas on how to successfully plant, grow, and care for orchid with our Orchid: A Field Guide.
Finally, get more ideas on how to plant, grow, and care for various houseplants with our Houseplants: A Field Guide.
Interested in other tropical plants for your garden or indoor space? Get more ideas on how to plant, grow, and care for various tropical plants with our Tropical Plants: A Field Guide.
(Visited 172 times, 1 visits today)