After a lavish six-year remodel, an 18th-century Cotswold estate on 70 picturesque acres is for sale for £17 million (vegetable garden included). Contact Savills to make an offer.
Duntisbourne House, a Georgian country house built in 1760 for a baronet, has survived the 19th-century addition of two Gothic wings, the devastating effects of a fire, and a 1970s subdivision which relieved the estate of much of its acreage. Last sold in 2008, it has since then been overhauled by London-based architects Michaelis Boyd (best known for remodeling Prime Minister David Cameron's eco house in Notting Hill). The remodel to the 11,000-square-foot-main house involved a basement media room and gym, a guest house renovation, and the addition of a modern pool house.
Of particular interest to us, landscape designer Tom Stuart-Smith designed gardens to honor the historic stone facades and the sweeping Cotswold views without compromising a modern sensibility:
Photography via Savills.
Above: Surrounded by pastures, parkland, and woods, Duntisbourne House was originally the country residence of Sir Mark Stuart Pleydell, a baronet who died six years after completion of the building.
Above: Pleydell's grandson, who inherited the estate, in 1806 sold it to King George III's physician, in whose family it remained until the mid 1900s.
Above: Constructed of brick and timber, a 753-square-foot pool house has expansive views of the vegetable garden that behind it. Surrounded by a stone terrace, the swimming pool has an outdoor spa bath.
Inside the pool house are twin showers.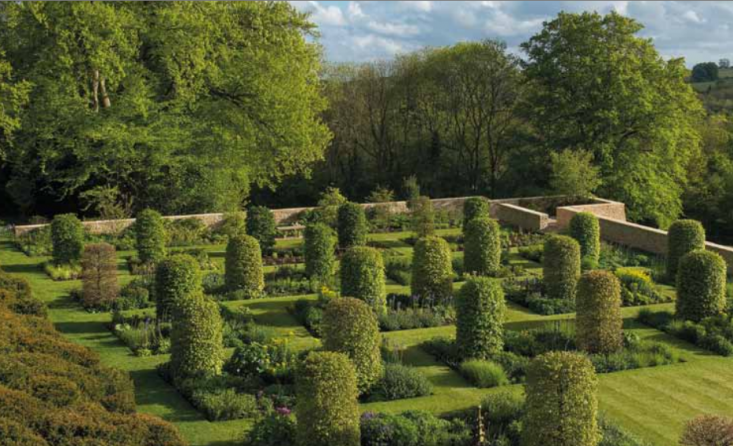 Above: Terraced gardens to the south of the main house have a walled beehive garden featuring hornbeam topiaries and a cloud hedge of yews.
Above: The path from the vegetable garden leads to the cobblestone yard in front of The Courtyard, a 19th century stables next to the main house which has been remodeled to serve as guest quarters.
For more of the architects' work, see:
(Visited 1,088 times, 1 visits today)