This week we sent photographers to four farmers' markets in towns small and large across the country. Photographer Ron Reason, of Chicago and Beverly Shores, Indiana, made his way to the Mainstreet Association's Uptown Farmer's Market in Michigan City, Indiana, on the southern shores of Lake Michigan. An early July visit reminds us why the Midwest is pie country. Cherry pies, blueberry pies, raspberry pies, pies with fluted crusts, deep dish pies, pies with fancy lattice crusts. Oh, also a few other things are for sale:
Photographs by Ron Reason for Gardenista.
Above: In the heart of northwestern Indiana's La Porte County, raspberries, blackberries, and cherries are headed for pies. (OK, maybe some are going to be eaten by the fistful before they make it into crust.)
Above: Three varieties of cherries compete for shoppers'–and bakers'–attentions.
Above: Bakery stands share their goods at tables filled with pies made from local fruit. This star-spangled pie was perfect for the Fourth of July weekend, an artistic and delicious creation from Mike and Pat St. Pierre's Heavenly Acres Farm in Michigan City, Indiana.
Above: Medium and small cukes for pickling from Garwood Orchard in La Porte, Indiana. Can't make it to the market? U-pick opportunities abound all spring, summer, and fall. The Garwood family has been farming the same land for more than 180 years.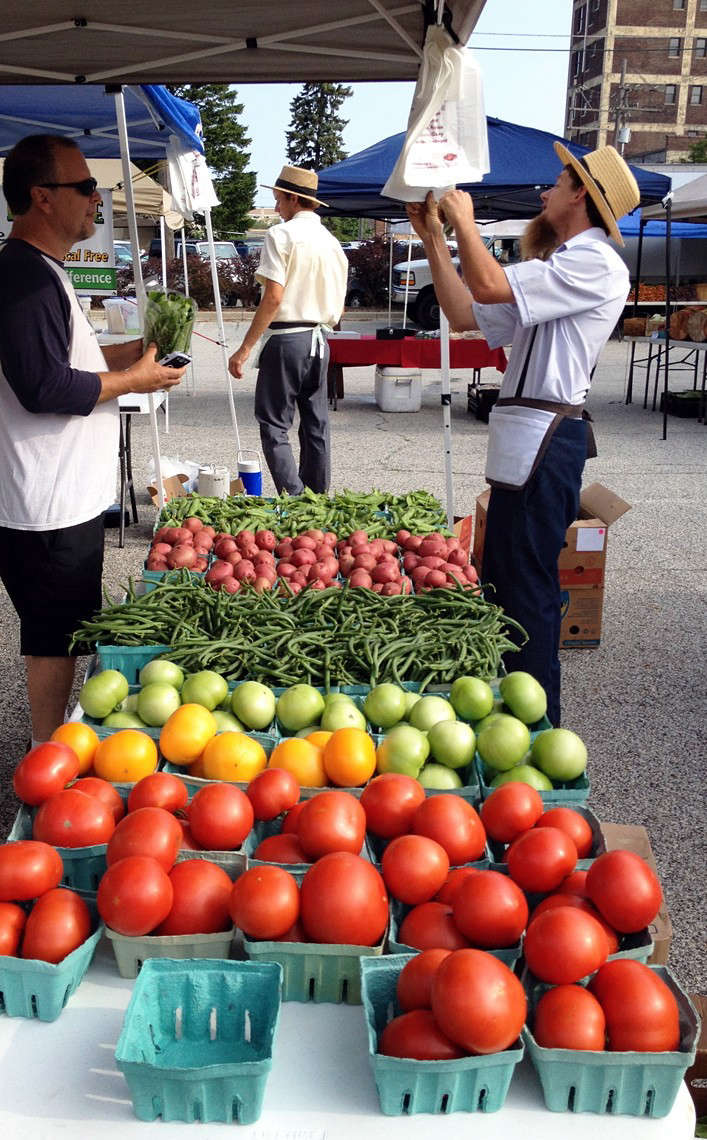 Above: Chemical free tomatoes grown by Amish farmers at Countryside Produce in LaGrange, Indiana. Northern Indiana is home to robust enclaves of Amish farmers whose ancestors traipsed west from Pennsylvania in covered wagons. Countryside Produce hails from a 19.5-acre farm owned and managed by Devon Hostetler, along with his wife JoAnne and young children.  Read more about Hostetler and his organic approach to farming.
Above: Bees raised by Jason and Virginia Lowry of Gobeez Honey in Westville, Indiana.
Above: Gobeez Honey reminds customers that honey grown within 60 miles of home is great for fighting allergies.
Above: Customers test peaches for freshness at the popular booth from Sevick Gardens, in Three Oaks, Michigan, just across the state line.  
Above: Hard-necked garlic varieties and spring onions.
Above: Stacks of candy-colored beets and turnips.
Above: A booth operated by Stamper Cheese Co. of 834 Fulton Market, Chicago, representing a handful of artisan cheese makers from southwestern Wisconsin.
Above: Early morning setup at Hattie and Norma's Plant Ladies booth. 
Above: Cut flowers shout out to customers, "pick me!" at Hattie and Norma's Plant Ladies booth.
The Details:  The Michigan City Farmers Market is open on Saturday from May through October, form 8 am to noon. It's just a bit more than an hour's drive from Chicago, or easily accessible via direct train from Millennium Park on the South Shore Railroad (destination, 11th Avenue in Michigan City). Click for station information and timetables. 
The Map: 
To get a sneak peek at other Farmers' Markets Across America, see posts on markets in Portland, Oregon and Manteo, North Carolina.
(Visited 53 times, 1 visits today)