Of all the ideas I file away for my someday-house (black-painted floors, a garden above a rocky beach in Maine), I never thought that teules pintades—painted roof tiles from the Medieval era on the Spanish island of Mallorca—would make the list. But after writing last week on Remodelista about Ca'n Rei, a 17th-century Mallorcan house on a cliff overlooking the Balearic Sea, the tiny painted pictograms are on my wish list.
Ca'n Rei—redone, and inhabited, by the young couple behind local Isla Architects—has some of the more original interiors we've seen in a while. But it's the setting that earns the house its royal name ("Ca'n Rei" means "King's House" in Mallorquin). With a charming potted terrace garden and sweeping views of the blue sea, the kingly exterior has ideas the rest of us can take away. Join us for a look:
Photography by Luis Díaz Díaz, courtesy of Isla Architects.
Juan Palencia and Marta Colón, the couple behind Isla Architects, found the 17th-century house in the little seaside town of Banyalbufar when they moved to Mallorca last year from Basel, Switzerland, to set up their firm on the island. Colón is originally from the nearby town of Esporles and "had been always looking for a house with sea view in this part of the island," Palencia says. They set about renovating the house for themselves, stripping back the dated additions from the last century and renovating the crumbling clay-tile roof and stone facade.
The couple added curb appeal with a summery vibe: brightly painted teal shutters, a small outdoor dining area for late-summer dinners al fresco, and—our favorite element—a garden with a jumble of terra cotta pots, with lavender, rosemary, ferns, agapanthus, aspidistras, amaryllis, and gaura (also known as bee blossom), all planted by Colón and her mother.
The architects used the house number as an opportunity for artfulness—and another nod to Mallorcan tradition. "In Mallorquin, the local dialect of Catalan, 'ca'n' means 'house of' and 'rei' means 'king,' although it's more likely that Rei was a family name rather than being the house of a real king," the architects explain. "The house had that name for a really long time and everyone in the village knows the house by this name, so there was no point of renaming it."
Before
After
The couple painted the shutters in a cheerful teal: "The traditional color for blinds in this part of the island is mainly green and also blue, so we choose something in the middle that we liked."
The architects had to make small adjustments since the house is built into the earth on one side: "It's placed between terraces, so half of the house is sunken and in direct contact with the terrain," they explain. They installed a clay ventilation system between the house's inner and outer walls to keeps the inner walls dry, and treated the walls on the back of the house with a "highly-breathable mortar."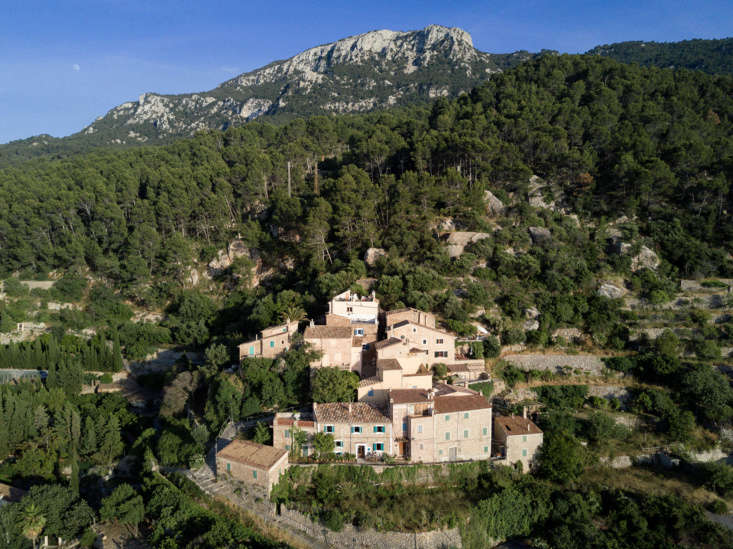 We love the perpetual summer vibe of Mediterranean gardens. See more of our favorite Mediterranean plants in our curated Garden Design 101 guides, including Rosemary, Lavender, and Lemon Trees. And find a few more favorite Mallorcan gardens here:
(Visited 467 times, 2 visits today)