When Dreamscapes, a new book of garden photography by our contributor Claire Takacs, arrived this month, one of the gardens featured—the entrancing and somewhat mystical Lotusland on the coast of California—caught our eye. The question was, Does it still exist?
Montecito, 100 miles north of Los Angeles, made international headlines in January after it was engulfed in mudslides, having withstood a firestorm the month before. We were relieved when a serene response came from Lotusland: "As always, we remain an oasis of beauty, tranquility, and exquisitely whimsical design."
The property not only is still standing but also will be celebrating its 25th year as a garden open to visitors. The new season begins this February.
Photography by Claire Takacs.
Winter recess involved a staggering escape from the monthlong threat of fire in December: "Aside from a couple of singed palm trees, lots of wind debris, and minor washouts, we are in good shape," confirms Bob Craig of Lotusland, whose passion for the unusual gardens is shared by the local community. When the fire reached the property just before Christmas, firefighters were ready and waiting, and they kept the full force of the blaze away. A few spot fires were dealt with quickly; a date palm (appropriately named Phoenix dactylifera) has a scarred trunk.
The story of the birth of Lotusland is as extraordinary as its survival. An amalgam of two properties, the gardens around the Spanish hacienda-style house were extended in the 1940s by Madame Ganna Walska, a Polish opera singer with a colorful love life and a half dozen husbands. When she finally settled down in California, the recent end of her first career and the departure of husband number six allowed Walska to focus exclusively on building a theatrical garden.
A tropical plant collection, including a variety of mature palms, had already been put in place at the end of the 19th century by a former owner, nurseryman Kinton Stevens. Walska spent four decades creating a sequence of gardens to showcase a growing collection of cacti, succulents, ferns (as well as more conventional plants, including roses). An acquired fortune allowed Walska to collect widely but well, becoming a cactus connoisseur, presiding over a garden of particular botanical interest.
The spirit of the garden's creator lives on. When rare plants were moved to safety during the Thomas Fire in Ventura County, so too were "Madame's personal belongings."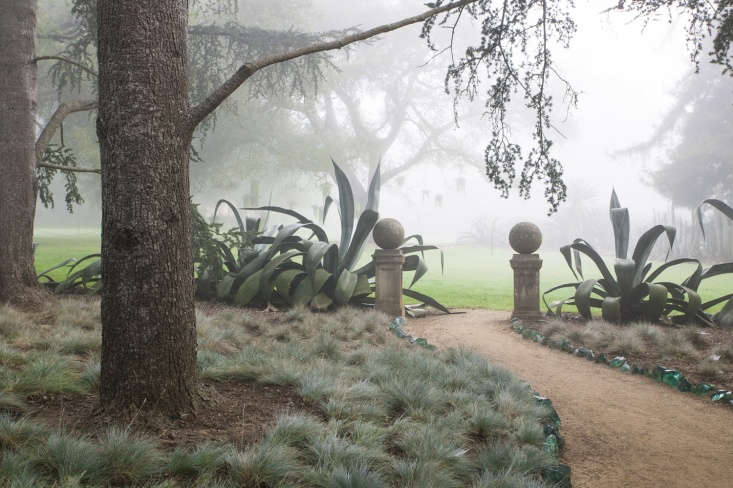 Walska created a garden of drama but also integrity, with detailed collections that are considered the best of their kind. There is the comprehensive (and intriguing) Cycad Garden, the Japanese Garden, and the Blue Garden, part of which is shown here. The intense atmosphere in the Blue Garden—morning fog not withstanding—is the result of a collaboration between Walska and Ralph Stevens. He had grown up on the estate, being the son of Kinton Stevens, the former owner.
Lotusland manages to look both otherworldly and thoroughly modern, since the areas that are most celebrated are examples of planting that is perfectly suited to its conditions. The parterre and rose garden aside, the prevalence of cacti and succulents works perfectly in a climate that may not get any rain for the first three months of winter (which was the case this year).
The gardeners at Lotusland rely on sustainable practices to keep the garden vigorous. In other words: composting, mulching, diversity in planting for good insect ecology, and natural fertilizers.
The Cactus Garden was opened in 2005 and had nothing to do with Walska, though it continues in the vein of botanical importance (there are more than 300 species) mixed with grand spectacle. As a sustainable earth scape, it has legs.
The Aloe Garden, admired for its arrangement of rare aloe species, is set around a former swimming pool. This in turn is outlined with open abalone shells, while giant clamshells double as fountains.
Walska named her estate Lotusland, after a brief period as Tibetland, when she was married to her yoga teacher. The ponds in the garden were already planted with Asian lotus, left over from Kinton Stevens, and the name sets the tone for the garden. Renovations have been taking place steadily, with the Japanese Garden, developed by Walska with Frank Fujii, currently receiving detailed attention.
Lotusland is considered a hidden gem, with good reason: Visits needs to be planned, with garden tours booked in advance.
See more of Takacs's photographs at 
Can This Garden Be Saved: "It Barely Rains; I Live in a Desert"
and 
Can This Garden Be Saved: We Have Nowhere to Sit
. For more theatrical succulents, see:
(Visited 246 times, 1 visits today)