"We have nowhere to sit" is a common complaint in the garden because the definition of "outdoor furniture" is too narrow. Is there any reason garden seating has to be completely weatherproof, while weighing a ton? Too often it is lumpy teak or punishing wrought iron. In the time it takes to find the cushions, you could be unfolding a lightweight chair in exactly the right spot, for exactly the right moment.
Problem: We have planned ahead and put proper outdoor furniture where it ought to be.
Solution: Summer is the time for wild abandon.
Photography by Claire Takacs, except where noted.
Foldable Furniture
In a newly designed garden, moveable garden furniture may seem irrelevant. The solid bench at the end of a path provides a focal point; the built-in sofa is a cornerstone of the patio. And yet… the sun is shining just round the corner. This is the place to unfold the portable butterfly chair.
Portable Dining Room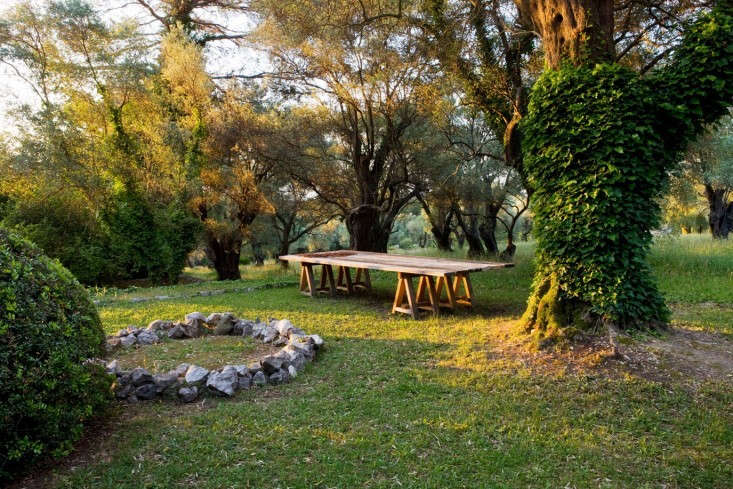 Sitting by the back door is convenient, but convenience isn't everything. A German beer table is easy to carry and to store at the end of the day; its slightly alarming shade of varnished pine wears down if it's left out all summer, ditto the benches that come with it.
Shady Setting
Ideally, a seating area will have a level surface underfoot and a permanent canopy above: a covered pergola or sun sail (umbrellas are not easy). Trees make a wonderful canopy, though sometimes bugs congregate under them just as you approach with your clinking glass. Another reason to keep a fold up bistro furniture on hand. For barbecues as well, it is good to have the option of moving seating up or down wind.
Sunny Spots
Since light changes all day, it is important to take note of the sun spots in the garden. First thing in the morning, having breakfast outdoors before work, time will be tight. Ideally though, you will not be stuck in a dark corner just because it is next to the kitchen door. Where is the sun at the end of the day? A patch of mown grass under the dappled light of a tree could be more inviting for half of the year than somewhere closer to the house. Note: If cocktails segue into dinner, choose somewhere closer.
Indoor Chairs, Outdoors
There is no such thing as indoor furniture and outdoor furniture. My own Eames Eiffel chairs often find themselves on the "wrong" side of the back door, next to the kitchen. These Panton chairs would do very well by a swimming pool or shaded terrace.
Seeing Red
Adirondack chairs (aka Westport chairs) work anywhere, from a Dan Pearson garden in England to just about anywhere in the United States. The arm rests, steady enough for drinks or reading materials, contribute to their appeal.
The Swinging Set
The less serious the seating, as in a swing or hammock, the more celebratory the garden. This is summer, after all.
For more garden solutions, you can order my new book, My Garden is a Car Park: and Other Design Dilemmas,, for £12.99 from Amazon UK. For US readers, The Problem with My Garden can be ordered for $17.99 from Amazon.com.
More garden problems solved:
You need to login or register to view and manage your bookmarks.