Dark colors create glamorous garden backdrops (as illustrated by our recent posts on black fences, concrete steps, and raised flower beds). The latest proof is a tiny studio on the outskirts of Amsterdam, clad in 2,000 shingles stained black.
Located in a backyard in Bussum, 18 miles from Amsterdam, the studio recalls historic barns and sheds of the Dutch countryside. And yet, in its geometry, glass windows, and cantilevered roof, it is undeniably modern. And clever. Amsterdam-based architect Serge Schoemaker put every inch to use, with the modern shed serving as office, accommodation for overnight guests, and bicycle storage. Read on to see the floorplan for the 323-square-foot shed.
Photography by Raoul Kramer courtesy of Serge Schoemaker.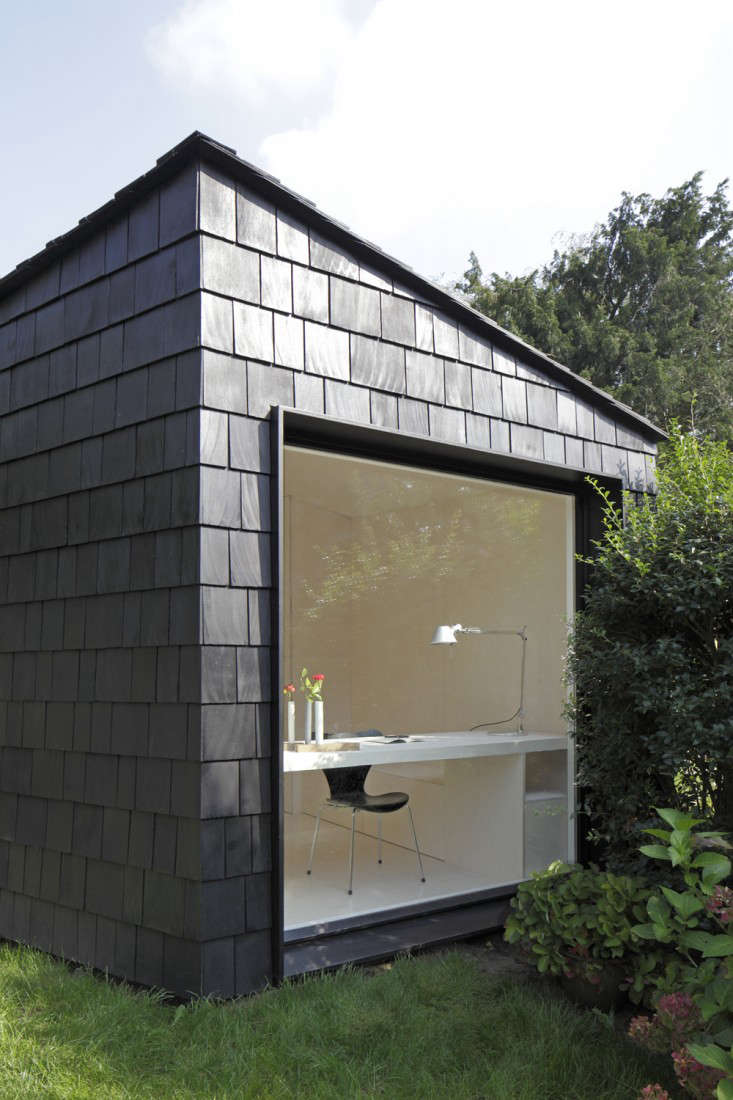 Above: Two thousand black-stained cedar shingles envelop the building and extend to the roof, to provide a quiet and dramatic backdrop for the backyard's lawn and trees. A black Series 7 Chair from Arne Jacobsen ($628 from Design Within Reach) punctuates an all-birch interior, mirroring the exterior palette.
Above: The 2,000 shingles were cut, sanded, and stained by hand.
Above: Faced with the design challenge of a narrow and long garden, the architects devised an elongated trapezoid footprint, and rotated the structure, so the longest side is at the edge of the lot.
Above: A desk overlooks a stretch of lawn that leads to the main house. The interiors furnishings include a built-in bench (which doubles as a cot), a floating desk, and concealed storage, roomy enough for four bikes.
Above: The smooth glass and irregular surface of the structure's shingles make an interesting study of contrasts.
Above: A view of a second entrance, in back, with full-height windows. Meticulous measurements were required to install the full-length glass panes, which do not meet at a perpendicular angle.
Above: A blueprint of the interior shows bicycle storage and office space.
Above: The lot, from a bird's perspective, shows the garden studio in relationship to the main house.
Want instant glamor in the garden? Black is the answer: Black Magic: Architects' 8 Top Paint Picks.
(Visited 178 times, 4 visits today)