Does the thought of a trip to the flower market make your palms sweat? Maybe I'm projecting, but I think big city flower markets can be unnerving for most people: The crowds. The hustle. The options.
The first few times I went to the New York City Flower Market on 28th Street, I left feeling as though I'd been through the wringer. I also felt like I had more flowers than I knew what to do with and less money remaining in my wallet than was healthy. But these days, I feel like I have a sufficient number of visits under my belt to offer a tip or two.
Welcome to Throwback Sundays: Readers' Favorite Posts from the Past
Consider this the amateur's guide to navigating New York's flower market, and use it as excuse to make a trip (or two) to the market for yourself.
Photography by Rebecca Baust.
1. Plan ahead.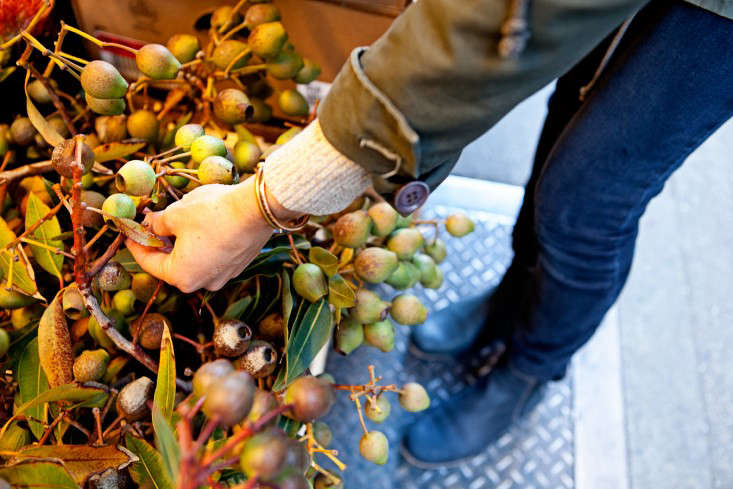 Keep in mind the budget you're working with and your color palette, and then let the flowers that are available be your guide.
2. Arrive early.
If you're not a professional florist, you can likely enjoy your breakfast after the sun has risen and get there closer to 8 a.m. and still find a healthy selection.
3. Browse first, buy later.
I see something that I like and I want to snatch it up. This isn't entirely wrongheaded—there are only so many dainty bundles of tallow berries to be had–but it might also mean you don't walk away with the best deal.
4. Buy in bulk.
6. Use the shelves.
7. Ask questions.
8. Check for freshness.
9. Bring cash.
10. Make friends with cats.
11. Wear comfortable clothes.
12. Care for flowers.
13. Shop seasonal.
Know your flowers. Do some homework before you head to the shops: See our curated guides to our favorite flowers at Perennials 101 and Annuals 101, and keep an eye out for these florists' market favorites:
(Visited 1,343 times, 4 visits today)