Suppenküche, the beer/bratwurst restaurant that opened in the early 1990s, was one of the first to arrive in the now white-hot Hayes Valley dining/shopping scene. Now the owners are "unleashing a restaurant with the roof ripped off" in the same neighborhood with the newly opened Biergarten, SF's first open-air beer garden with six rotating draft beers and a menu of Bavarian-inspired dishes. The new venture is part of the Proxy project, designed by SF firm Envelope A + D (a member of the Remodelista Architect/Designer Directory), which repurposes shipping containers as pop-up commercial spaces (there's coffee from Ritual Roasters, made-to-order ice cream from Smitten, and meat from Avedano butchers) until more permanent quarters are built. The beer garden is open year round, except on rainy days. The owners eschew heat lamps; instead, to keep patrons warm, stacks of vintage German military blankets are on offer. For more information, go to Biergarten.
Photography by Janet Hall for Remodelista.
Above: Envelope A + D created a kitchen within one of the shipping containers.
Above: The drinks list includes draft and bottle beers as well as German wines.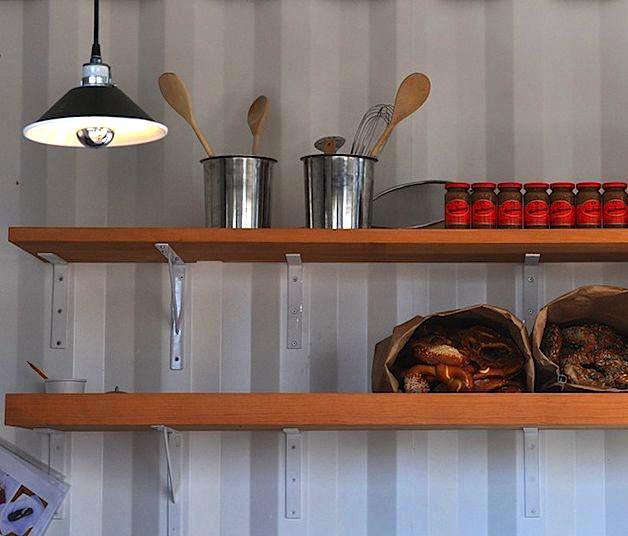 Above: The shelving is made from Douglas fir, the same wood that Hulme used in the original Suppenküche.
Above: Hulme sourced more than a dozen vintage beer-garden tables; new Beer Garden Tables can be sourced through Beer Garden Furniture.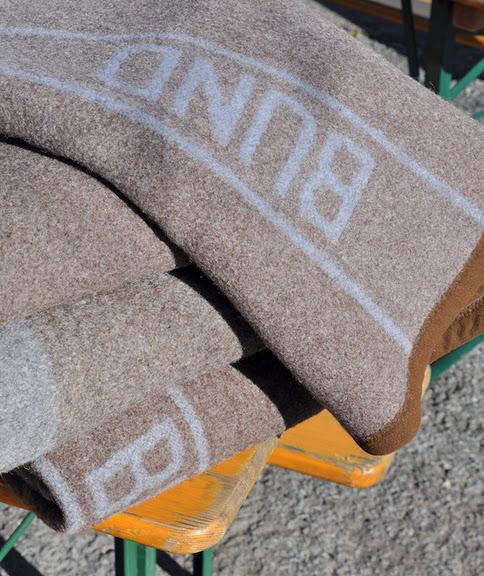 Above: Bundeswehr Wool Blanket from the German Bund; a set of four is $159 at Deutsche Optik.
Above: An earthenware beer stein serves as utensil and napkin holder; a similar Spaten Stoneware Mug is available from Straub's.
(Visited 51 times, 1 visits today)