Los Angeles landscape designer Judy Kameon takes her holiday entertaining outside.
Entertaining outside is the rule rather than the exception for Judy Kameon of Elysian Landscapes (a member of the Remodelista Architect/Designer Directory), who was raised in Santa Monica, California. Originally trained as an artist, she fills her lush landscapes with a painterly sense of color that extends to the details of her outdoor rooms (and even to the food). It's common knowledge that her guests never want to leave. Would you?
N.B.: Want to see more of Kameon's ideas for holiday entertaining outdoors? Check out her Mood Board on Pinterest.
Above: Kameon's edible offerings are home grown and homemade. "Lemons picked right off the tree make a bright and flavorful tart," Kameon says.
Above: During the holiday season, there can be a chill in the air even in LA, where an outdoor fire and lanterns warm the festivities.
Above: "A Plain Air Firepit is perfect for cool afternoons and evenings," Kameon says. Plain Air is Kameon's streamlined collection of custom made outdoor furniture.
Above: "My stripe-y napkins are from Les Toiles Du Soleil and the best lanterns come from Casamidy in San Miguel de Allende and can be ordered in a rainbow of colors," Kameon says.
Above: Oversized Daybeds are de rigeur for lounging. Kameon accents the green upholstery with complementary red accents including the Red Mosiac Tile Coffee Table.
Above: Hollywood film designer Tony Duquette's fantastical Beverly Hills estate Dawnridge (L) is a Kameon favorite. Kameon creates her own fantasy (R) with a "super fun outdoor lighting story I did with my friend Steve Orr for the late and great Domino mag!"
Above: "More is more at Tony Duquette's home, Dawnridge. Had dinner here one night and wanted to pull up a moving van and take it all," Kameon says.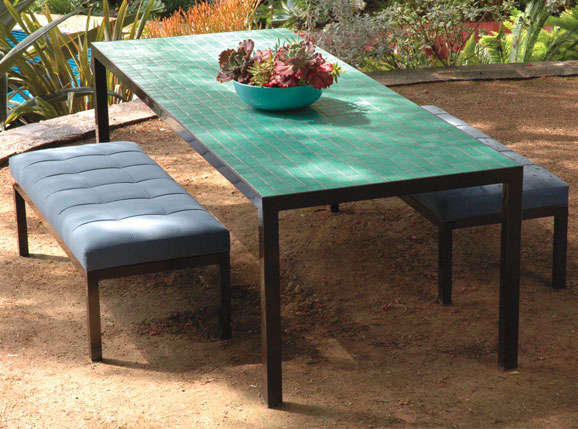 Above: Plain Air's Dining Table and Benches are the beginnings of a Kameon trademark color palette. "An aqua glass tile table with sapphire benches is a cool color combination for warm weather dining," Kameon says.
Above: Color is everywhere in a Kameon setting–even in the table ware. "This Pitcher from the Finnish company Iittala is great for water, lemonade, or even better, sangria; and Enamel Plates in lime green are perfect for outdoor dining," Kameon says.
Above: "This Monkey Bottle Opener will have people fighting to open your beer and Laguiole makes the perfect handsome Corkscrew that works like a charm," Kameon says.
Above: "These giant white lima beans are from our garden; freshly picked, shelled, and ready to cook," says Kameon.
Above: A barbecue with yellow squash from Kameon's garden.
N.B.: Looking for more holiday table setting ideas? See A Holiday Table with Soul where New York designer Brad Ford shares his holiday entertaining ideas, and Holiday Tables Fit for an Englishman, where London designer Ben Pentreath entertains in the city and country style.
(Visited 61 times, 1 visits today)