I am not the outdoorsy type. That's why my friend Callie used phrases like "fur-lined" and "rustic-chic" when, a few weeks ago, she pitched a three-day getaway to her family's remote cabin in Breckenridge, Colorado. She said I could borrow snow boots. I was told there would be wine. She did not mention the snowmobile.
"You did not mention the snowmobile," I muttered into the back of Callie's puffer coat, to which I clung for dear life as we barreled down a narrow path lined on either side with tall, snow-laced trees. The largest gold nugget ever found in Colorado–called Tom's Baby– was discovered nearby. The two and a half miles between the spot where we had left the car and her cabin's front door are unplowed, accessible only by foot or snowmobile.
But after thawing by the fireplace in Callie's beautiful wooden cabin–which was, as advertised, totally rustic-chic and–for a full 24 hours, I was ready to give nature a second shot.
Photographs by Ella Quittner.
I was joined by my friend Allegra. Our other friends had left much earlier that morning to hit the ski slopes. After checking the outside thermometer–it was 22 degrees–we put on brave faces and lots of layers. (N.B.: I learned my first valuable wilderness lesson of the day: more layers equals more places to store hiking snacks.)
I had a flask of diet ginger ale and some Goldfish, which I figured out be enough to keep me alive until the rescue team found me. You can get a Stanley Classic Steel Flask for $22 from REI. Photograph via Werd.
We set out from the back porch. There are a few paths leading away from the cabin, located on old placer mining claims from the Gold Rush in the 1880s. Allegra and I chose a winding one that seemed to head toward the trailhead where we'd left the car.
(N.B.: This is the third in a weekly series about readers' hikes. Do you have a favorite walking route? If so, send photos to edit(at)remodelista.com and we may feature it in an upcoming post.)
It hadn't snowed the night before, so there were a few places close to the cabin where we could see the types of reedy grasses, now frozen, that grew in the area during the other three seasons. We also spotted the paw prints of a dog that lives in a nearby cabin and likes to roam around with its owner.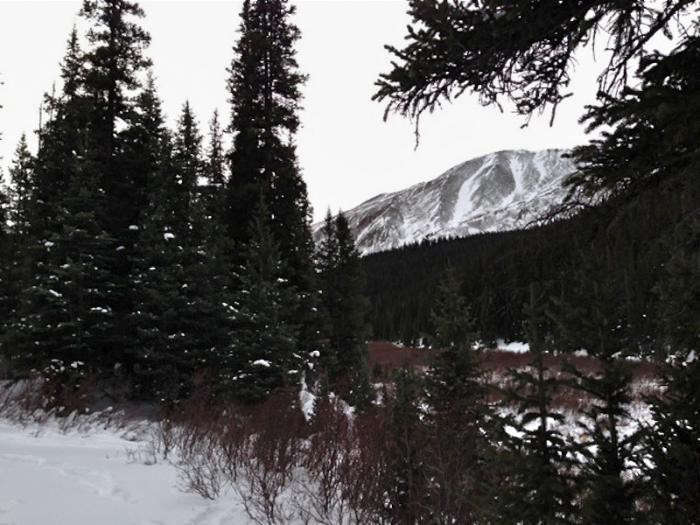 As we made our way down the trail, we noticed a huge variety of types and sizes of trees including these blue spruce. There were large expanses between the trees filled with reddish-colored shrubbery that seemed to be bare but for its twiggy carcass. Upon further investigation (wait–does that make me outdoorsy?!), I tentatively identified it as Cornus sericea, or red twig dogwood, which is native to Colorado and loses its flowers in the dormant season.
About halfway through our hike, we saw tracks leading into the woods. After assuring me that they definitely weren't from "a super scary mutant Grizzly bear-wolf-Bigfoot hybrid," Allegra persuaded me to stop and check them out. They were about five inches long and could have come from a deer or moose, according to a pocket guide I found online.
Are you a serious hiker (or camper)? See "Required Reading: Wilderness Route Finder."
Callie's cabin is in a remote area, with only a small handful of others nearby. We stopped to check this one out from the trail, mostly as an excuse to catch our breath. The terrain wasn't too steep, but thanks to the altitude, we were both wheezing like Old Dan in Where the Red Fern Grows pretty much the entire time.
We stumbled upon a body of water at one point that seemed out of place in the otherwise woodsy landscape. I thought it looked exactly like the frozen pond from which Harry Potter valiantly retrieves Godric Gryffindor's sword in Harry Potter and the Deathly Hallows, but unfortunately Allegra declined to reenact the scene with me, citing her survival instinct and non-waterproof leather gloves.
Above: If you're ambitious, here's a longer nearby route via Map My Run; it's a 9.78-mile round trip starting from the Sally Barber Mine Trail.
By the time we turned around to head home, the sun was beginning to set in the White River National Forest. I commented that the landscape looked like a Keystone box; Allegra chose a more elegant description. We hadn't noticed it before, but the way there was mostly downhill, so it took us a bit longer to hike back to the cabin.
Stripping off our layers after we'd finally made it back, we agreed that it had been worth it. We poured ourselves glasses of the promised wine and sat by the fire–we felt that we had earned it.
(N.B.: For more, see "Hike of the Week: 7 Miles to Stinson Beach" and "Hike of the Week: A Glimpse of Bob Hope's House in Palm Springs.")
(Visited 24 times, 1 visits today)