Designed by Josef Frank in 1938, a textured brass Hortus planter catches the light irresistibly. It also caught our eye last week in A Notting Hill Townhouse Tailored for Living by Charles Mellersh on Remodelista.
Frank's design is still available from Sweden-based Svenskt Tenn; what puts the Hortus out of reach for US shoppers isn't the price of the pot so much as the fear of the shipping costs from Europe. We found another textured brass planter for $5.95—read on to compare the two.
Above: Photograph by Chris Tubbs, courtesy of Charles Mellersh.
In a townhouse in London's Notting Hill neighborhood, Mellersh introduced polished brass accents—including the Hortus planter in a corner of the hallway—to brighten several rooms.
High
Above: Available in two sizes, Frank's metal Pot Hortus also has siblings made of colored glass (introduced during World War II when all available metal was headed to the battlefields). The small and medium brass pots measure 17 and 22 centimeters respectively (approximately 6.7 and 8.7 inches) and are from 600 SEK to 900 SEK (about $70.63 to $105.94 US, depending on size) from Svenskt Tenn.
A tall Pot Hortus with a diameter of 30 centimeters (about 11.8 inches) is 1,900 SEK (about $233.66 US) and is currently out of stock.
Low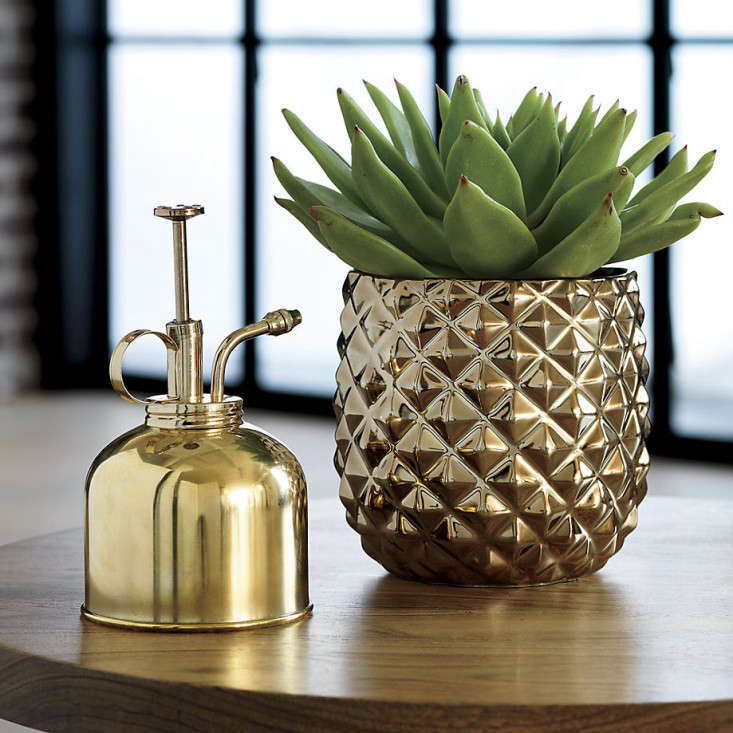 Above: An aluminum-plated stoneware Colada Pineapple Vase Planter has a brass finish and is made in China. It measures 4.25 inches in diameter and is $5.95 from CB2.
Are you as attracted to shiny things as we are? For more, see Brass Wall Planters from Rowen & Wren in the UK.
(Visited 81 times, 1 visits today)