New York's High Line has been a game changer ever since 2009, when its southernmost section opened to the public. But in all the books subsequently written about the elevated park built on an abandoned railway above Manhattan's gritty West Side, one voice was missing, that of the renowned artist of naturalistic landscapes who designed the High Line's plantings, Piet Oudolf. Until now.
This month Timber Press is releasing Gardens of the High Line: Elevating the Nature of Modern Landscapes by Oudolf and photographer Rick Darke, who has been taking pictures of the park since 2002, well before its opening. This hefty paperback gives us Oudolf's perspective on what is to date his most famous creation. It provides a richly illustrated and informative tour through the total expanse of the High Line, from its starting point in the former Meatpacking District to its terminus at 34th Street. The book feels immersive. We learn about the styles and plants of its 12 different gardens and see evocative photographs of them at different times of day and in various seasons of the year.
Photography by Rick Darke, courtesy of Timber Press.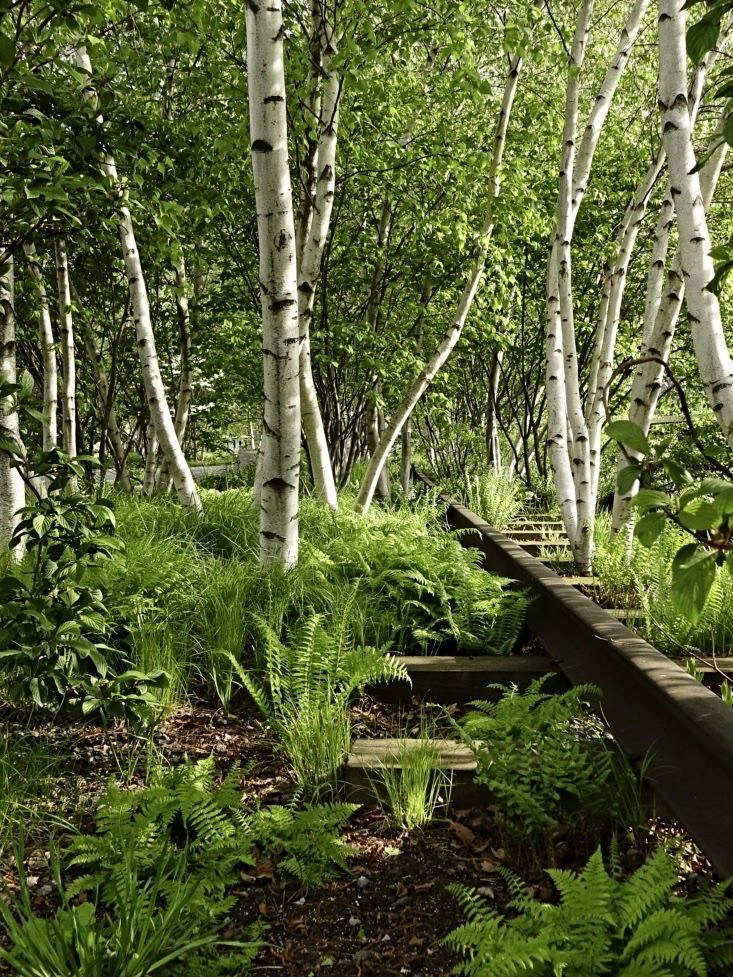 The High Line's existence is a testament to what two determined "ordinary" citizens with a brilliant idea can accomplish.  Robert Hammond, an artist and consultant to internet startups, and Joshua David, a travel writer, became its unlikely founders after they met at a community board meeting in 1999. City officials were planning to tear down the mile and a half abandoned railway structure and, for a while, it seemed that Hammond and David were the only people in the city opposed to that pending demolition.
Hammond and David not only saved the iconic 1930s steel framework but also shepherded its transformation into a revolutionary new kind of botanic garden.
Piet Oudolf not only knows and appreciates the horticultural qualities of plants, he also values their structural features as well.  He combines them to complement each other, not only during the growing season but later when their dry stalks and seed heads are left to nourish wildlife and provide interest in winter.
In addition to offering a fascinating trip through the park, this book has numerous tips for gardeners interested in emulating Oudolf's naturalistic style.  Photo captions include common and Latin names of plants, providing a tutorial on uncommon perennials, grasses, shrubs, and trees.   One of the most revolutionary gardening techniques explained here is the delay in the cutting back of herbaceous plants.  Traditionally gardeners do this in autumn as part of their fall cleanup, but on the High Line it doesn't happen until the end of winter.
In March an army of staff gardeners and volunteers converges on the garden with pruners and other hand tools to chop the plants back to the ground just before spring growth begins. Sustainability is a constant goal on the High Line; the leaves and stalks they remove are turned into compost and compost tea that return to the garden as fertilizer. The cutting also provides an opportunity for gardeners to inspect the crowns of plants for signs of die back and other conditions that need attention.
The popularity of the High Line is well known.  The crowds in the park are legendary with attendance said to exceed 7 million visitors a year.  But what most people never think about are the difficulties encountered by the gardeners trying to work in such congested conditions.  As the book makes clear, the crowding is one of the many challenges faced by the horticulture staff. Plantings are dense and frequently lack walkways or swaths of mulch that would normally give gardeners access to them.  The park is narrow so there is little space for motorized vehicles or carts for transporting tools.
Weather conditions on the High Line are similar to those on a green roof.  Soil depth is shallow, typically 18 inches or less, and the elevation of the structure exposes both plants and gardeners to extreme heat in the summers; icy wind and severe cold in the winter, and repeated cycles of freezing and thawing.  The plants, a mix of natives and imports, were selected on the basis of toughness and resiliency.  Even then some species did not thrive and had to be replaced.  For Oudolf, change here (as in any garden) is inevitable.  He says, "A garden isn't a landscape painting that you look at, but a dynamic process that's always changing. You must keep in touch with it all of the time."
Whether you are a repeat visitor to this unique park or preparing for your initial tour, this book is an engaging and helpful guide.  Studying its photographs made me eager to plan yet another visit. I'm willing to bet it will have the same effect on you.
Above: A paperback copy of Gardens of the High Line is $25.04 on Amazon.
N.B.: For more ideas to emulate from Piet Oudolf, see:
(Visited 545 times, 1 visits today)