Often referred to as high-performance fabric, outdoor fabric is the textile equivalent of a race car. Finely tuned to stand up to the elements without fading, mildewing, staining, or deteriorating, your outdoor fabric deserves special handling.
As you spruce up your outdoor furniture to get it ready for sun season, pay a little extra attention to your outdoor fabrics to extend their lifespan. Here's how to choose, clean, and care for outdoor fabrics:
Choosing Outdoor Fabric
Above: Designer Rose Tarlow's Melrose House for Perennials line of outdoor fabrics.
There are two kinds of outdoor fabric: solution dyed and printed. Solution-dyed fabrics will resist fading because the dye permeates the fibers of the fabric. With printed fabrics, only the fiber surface is colored. One way to tell the difference is to flip a swatch over; if the color and pattern on the backside is identical to the front, it's a solution-dyed fabric.
Like carpet, outdoor fabrics may be coated to resist moisture and to repel stains. Polyesters, acrylics, synthetic mesh, and olefin fiber fabrics are the likeliest candidates for coating. Fabric protectors will make liquids bead on a surface and will speed drying. on the other hand, the ingredients used in the chemical treatments may give you pause. If you don't like the idea of sitting on acrylic- or vinyl-coated surfaces, consider purchasing canvas fabric instead.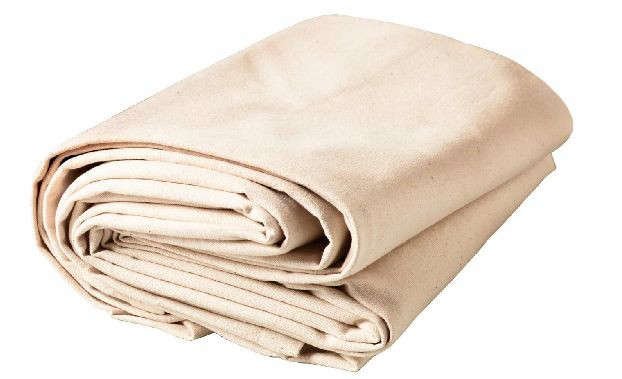 Above: I make inexpensive outdoor slipcovers and cushion covers from cotton canvas drop cloths. (If you follow suit, make sure to wash and dry the fabric to soften it before starting a project.) A 12-by-15-Foot Canvas Drop Cloth is made from 100 percent cotton; $45.88 from Amazon.
True canvas is woven of natural fibers of cotton or linen. Look at the label to make sure the fabric isn't a polyester, acrylic, or blend.
Above: Restoration Hardware sells a selection of Sunbrella And Perennials Outdoor Fabrics by the yard for prices starting at $45 a yard.
Routine Care and Cleaning
Above: Photograph by Dvortygirl via Wikimedia.
Cleaning outdoor fabric is relatively simple and, as with your clothing, starts with checking labels for specific laundry instructions. Whether your outdoor cushions, slings, and seat covers are cotton canvas or a synthetic such as acrylic (Sunbrella), hand washing using lukewarm water with a mild liquid soap should do the trick.
Above: The Malibu Sling Chair from James Perse has a teak frame and is upholstered in all-weather fabric. For more, see The Gardenista 100: The 5 Best Folding Canvas Deck Chairs.
If the fabric is removable you can put in a washing machine set to a gentle cycle, but never use a dryer. Avoid detergents and bleach-based soap that can remove the water-repellent finishes of some fabrics.
Stains and Mildew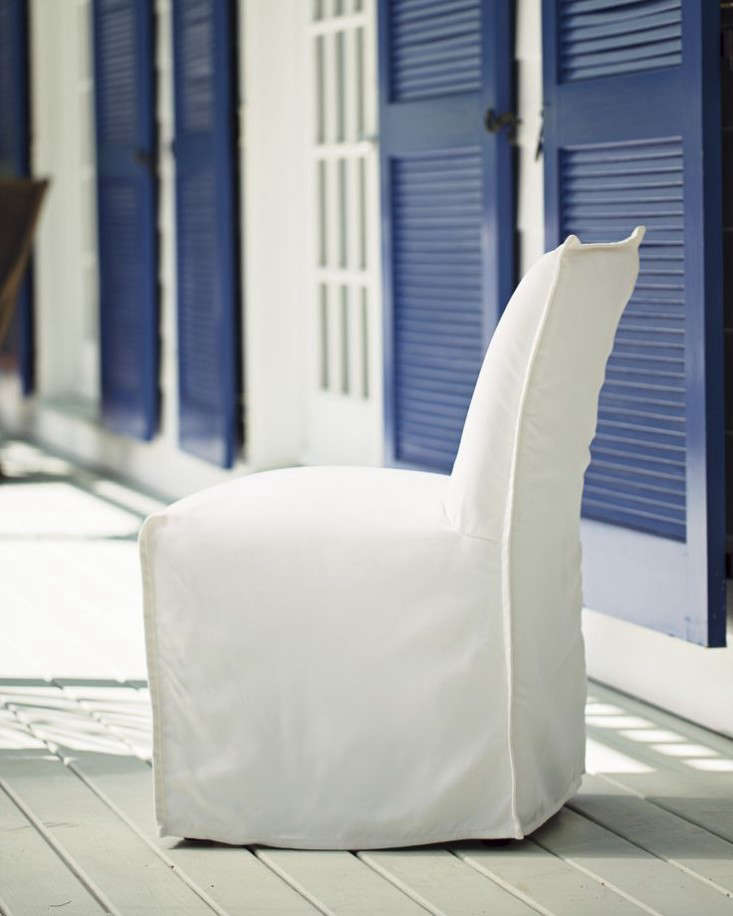 Above: A Sundial Side Chair has an outdoor-grade birch frame and a Sunbrella slipcover; $950 from Serena & Lily.
For tough stains or mildew, try cleaning with a brush using water with some oxygen bleach (always test in an inconspicuous area). And, like other fabrics, try to clean spills immediately to reduce staining.
As for ongoing maintenance, check cushions periodically for mold or mildew and clean or replace if needed. New cushions can be filled with high-density, all-weather foam or fiber filling. A simple preventative measure is to tip cushions upright so water will run off (and in cases of a severe rain, opening the zippers of fabric covers facilitates quicker drying).
Pro Tips
Fabrics with a water-repellent finish can lose effectiveness over time. To restore repellency, clean and dry the material, and then apply a fabric protector, such as 303 High Tech Fabric Guard ($19.88 for 16 ounces from Amazon; note it does not work on vinyl) as recommended by Sunbrella.
Above: The H55 Teak Lounger designed in 1955 by Bjorn Hulton is available in black, navy blue, or white Sunbrella or natural canvas; $900 from Horne. For more, see 10 Easy Pieces: Folding Deck Chairs.
When washing deck chair slings consider reinstalling while the fabric is damp so it stretches to fit.
For more outdoor furniture care (and fabrics), see:
(Visited 375 times, 1 visits today)