Wandering in the hotel garden at the Palihouse Santa Monica the other day, the first thing I noticed was an unusual mix of plants: tropical palms, cypress trees, and prehistoric-looking ferns.
Hotel owner Avi Brosh, who designed the garden, says he created the mashup "completely by feel." Just as the interiors of the hotel are a mix of architectural styles, so is the planting scheme. "I love it," says Brosh. "It creates this sense of—whimsy, I suppose."
Photography by Bethany Nauert for Gardenista.
Above: Palihouse Santa Monica, a 38-room hotel opened in 2013, was built in 1927 as an "apartment hotel" for extended vacations. (For the interiors, see A Mediterranean-Revival Beach Lodge, Santa Monica Edition on Remodelista.)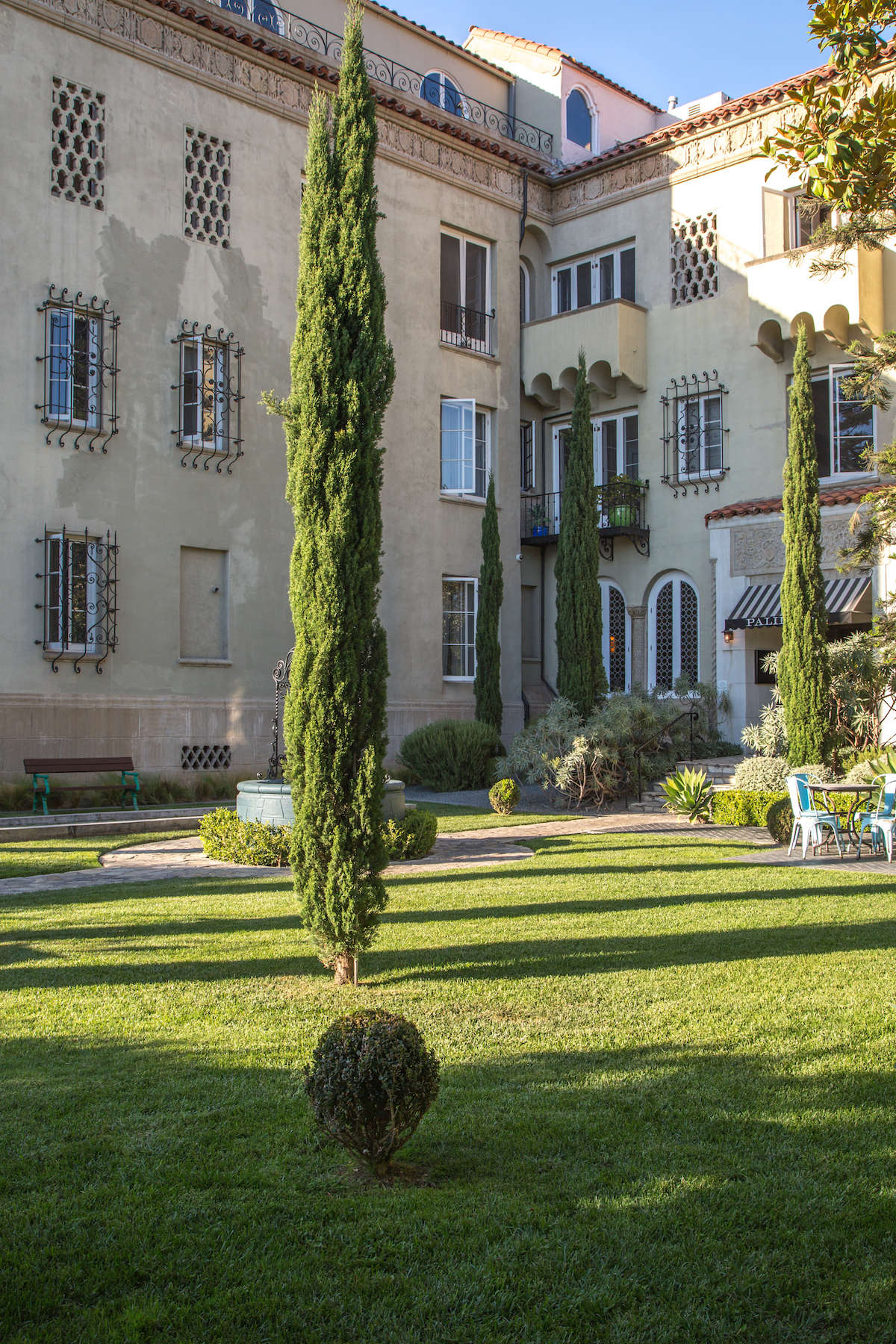 Above: The Mediterranean-style façade and front garden are reminiscent of Shakespeare's fair Verona.
When Brosh bought the property through his business unit, Paligroup, in 2012, it was buried under a century's worth of landscaping. "You couldn't even see the building," said Brosh. "I'm not one for tearing down gardens, but I knew we had to clean it up."
Above: After he tidied the property, Brosh's next inclination was "a quasi-Euro" one—to put a bocce court in the front garden, "to activate it a little, and nod toward the fact that you can hang out in the front yard."
Above: Some old wood patio furniture that came with the building became a polished, dip-dyed set on Brosh's whim: He had the building's painters sand and paint the seating in a pale blue, "just to see what it looked like," and it worked.
Above: The fountain and stone pathway is original to the 1927 property. Brosh knew he wanted a lawn, but a quirky one. "The building is a little quirky," he says, "so I wanted to create this classic but quirky vibe with the garden. This is why you see these little plants sitting in the middle of the lawn, to give it an Edward Scissorhands kind of vibe."
Above: The hotelier retained several overgrown mature trees in the front garden, but trimmed them back significantly.
Above: Skinny cypress trees cast dramatic shadows across the lawn in late afternoon.
Though located in Santa Monica, next to apartment buildings and only three blocks from the beach, the garden feels serene and private. "If you can create some sort of enclave or small oasis that feels private in an urban setting, that's always a good thing," says Brosh.
Above: For beach cruising: Linus bikes, based in Venice, California.
Above: A Mediterranean corner with an original leaded glass window and rosemary bushes.
In the end, Palihouse retained only about 10 percent of the existing garden, and brought the rest in as mostly mature plants. The renovation began in December  2012 and the hotel opened in June 2013; "within six months, the garden looked like it had been there a really long time," says Brosh.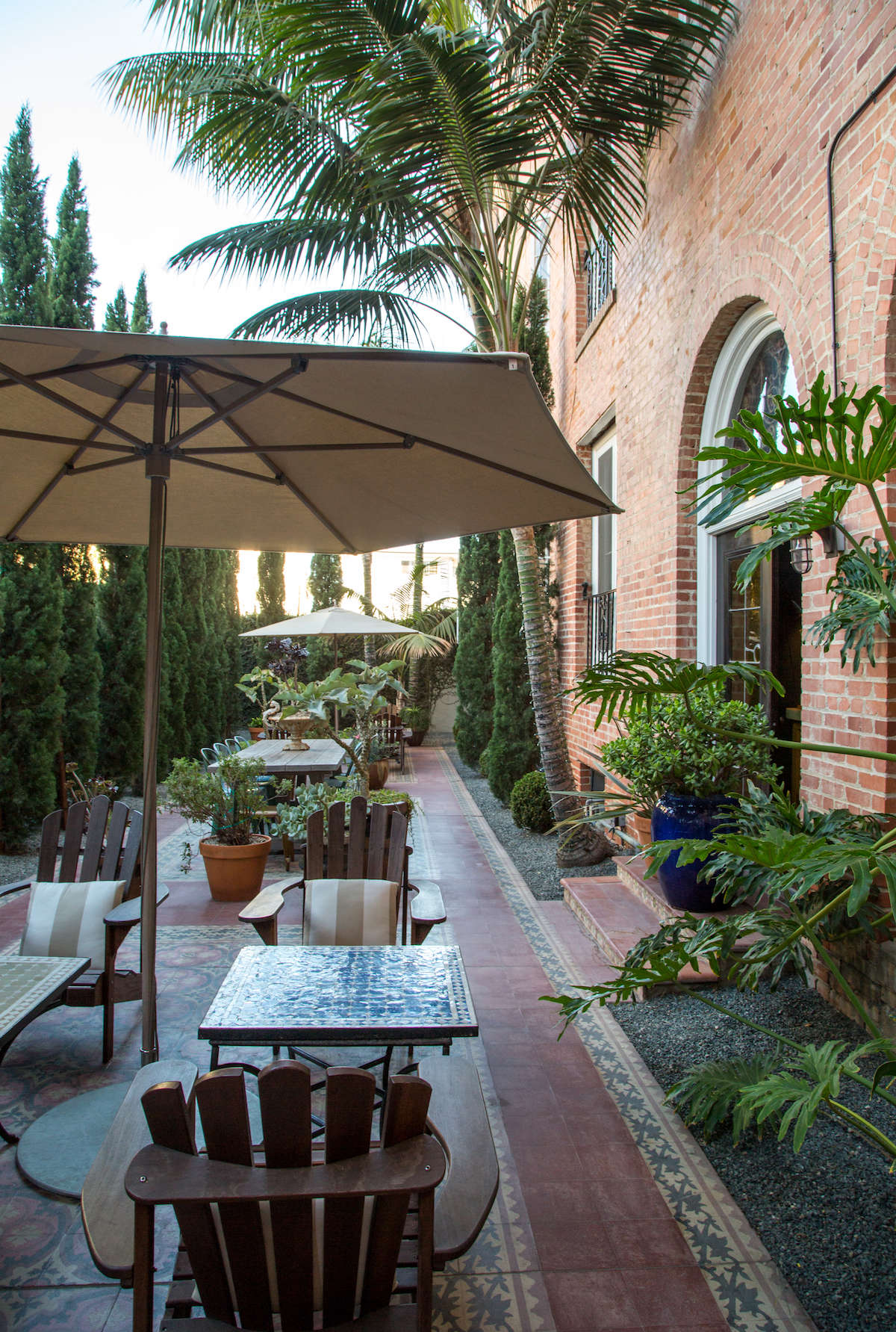 Above: In the back garden, Brosh had a set of standard-issue teak Adirondack chairs stained to his liking, and paired them with square coffee tables of hand-cut Moroccan tile.
Above: The garden is entirely at the disposal of its guests. "They use it in a very casual, passive way," says Brosh, for reading or morning coffee. "It's not one of those places you go and lay down. It's more urban."
The outdoor dining table is from Restoration Hardware, and Brosh bought the vintage, mismatched Tolix chairs from a dealer.
Above: The pink cement tile in the back garden is original.
Above: A pair of potted plants blocks a doorway to the hotel lobby—you'd use the entry right next to it instead—while still allowing light and air circulation inside.
Above: A pair of Linus bikes sit next to two mature palm trees wrapped in string lights.
Above: A simple, but compelling, color palette: red brick, black paint, and the bright green of oversized agaves.
Above: A nautical lantern is a nod to the beach, just three blocks away.
Above: Between a line of tall cypress trees and the back perimeter wall is an alley paved in gravel. "In that part of town, there are cypress trees used as part of the landscaping around old buildings," says Brosh, "so I took that as my cue."
Above: A quirky vignette: A giant philodendron grows against the preexisting, vine-covered perimeter wall.
"If I was a plant, this is where I'd live," says Brosh. "The climate is so good, these are the happiest plants ever in this garden."
For more dreamy hotel gardens, see:
(Visited 129 times, 1 visits today)