Kirstin Tobiasson's Brooklyn garden grows on a bare stretch of Union Street's sidewalk, beside the Gowanus Canal. Since 2002 the urban gardener has coaxed plants as diverse as yucca, lilac, cactus pear, roses, and loosestrife from beds cut from an uncompromising slab of concrete between the greasy canal and a string of former warehouses (turned into artisanal ice cream parlors and self-consciously rustic barbecue joints).
I sat down recently with Kirstin (on the sidewalk), to talk about nearly 15 years of planting in the public eye—and about what's next. She and her husband have been itching for several years to have their own space out of the city, to garden and to grow. A move to Maine may be in the offing.
Photography by Marie Viljoen.
Above: The infamous canal is one of the most polluted bodies of water in North America and has been declared a Superfund site, destined for massive renewal.
Above: The Gowanus Garden has become a well-loved feature in a neighborhood experiencing a shift in fortunes.
Above: A lot is expected of plants, here. Kirstin lists the conditions challenging her floral flock: "Brick wall, south-facing, concrete surrounds, difficult water access, fully exposed to public whim," (adding quickly that being exposed to the public is also a life force for her garden, and for her continued interest in it). Enter some tough customers: Lysimachia punctata, a donation like many of the plants from the New Hampshire garden of her "green-thumbed mama," is known to be invasive. Here its dominating tendencies ensure its survival.
Above: Before Superfund status, the effusive garden was incongruous against a wall that was a canvas for graffiti in flux. Tags and paintings came and went like the tide in the sluggish canal. The garden's spirit attracted the attention of the New York Times' Anne Raver, and of author Stephen Orr, who included the Gowanus Garden in his book Tomorrow's Garden ($16.99 on Amazon).
Above: "These were the glory days," Kirstin says, of the detonations of cottage flowers that characterized the garden in 2006. "It used to be rough and tumble album-cover shoots down here," she reminisced. "It was organic, interactive, there was a little bit of poetry…" When the sidewalk was ripped up and resurfaced in 2009, part of the garden was flattened by new concrete, and the wall was painted over and has remained graffiti-free. The graffiti did not return. "I miss that," she says.
Above: The larkspurs came from a 'Meadow Mix' of seed, a gift from "a lovely neighbor who has been forced to relocate from the 'hood in recent developmental years," says Kirstin, who used to live and work in the studio behind the wall, allowing her daily access to the plants down a set of metal stairs. Later she moved around the corner, and now she lives seven blocks west on the other side of the canal with her husband, David Swayze.  She still has access to a 100-foot hose that runs from the studio, but getting to the garden to take care of it regularly has become more of a mission.
Above: "Stone soup. That's the school I come from," says Kirstin, summarizing her gardening philosophy, in an email: "Base (brute) responses from me, as well as from the neighborhood." And that includes planting the graceful but aggressive gooseneck loosestrife, Lysimachia clethroides, which spreads by runners and does not go down without a fight, blooming lusciously every summer.
Above: Some over-enthusiastic plants are more problematic. Despite their appealing flowers, morning glories "tangle and strangle, and take away the stage from other, less aggressive plants." Their seedlings keep coming.
Above: The rambling red rose—a signature of the May garden—was a gift from a neighbor (also forced to relocate) eight years ago. "It was an old, beautiful, local, scratchy, withering root that he very ceremoniously dug out of his backyard as he was packing up," says Kirstin. "I had real doubts about its survival, but I love the way it knocks it out year after year." When she deadheads it, she unloads the mass of petals atop the garden, mulch-style. She adds, "With all the new development and 'Events' spaces nearby, I might just be able to make a few bucks selling the petals." The scrappy album photo shoots in front of the garden have evolved to "David's Bridal every summer weekend," she says, with amusement. On cue, as we spoke, a bride and groom arrived to pose for photos in the dusk beside the last of the summer sunflowers.
Above: Unassuming lamb's ears (Stachys byzantina) relish dry soil, and are at their peak in early summer.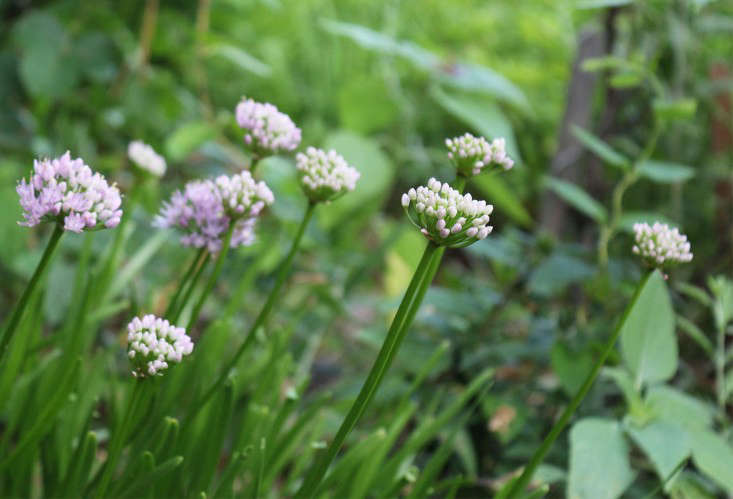 Above: No-maintenance and nameless Alliums (possibly 'Summer Beauty'), also from her mom's garden, tough it out, blooming in late summer. Kirstin divides them every few years.
A sprawling chocolate vine (Akebia quinata) has spread up the brown wall, supporting an older honeysuckle and creating a home for a host of birds.
Above: Increasingly, Kirstin feels the pressure to "deadhead the gaillardia, salvia, coreopsis, cut back the alyssum and lavender, rip out the Lonicera, and prune the Spirea. And I do these things," she says. But now it is "more maintaining, less nurturing."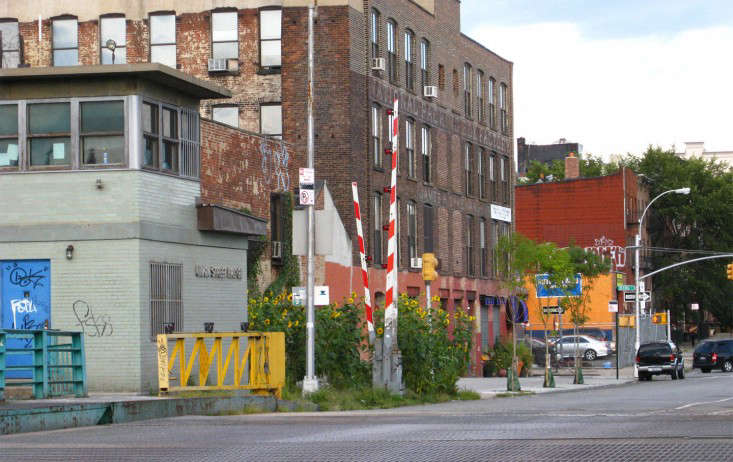 Above: Many passersby know the Gowanus Garden best for its sunflowers, which were at their grandest several years ago. "In the crispy dry August-September of Union Street, it was most useful to have masses of lovely yellows at eye level or above, to pull focus from the waning perennials below," says Kirstin.
"There is something elemental, nostalgic, and intrinsically relatable about sunflowers."
Above: She liked the sunflowers' gangly skeletons in winter, "crooked ghosts" which gave shape to the garden under snow.
Above: The last of the sunflowers' descendants still light up in late afternoon sun. But recently, she says, "a neighbor kid (because kids can say these things aloud) commented that the garden looked a little (here he made a hand gesture of a wave at crest on its way down…)"
Above: But the Perovskia does not know that, and flowers prolifically in the early autumn light.
Above: "I think I've been planning my exodus for the last three years, "says Kirstin. But the performance aspect of planting and maintaining a garden in a trafficked public space, where strangers stop to talk, is an intrinsic part of what this garden represents for the gardener, and gives her pause for thought. "I'm in the city and I hardly socialize," she confesses. "This is not just the plants, or the garden. Without the people it would be so much less interesting."
Above: In tune with her longer absences, common milkweed (Asclepias syriaca) has appeared opportunistically. Is native wildness the garden's future?
Above: How does a gardener take her leave? Will the garden just fade away? Kirstin is not sure, but she has an idea. "I'd love to get really big rocks, boulders, and put them here and have super-hardy sedums," she says, smiling.
And maybe a dinner party on the sidewalk.
"It's about leaving an impression," she ends, "which is what we all want to do."
For more Brooklyn gardens, see: